Simplifying with Sauces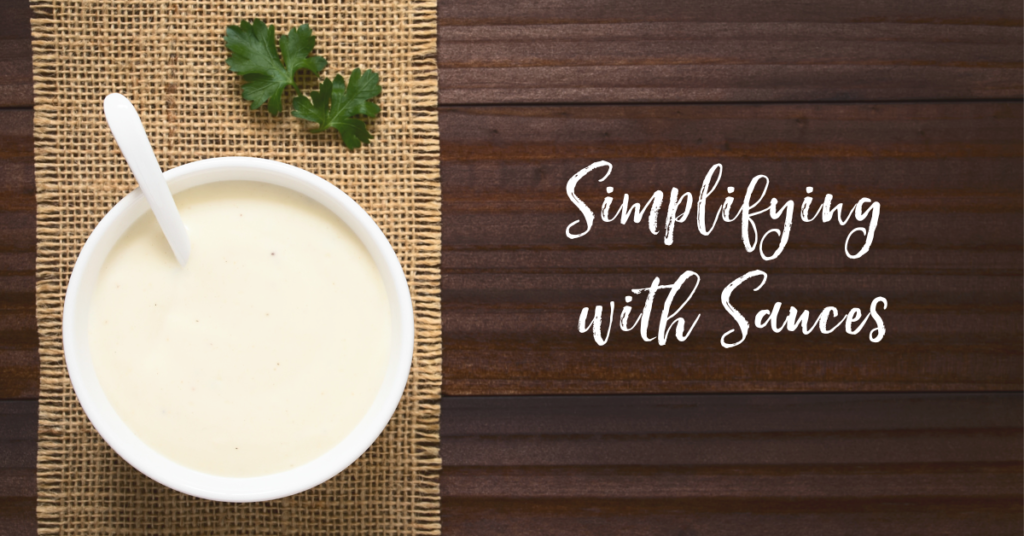 A stellar strategy when planning and cooking meals is to keep flavors at the front of your mind.  A simple way to do this is to let sauces guide your recipe creation.  The great thing about sauces is they ensure a fabulous foundation and can bring together various ingredients for a cohesive dish.  Many combinations of proteins and vegetables can work beautifully in a recipe with a vibrant sauce that truly elevates the meal.
Having a few go-to sauces that you can easily create with staple ingredients can be helpful for meal prep or quick weeknight dinners.  Making your own sauces doesn't have to be intimidating and offers the benefits of avoiding low-quality/inflammatory oils, extra sugar, or high sodium levels.  To simplify that process, we've shared an array of sauces from our blog to inspire creative meal combinations.
If you're looking for that fresh herb flavor that truly can't be beat, try our dairy-free spinach walnut pesto.  It works wonderfully for a sheet pan meal and complements almost any protein or vegetable combination you can think of.
For a burst of freshness that is loaded with veggies, try our fresh vegetable enchilada sauce.  You can use it to pull together a skillet of ground meat, veggies, and rice, or layer it into an enchilada casserole like our layered rainbow enchilada bake.
Garlic lovers will rejoice over our next recommendation. Our easy garlic aioli is fabulous as a dip for grilled steak, to drizzle on baked salmon, or a spread on sandwiches. You can whip it together in moments and brings a big flavor boost to almost any meal!
A vegan cheese sauce means everyone can enjoy the savory comfort of a creamy recipe creation.  Whether you like it best over broccoli, tossed with pasta, or as a cheesy chicken and rice skillet…this one will likely appeal to those who eat dairy as well as those who opt for dairy-free.
While the store-bought option may seem easier, once you make your own simple peanut sauce at home, we think you might get hooked!  This one includes mostly pantry staples, with a few fresh elements that really elevate the flavor.  The recipe featured is a perfect use for the sauce, but don't stop there!  It pairs beautifully with chicken or shrimp for a chopped Thai salad or veggie-loaded stir fry.
Whether you utilize our sauces or create your own, we hope the idea of building a meal around a flavorful sauce serves to simplify your next culinary adventure!