Recipe: Spinach Walnut Pesto Sauce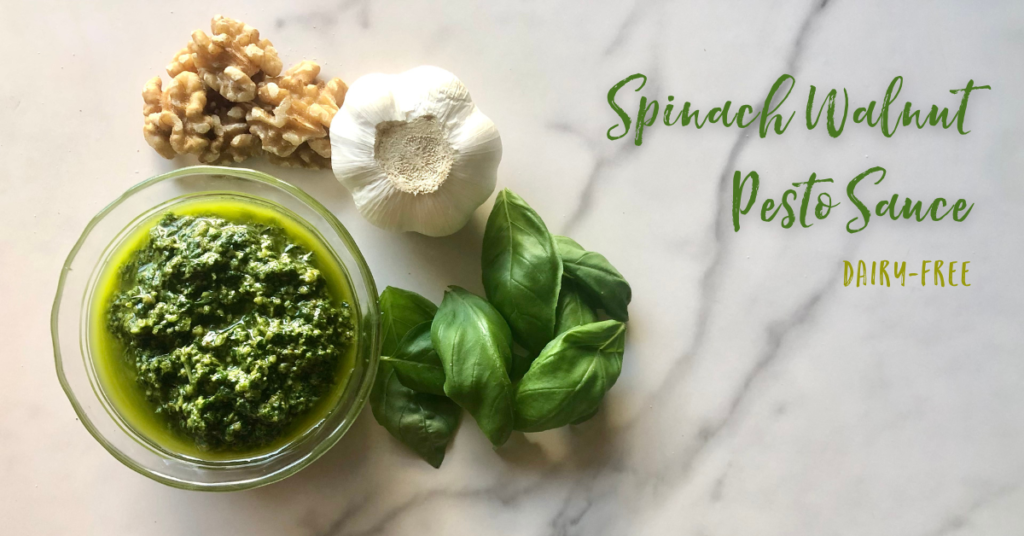 Pesto has been a versatile culinary favorite for centuries. Originating in Italy, traditional pesto contains simple ingredients – garlic, fresh basil, pine nuts, parmesan cheese, and olive oil.  Our twist on pesto swaps in B-vitamin-rich nutritional yeast for cheese, making it suitable for those with dietary restrictions for dairy.
New to nutritional yeast? This all-star vegan ingredient has a nutty, cheesy flavor that marries perfectly with the basil and garlic! Walnuts are swapped for pine nuts and provide a hearty dose of omega-3 fatty acids, which are known to support cognition and decrease inflammation in the body. To make this sauce more cost-effective, spinach is swapped for a good portion of the basil found in traditional recipes and provides a boost of vitamins K and C, as well as iron. Enjoy this sauce on pasta, roasted tofu, shrimp, chicken, or even as a tasty addition to your favorite sandwiches!
Dairy-Free Spinach Walnut Pesto Sauce
Serves 5-6
Ingredients:
3 C fresh spinach
1 C fresh basil
1/4 C chopped walnuts
2 Tbsp minced garlic (from a jar, if desired)
3 Tbsp nutritional yeast
1/4 tsp each salt and black pepper
1/2 C olive oil + more for desired consistency
1 tsp red pepper flakes (optional)
Directions:
Add spinach, basil, walnuts, garlic, nutritional yeast, salt and pepper to a food processor. Turn to low setting and slowly pour in olive oil. Blend until smooth consistency is achieved, adding additional olive oil if needed. The spinach and basil should be finely minced and incorporated into the mixture.
Serve immediately, or store in fridge and use within one week.
TIP: Looking for a creative way to use this sauce? Check out the Summerfield recipes linked below!
Want to save this for meals to come? Pour into an ice cube tray and freeze!
Swaps:
For the nutritional yeast: freshly grated parmesan
For the walnuts: pine nuts
For the spinach: baby kale or more basil
Recipe modified from: https://lettucevegout.com/recipes/vegan-pesto/