Recipe: Fresh Vegetable Enchilada Sauce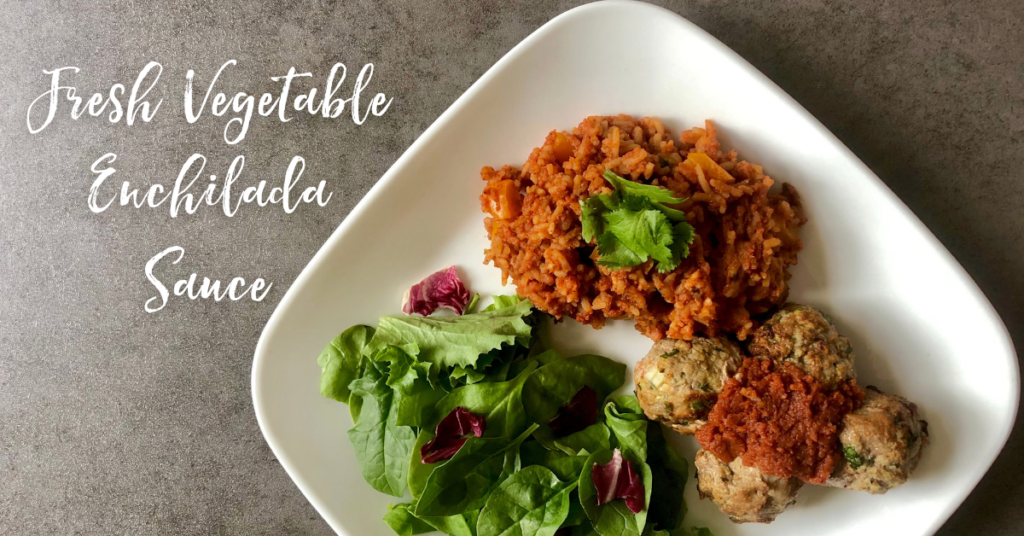 Our enchilada sauce adaptation is an easy, nutrient-dense spin on both the store-bought and authentic enchilada sauces.  While those typically lean on water as the primary ingredient, our version is veggie-forward and milder on the spice – though it can certainly be prepared with more heat, depending on individual preference.
The premade sauces will likely cost more than a jar of whole tomatoes, so you also get more for your money!  We also skip the additives like corn starch and inflammatory oils, allowing our recipe to be an option many can enjoy.
This sauce is versatile in its culinary application, most obviously in enchiladas, but it also infuses fabulous flavor to rice, Mexican skillets or casserole, meatloaf, or meatballs – to name a few.  Given the high volume of fresh produce, the sauce may settle slightly when stored, likely due to the lack of thickeners and preservatives.  As a result, we suggest you use the sauce within a few days of making it and freeze any leftovers for future use.
Fresh Vegetable Enchilada Sauce
Ingredients
28 oz can whole peeled tomatoes
1.5 C water
3 Tbsp chili powder
3 Tbsp taco seasoning
1/2 medium onion, chopped
4 garlic cloves, minced
1 jalapeno, ribs and seeds removed
1/2 tsp oregano
1/2 tsp salt (more to taste)
Directions
Pour tomatoes into the base of a blender or food processor.
Add 1.5 cups of water and measured spices.
Next, add onion, garlic, jalapeno and salt.
Blend at low speed for 15 seconds and then increase to medium or high, blending for 45 more seconds, to achieve a smooth consistency.  Remove lid and assess for any remaining chunks – blend again, if needed.
Taste test for preferred spice and salt level – adjusting to your desire.
Store in a sealed container in the refrigerator until ready to use.
Optional additions:
Bell peppers
Poblano or Serrano peppers
1 chipotle chili in adobo
Powder from dried peppers (ancho, guajillo)
Recipe mildly adapted from Pinch of Yum