Recipe: Simple Sautéed Veggies, Quinoa, and Peanut Sauce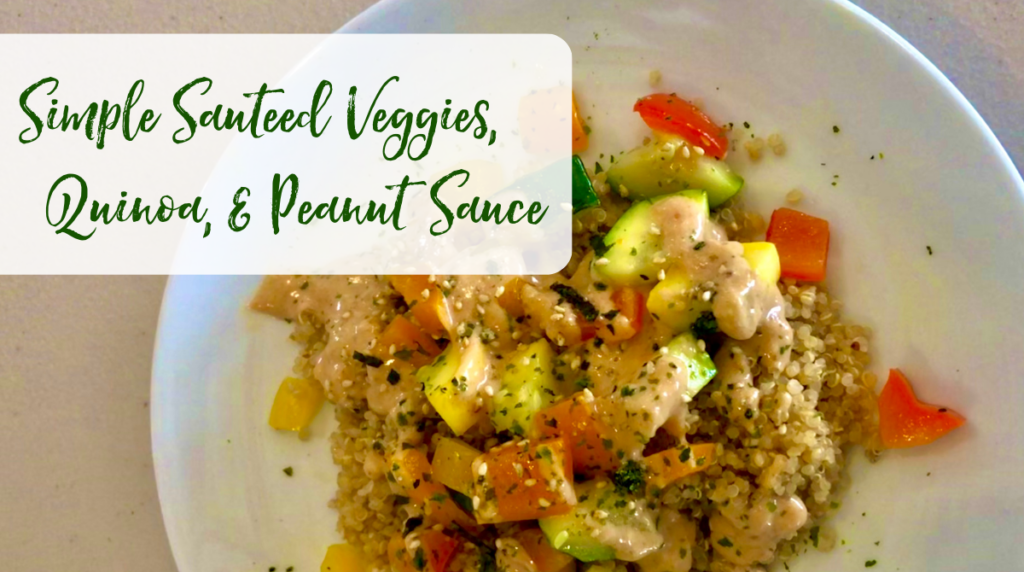 While the dish may have "simple" in the title, the flavor and flair of this meal are certainly anything but!  The preparation techniques are where the simplicity comes into play, utilizing methods like a basic sauté for the vegetables and a stovetop simmer for the quinoa.  If you've never prepared quinoa, the instructions are easy to follow and much like rice (but faster!).  We like using vegetable broth to infuse a nice savory element when preparing dried grains like quinoa or rice.
Consider this meal a vegetarian plate method masterpiece with a variety of colorful non-starchy vegetables, a protein-rich grain, and a sauce that features additional protein plus healthy fats from the peanut butter.  Not to mention it's quite budget-friendly featuring pantry staples and readily available vegetables.  Try it out as a weeknight meal that comes together in minutes or a meal prep lunch that can easily be doubled to get you through the week.
Simple Sautéed Veggies, Quinoa, and Peanut Sauce
Serves: 2-3
Ingredients:
1 C quinoa
2 cups vegetable broth
1 small red onion
1 red bell pepper
1 orange bell pepper
1 zucchini
1 yellow squash
2 teaspoons olive oil
Salt and pepper, to taste
For the sauce:
1/3 cup peanut butter
2 tsp peeled and finely minced ginger
1 large garlic clove, finely minced
2 Tbsp fresh lime juice
2 Tbsp soy sauce or gluten-free Tamari
1.5 Tbsp brown sugar or honey
2 Tbsp warm water
2 tsp sesame oil (optional but adds great flavor)
1 tsp sriracha or chili flakes (optional)
Fresh cilantro or basil, for garnish (optional)
Directions:
Combine quinoa and broth in a medium pot on the stove.  Bring to a boil over medium-high heat, place a lid on top and turn the heat to low.  Simmer for 10-15 minutes, until cooked through and liquid is absorbed.
While quinoa is simmering, chopped all veggies into uniform sized pieces, about 1/2″.
In a large skillet, heat 2 teaspoons olive oil over medium-high heat.  Add red onion and sauté, until it begins to soften and turn translucent, about 3 minutes.  Add remaining vegetables and sauté, stirring periodically, until tender.  Season with salt and pepper.
Once quinoa and veggies are finished cooking, set pans aside and cover to keep warm while preparing the sauce.
In a small bowl, combine peanut butter, ginger, garlic, lime juice, soy sauce, brown sugar, and water.  Stir rapidly with a fork or whisk to fully combine, adding more water (1 tablespoon at a time) if the peanut butter is very thick.
To serve, divide quinoa between plates and top with sauteed vegetables.  Drizzle peanut sauce over plated portions and serve warm.
TIP: Big fan of peanut sauce?  Consider doubling the recipe and using leftovers as a dip with raw veggies or garnish for cooked chicken or shrimp.
Swaps:
For the quinoa: brown rice, cauliflower rice
For the veggies: green peppers, cauliflower, or broccoli florets
For the peanut butter: almond butter, or for a nut-free option: tahini or sunflower seed butter