Food Storage & Repurposing Leftovers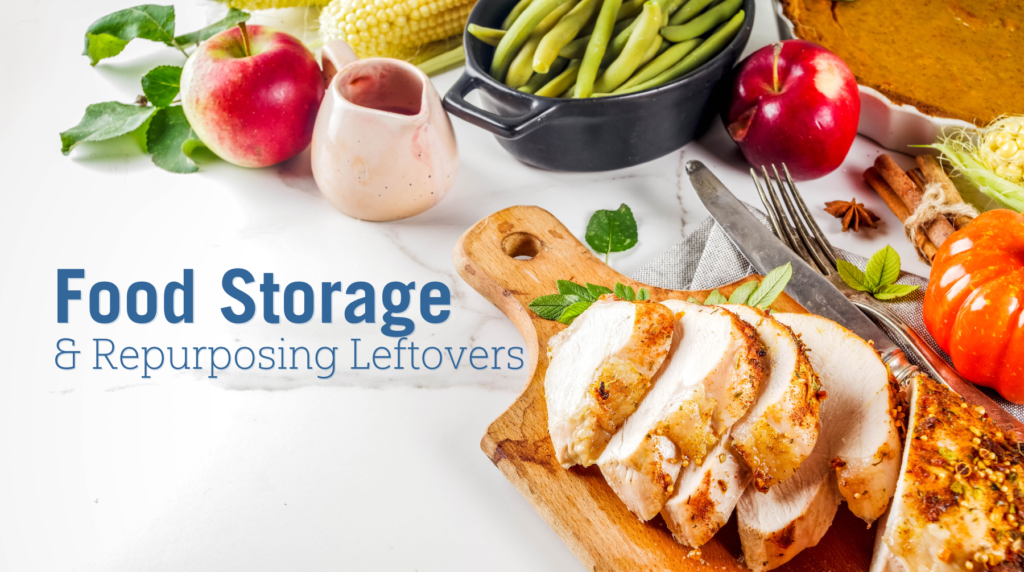 It's that time of year again when the leaves change color, pumpkins cover front steps and patches, and the ring of the holidays starts to float through the air. It's a time for celebration, spending time with loved ones, and enjoying traditional dishes together. The large array of mouth-watering dishes allows for a culinary free-for-all, but what happens after Thanksgiving day? It is estimated that over 300 million pounds of food from Thanksgiving are tossed each year.1 This staggering amount can be reduced greatly by following the tips we've compiled below. Read on to learn about optimal ways to store food to maximize shelf life and use up your holiday leftovers.
Have you ever found yourself wondering how to properly store food? If so, you are not alone! The National Resource Defense Council created a website called "Save The Food" that is aimed to help consumers reduce food waste in the home. As Thanksgiving approaches, many people find themselves going to the grocery store early to get the supplies they need. Here are some key tips from their storage blog to help food last longer leading up to the holiday:2
Fruits 
Most fruits will need to be refrigerated at some point, but it is very important to wait for the fruit to ripen in the cases of avocados, stone fruits, melons, tropical fruits, and bananas. Apples, citrus, and berries go right in the fridge after purchase! Make sure not to wash grapes and berries until ready to eat, as the moisture can allow bacteria to penetrate their thin peels. As a general rule, fruit tends to stay freshest in low-humidity drawers and when spread or separated, but please refer to the blog for more detailed instructions.2
Veggies
Except for tomatoes, potatoes, winter squash, and eggplant, all vegetables should be kept in the fridge. Most veggies tend to keep best when stored in a breathable bag in the crisper drawer of the fridge. Similar to fruits, it's best to wait to wash vegetables until ready to consume. Please refer to the storage blog for more specific recommendations based on the veggies in your fridge!
Meat & Fish
It's best to use up fresh meat and fish as soon as possible. Before then, store in air-tight containers towards the bottom of your refrigerator (fruits, veggies, and ready-to-eat foods should stay above raw meat). If storing fish or shellfish, place them in an air-tight plastic bag on a bed of ice. Do not let the ice come in contact with the seafood. For bacon and deli meats, store them in an air-tight container or wrapped in foil or plastic wrap in the meat drawer.
Dairy & Eggs
When it comes to milk, try storing dairy milk at the back of the fridge to stay cool and plant-based milk in the middle of the fridge where the temperature is moderate. It may be best to buy small amounts of cheese at once to prevent spoilage. Place cheese in loosely-wrapped parchment or wax paper to allow for the cheese to breathe, and store it in the meat drawer at the bottom of the fridge. Eggs and egg substitutes do best in the back of the fridge where temperatures are coolest. Butter can be held in a butter dish or closed container in the cooler parts of the fridge as well to prevent the absorption of smells.
TIP: Clarified butter or ghee lasts three times longer in the fridge than regular butter because the milk solids (the components that cause rancidity most often) have been removed.
Condiments, Nuts, & Spices
Keep in mind that air, light, and heat can all change the quality and freshness of oils and condiments. It may be optimal to store in cool, dark places, such as a pantry or cabinet, in air-tight containers. Avoid placing oils, nut butter, honey, and spices near the stove. If purchasing a large container of nuts, store the nuts in the fridge or freezer to prevent rancidity.
TIP: Whole nuts last longer than chopped or sliced do.
Pantry Staples
Many loaves of bread and bread products are okay to remain in the pantry, however, plastic bags and wraps can encourage mold growth. Place bread in a bread box or paper bag, and after 2-3 days, either place it in the fridge or freezer to keep. Whole grains are good to keep in a cool, dark place in the pantry in an airtight container. It is recommended, however, that brown rice and whole wheat flour be kept in the fridge to prevent rancidity. Canned goods can last for 2 years as long as the cans remain undamaged and the temperature does not exceed 100°F.
By combining good storage techniques and using the tools from our food expiration blog to determine if something is expired or not, you could be saving your family thousands of dollars each year!
Once Thanksgiving Day has passed, some may find themselves with many, many leftovers. If turkey sandwiches sound uninspiring, here are some creative ways to re-purpose Thanksgiving foods:
From turkey to mashed potatoes and Brussels sprouts, these recipes allow you to think outside the box and repurpose individual ingredients into another masterpiece that can be enjoyed for longer. Who knows, these new recipes could become new go-to meals! What other creations can you think of? Let's work together to reduce food waste this holiday season, one turkey at a time.
Sources:
https://agfundernews.com/americas-thanksgiving-food-waste-problem#:~:text=Food%20waste%20think%20tank%20and,cars%20for%20a%20full%20year.