Recipe: Easy Egg & Veggie Bake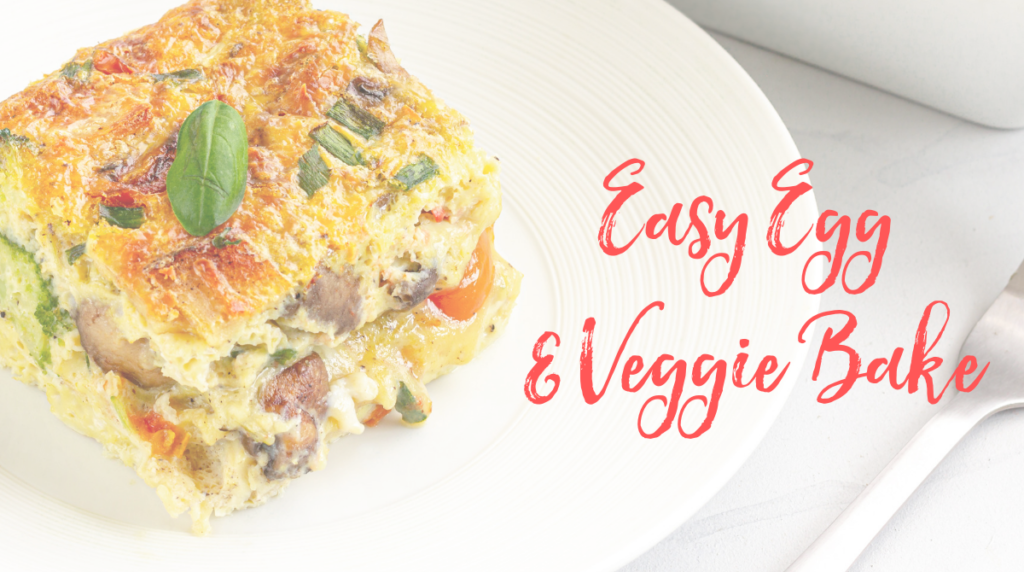 Try this tasty morning (or any time) meal that can keep in the fridge for up to 5 days! It's perfect for busy mornings. Better still, this recipe can be a complete, plate method breakfast!
You can make this dish especially colorful by choosing red or orange bell peppers, but the less-vibrant vegetable we want to highlight is the mushroom. Mushrooms are sometimes forgotten in the vegetable world, but they are valuable in providing a slew of beneficial compounds such as vitamin D, B vitamins, fiber, copper, potassium, and antioxidants. The vitamin D in mushrooms is especially valuable as it is one of the few natural food sources for this vitamin (with the biggest source being the sun)! As a bonus, mushrooms also have a pleasant, meaty texture and come in many different types. If you haven't liked them in the past, consider trying a different type, or switch them out in this recipe for another non-starchy veggie from our Mix & Match Meal Planning resource!
Easy Egg & Veggie Bake
Serves 6-8
Ingredients
3/4 lb ground sausage (we recommend turkey sausage!)
1/2 medium yellow onion, diced
2 bell peppers, diced (any color you prefer; about 2 C)
1 C mushrooms, sliced
1 C fresh spinach
3 C frozen hash brown potatoes
Optional Ingredients
1/2 C shredded cheese of choice, separated
Staples
2 Tbsp olive oil, divided
Nonstick cooking spray
1 tsp minced garlic from jar (or 2-3 garlic cloves, minced)
12 large eggs
1/2 C milk of choice
Toppings (Optional)
Directions
Preheat the oven to 375°F.
Add 1 Tbsp olive oil to a large skillet on the stove top over medium heat. Place the ground sausage in the skillet and begin to break it up with a spatula or wooden spoon. Allow to cook, stirring occasionally, until sausage is browned and fully cooked through, about 6-7 minutes.
Meanwhile, set a second large skillet on the stove over medium heat and add 1 Tbsp olive oil. Add the onion and garlic and cook until fragrant, about 2-3 minutes. Add the peppers and mushrooms and stir, cooking the veggies until tender, about 5-6 minutes. Stir in the spinach and cover until wilted, about 1-2 minutes.
Remove sausage and veggies from heat and set aside.
Generously grease a 9×13 baking pan with nonstick spray or olive oil. Place the frozen hash brown potatoes in the bottom of the pan in an even layer.
In a large bowl, whisk the eggs, milk, and 1/4 C of the shredded cheese together. Pour half of this egg mixture over the hash brown potatoes in the baking pan. Top with the sausage and vegetables, then the remaining egg mixture, and finally the remaining 1/4 C cheese.
Place the baking pan in the pre-heated oven. Bake the casserole, uncovered, until the top is golden, the edges are crisp, and a toothpick inserted in the center comes out clean, about 50-55 minutes. TIP: This casserole can be made ahead of time and baked just before serving. Cover casserole with plastic wrap or aluminum foil and refrigerate for up to 1 day. Remove it from the fridge and allow it to come to room temperature before baking. Leftovers store well in the refrigerator for up to 5 days.
Swaps
For the sausage: ground turkey, beef, or chicken, cooked shredded chicken, crumbled pre-cooked bacon, or chopped tofu
For the cheese: dairy-free cheese, nutritional yeast