Food Expiration: Is your food still good?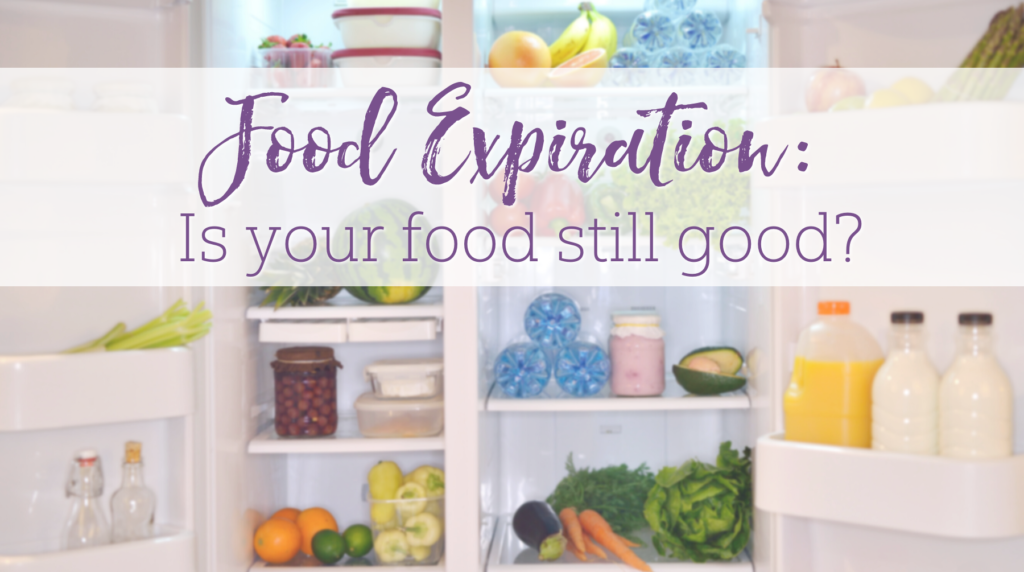 Have you ever found yourself looking through your fridge and wondering, "Can I still eat this?" If that's you, look no further! This month's blog in our food waste series is a one-stop shop to put your mind at ease when it comes to food expiration. This article features how to interpret food date labels, using physical senses to know when something is bad, as well as cooking and storage guidelines.
Let's start with those ambiguous dates you find on the packaging of various products. It's important to know that the US does not have federal guidelines on food date labeling, except when it comes to infant formulas and baby food. For all other foods, the date you see on the can or carton does not indicate food safety. See below for the definition of each type of label:
Best By or Best Before: This date refers to the point at which the food is at its best quality, not the point at which it is no longer safe to eat. It's the date that a company no longer stands by its product.
Use By: This is the last date recommended to use the product while in "peak quality". Again, this is not a safety date unless on infant formula.
Sell By: This date is only meant for inventory purposes for the grocery store staff to efficiently move products through. It's not a safety date by any means.
Use Your Senses
While it is helpful to know that labels are merely for peak quality or appearance, how do we know if food is safe to consume? Well, let's start with signs that food is not safe to consume based on our senses.
Sight:

Mold: This is likely a well-known offender for many. Mold is a clear sign that food has gone bad. It can look like grey fuzz, green spots, or white dust, but it's all various types of mold. Mold grows on the surface, but it has filaments that grow into the food that we do not see and produces microscopic spores. In some cases, it's important to throw the whole container out, and sometimes you can just cut it out. Consider these guidelines to determine the best action:

Safe to cut out at least 1 inch away from mold: This includes firm fruits and veggies (cabbage, raw potatoes, peppers, citrus fruits, melons, carrots, etc.), hard cheeses, and dried or aged meats (salami, country ham).
Throw it all out: Soft fruits and veggies (berries, tomatoes, cucumbers, etc.), soft/shredded/sliced cheeses, bread or baked goods, and cooked grains/pasta/potatoes should be thrown out. Make sure to check for mold under the lid of a container if you suspect it may not be good anymore.

Exception: if the mold is growing in one localized area within a large package of food (ex: grapes, berries, greens, green beans), it may be safe to remove the affected pieces and the surrounding area, and then rinse and enjoy the rest of the unaffected package.
TIP: Do not wash fruits or veggies that are soft or have a high moisture content before placing them in the refrigerator. Place a box of baking soda on your refrigerator shelf to soak up excess moisture

Discoloration: Not all discoloration means that food is unsafe to eat. Here is the breakdown of which colors and situations are still safe, and which ones are not:

Safe:

Bruising: bruising occurs often during handling and transportation. It typically means the affected area can just be cut out without compromising the safety of the produce. Signs that the produce should be thrown out are softness throughout the whole produce, mold, or "off" odor.
Oxidation: Certain compounds will turn brown with exposure to air, but this is not toxic to consume. Just cut off the brown area in apples, bananas, or avocados. There's no need to throw the baby out with the bath water!
Greyish and/or brownish red meat: Compounds in red meat can turn greyish or brownish when exposed to air. As long as there is no stickiness, sliminess, or a bad odor, you should be good to go.

Unsafe:

Red Meats: Unusually dark or greenish red meats accompanied with slime, stickiness, or bad odor are not safe to consume.
Poultry: Yellowish or greyish poultry accompanied by a potent odor and/or sliminess should be tossed.
Egg yolks/whites: If spoiled, these have greenish or black flecks in them or the whites look very cloudy. If an egg is cracked at all, it's best to discard it.

TIP: eggs that are old (usually after 3 weeks) will float in a bowl full of water

Fish: If fish has a blueish/greenish or sometimes even reddish tint to the flesh, milky coating, unusually firm skin, or slimy texture it's a no-go.
Vegetables: These tend to turn either yellowish or blackish when degrading, but use your other senses to determine if they're safe to eat.
Green potatoes: If the potato flesh has turned green, throw it out! This indicates the presence of a compound called solanine which is toxic in high amounts. If just the peel has turned green, you are most likely safe if you peel the potato.
Ice crystals: The larger the ice crystals, the more likely a food has been thawed and re-frozen multiple times. This may mean the product is still fine, but this may be more critical with frozen fish, seafood, poultry, or meat.
Canned foods: Swollen, dented, or rusted cans, or cans where the lid has been "popped" should always be discarded to prevent botulism poisoning.

Smell:  Smell is one of the best indicators that food is no longer safe to eat. As a rule, always smell the food in question. If it doesn't smell like it usually does, it's probably best to discard it. Here are some smells that mean it's time to say goodbye:

Fish: extra potent "fishy" or ammonia smell
Eggs: potent sulfuric smell (think swamp water)
Fruit: fermentation, a "vinegary" smell, or a rotting smell
Veggies: "gas station", alcohol, or vinegar smell, or bitter or unnaturally sweet smells
Dairy: sour smell
Poultry: rotting, sulfuric, or sour smell
Meat: rotted or ammonia smell
Oils and nut butters: sour or unusual smell

Touch:

Sliminess: If your meats, veggies, or fruit have a slimy film or look like they have an unnatural "sheen" to them, then they are most likely unfit to eat anymore.
Softness: If a fruit or veggie becomes mushy throughout, if the peel is shrinking away from the flesh, and if it smells bad these signs may indicate the flesh is starting to deteriorate due to bacteria.

TIP: It is important to differentiate between "floppy" and "soft" as some foods like greens, root veggies, asparagus, or celery may become wilted. This is safe to consume. Just place the food in a bowl of cold water to rehydrate it.
Safety Guidelines

Now that we know what to look for when it comes to deciding whether to eat the food or not, let's move on to general guidelines that will keep you safe when preparing, eating, and storing foods.
Let's start by talking about the "temperature danger zone". This refers to the temperatures where bacteria grow most rapidly, between 40˚F and 140˚F (4.4˚C and 60˚C). Food most commonly enters this zone while at room temperature, so it is best to not let any food that has been cooked or food that should be refrigerated sit out for more than 2 hours at room temperature.
Food can also stay in this zone if it has not been cooked or reheated properly. A meat thermometer may be a good investment to ensure that food is cooked and reheated to its proper minimum internal temperature. See the chart below for more information on safely heating foods:
Minimum Internal Temperature

Other Signs of Doneness

Poultry (ground or whole)

165˚F / 73.9˚C

No more pink

Ground red meat (pork, beef)

160˚F / 71˚C

No more pink

Egg Dishes

160˚F / 71˚C

Firm consistency and no runniness

Whole meat (steaks, loins, fillet, etc.)

145˚F / 62.8˚C

Medium to well-done

Fish and Shellfish

145˚F / 62.8˚C

Opaque flesh and flakey consistency

Leftovers and Casseroles

165˚F / 73.9˚C

Heat leftover soups until boiling

Heat solid foods until steaming

Firm consistency for casseroles

Wild Game

165˚F / 73.9˚C

Best to use meat thermometer due to variety of meats
Whether you have food that is raw or has been cooked, reference below for some general guidelines on how long to store foods:
| | | | |
| --- | --- | --- | --- |
| | Opened | Unopened | Freeze |
| Eggs | 3 weeks | — | Do not freeze |
| Dairy | 4 – 7 days past date | 7 days past date | Do not freeze |
| Raw seafood | 1 – 2 days | — | 3 – 6 months |
| Ground meat, seafood, or poultry | 1 – 2 days | — | 3 – 4 months |
| Chicken or turkey breast | 1 – 2 days | — | 9 months -1 year |
| Raw meat (loin, roast, steak, etc.) | 3 – 5 days | — | 4 months – 1 year |
| Cooked sausage or hot dogs | 1 week | 2 weeks | 1 year |
| Raw sausage | 1 – 3 days | — | 1 – 2 months |
| Bacon | 7 days | 2 weeks | 1 – 2 months |
| Prepared salads (egg, macaroni, chicken, etc.) | 3 – 5 days | — | Do not freeze |
| Soups, stews, and broths | 3 – 4 days | — | 2 – 3 months |
| Leftovers (not soups or stews) | 7 days | — | Up to 1 year |
| Pizza | 3 – 4 days | — | 1 – 2 months |
| Deli meat | 3 – 5 days | 2 weeks | 1 – 2 months   |
TIP: Label and date when you open products such as broths, milk, and bacon to help keep track of how long they will last!
When it comes to veggies and fruits, use the "senses" approach above, as this is best for determining safety. Overall, moisture content and thickness of the skin will determine how long produce lasts. For example, berries and greens are notorious for going bad quickly and may only be good for 2-5 days, while carrots, potatoes, and certain citrus could last up to a month in the fridge! Stay tuned for our next blog on how to store foods properly to maximize shelf life.
Food waste starts in the home and uncertainty around dates and labels is one of the main causes of food waste in the US. We hope that this blog gives you a sense of comfort in reliably knowing how long a food is safe to consume.
Sources: