Recipe: Warm Fennel Radicchio Salad with Turkey Meatballs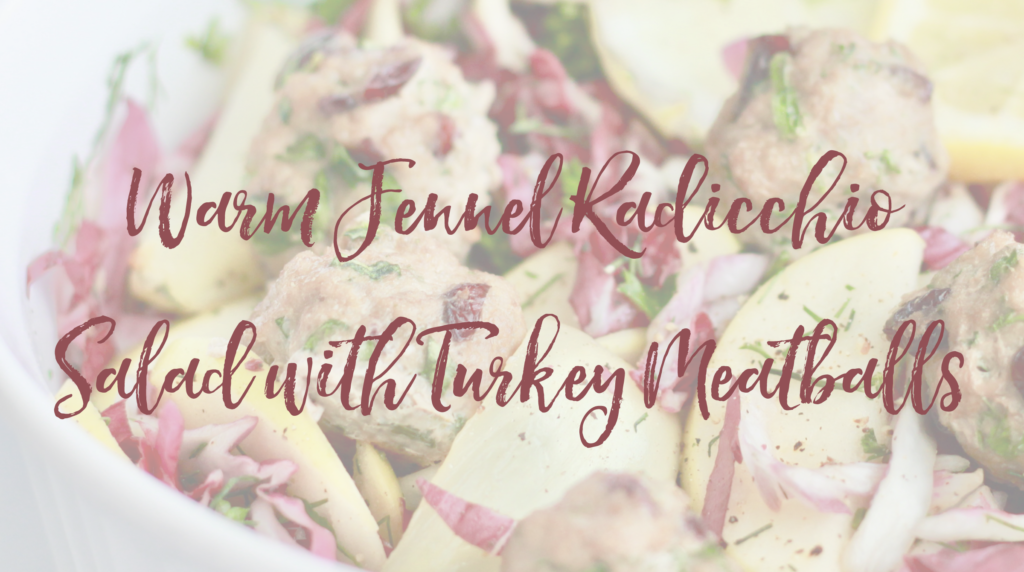 Making a homemade meal that feels a bit fancy can be so satisfying. We think this recipe fits the bill! Featuring unique veggies like fennel and radicchio, this meal is sure to impress. Not familiar with fennel? It is a bulb-like vegetable that is technically classified as an herb. The flavor profile has a mild licorice element, which may hint at its benefits for aiding digestion.
Radicchio is common in Italian cuisine and has a slightly bitter flavor that mellows when cooked. Want to lessen the bite? Add the radicchio to the pan halfway through roasting the fennel (cook 10-12 minutes). Pair these vibrant vegetables with the remaining salad ingredients and cranberry turkey meatballs for a restaurant-quality plate-method meal!
Warm Fennel Radicchio Salad with Turkey Meatballs
Serves 4
Ingredients:
1 lb (or 1 package) lean ground turkey
1 egg
1/2 C dried cranberries, chopped
1/4 C fresh parsley, finely chopped (OR 1 ½ Tbsp dried parsley)
1/2 C spinach, finely chopped
1/2 tsp salt
1/2 tsp garlic powder
1 fennel bulb with fronds (the bushy and lacy herbs/leaves attached to the fennel bulb)
1 Tbsp olive oil
1 yellow or green apple, thinly sliced
1 small head of radicchio, sliced
3/4 C fresh parsley, roughly chopped
2 Tbsp lemon juice (approximately 1 lemon)
Salt and pepper, to taste
1/4 C parmesan cheese, shaved (Optional)
Directions:
Preheat oven to 400°F.  Line large baking sheet with aluminum foil.
Prepare meatballs by using clean, dry hands to mix turkey, egg, cranberries, parsley, spinach, salt, and garlic powder in medium bowl until well blended.
Shape into small meatballs (approximately 1-inch diameter). Should yield about 26 meatballs. Place about 1/2-inch apart on one side of lined baking sheet.
With sharp knife, cut fennel stalk and fronds from fennel bulb. Set fronds aside. Cut fennel bulb into wedges by cutting in half, then halving these portions, and halving again to make 8 wedges. Drizzle with 1 Tbsp olive oil and place on empty portion of lined baking sheet alongside meatballs (or another lined baking sheet if no space on first). Place in oven to roast until fennel edges brown, 15-20 minutes.
Prepare remaining salad ingredients. Finely chop fennel fronds. Add 1/4 C finely-chopped fennel fronds to medium bowl with apple, radicchio, and parsley.
Remove fennel and meatballs from oven. Cut cores out of each fennel bulb section and discard. Add remaining roasted pieces to salad bowl.
Dress salad with lemon juice, add salt and pepper to taste, and toss well to coat. Divide salad between 4 plates and top each with 3-4 meatballs and optional shaved parmesan. Serve immediately.
Swaps:
For the lean turkey: lean ground beef or chicken
For the egg: 1 Tbsp of milled flaxseeds mixed with 3 Tbsp of water until fully absorbed and thickened, about 5 minutes
For the parsley: basil
For the spinach: baby kale
For the parmesan cheese: dairy-free parmesan
Recipe modified from: Our Salty Kitchen