Drink Smart for Your Heart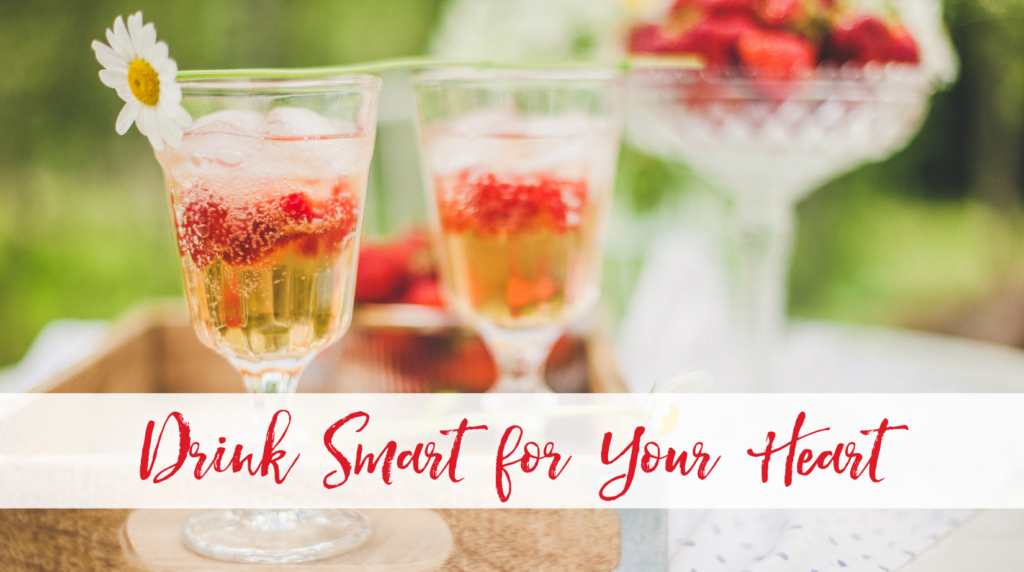 Here at Summerfield Custom Wellness, our dietitians view health as an interconnectedness among many areas including our "Four Pillars of Wellness" – Sleep, Stress, Physical Activity (movement, exercise), and Nutrition. Instead of viewing just one area as important, our dietitians walk their patients through the importance of strengthening each pillar to support health, and this American Heart Month is no different!
Often, many discuss Heart Health in the context of food, inherited risk, and sedentary lifestyles, frequently leaving alcohol intake out of the conversation. However, alcohol consumption may be an important factor to consider when discussing the risk of negative cardiovascular health outcomes. Keep reading for five key ways that excess alcohol intake may impact heart health.
1. Sleep Quality
One of the most compelling areas of research around the impact of alcohol on health involves sleep. The National Sleep Foundation reports that even a single drink for women and less than two drinks for men can lower sleep quality by up to 9.3%.1 When women and men consume more than one and two drinks, respectively, their sleep quality plummets by 39.2%.1 The CDC reports that adults who consistently sleep less than 7 hours a night are at an increased risk for hypertension, or high blood pressure.2 Additionally, research suggests that up to 70% of individuals who regularly consume alcohol also have insomnia – a risk factor for heart disease.2, 3
2. Hypertension
The Mayo Clinic reports that alcohol intake can negatively impact our blood pressure.4 Consuming more than three consecutive alcoholic beverages can have a temporary hypertensive effect while consistently drinking in excess may lead to chronic hypertension.4 Hypertension is a risk factor for kidney disease and strong kidneys are important to filter many substances from the blood, including alcohol!5 This is just one example of how the bodily systems work synergistically and can have a negative domino effect when weakened.
3. Cortisol Levels & Stress
Research suggests that alcohol intake raises levels of the body's stress hormone, cortisol.6 High levels of cortisol are associated with a multitude of cardiovascular risk factors including elevated triglycerides, hyperglycemia, hypertension, and high cholesterol.6 Additionally, elevated stress in the body may result in metabolic changes that lead to the body's build-up of plaque within artery walls, raising the risk of heart attack or stroke.7
4. Cholesterol
Some research suggests that infrequent, light intakes of alcohol may actually raise HDL cholesterol, often called "good cholesterol."8, 9 Researchers defined this as less than 30 grams per day or less than a 10 oz glass of standard wine or less than 2 oz of a 60-proof spirit.8 Higher levels of HDL can be cardioprotective, decreasing the risk of cardiovascular-related mortality.10 However, persistent heavy drinking can negatively impact heart health by increasing triglycerides and LDL cholesterol.10
5. Blood Sugar & Dietary Choices while Drinking
Another way alcohol may indirectly impact heart health actually ties to blood sugar control. After drinking alcohol, the body's blood sugar levels increase – leading to insulin secretion.11 This can result in rapid fluctuations between high and low blood sugar, a common reason for increased snacking while under the influence. Hyperglycemia, if persistent, is a risk factor for diabetes – a condition that is often linked to heart disease.12, 13 Additionally, alcohol may act as an appetite stimulant.14 After a few drinks, many have lowered inhibitions and may not be as mindful about the foods they choose. Heart-healthy snacking may be on the back burner after a few spirited beverages!
Are you looking to explore other tasty, alcohol-free beverages? Check out these recipes and blog posts:
Our dietitians are here to help their patients explore many lifestyle changes that can promote heart health, not limited to smarter sipping! Reach out to our office at info@summerfieldcw.com to set up your appointment today.
Sources: