Recipe: Apple Ginger Tailgate Mocktail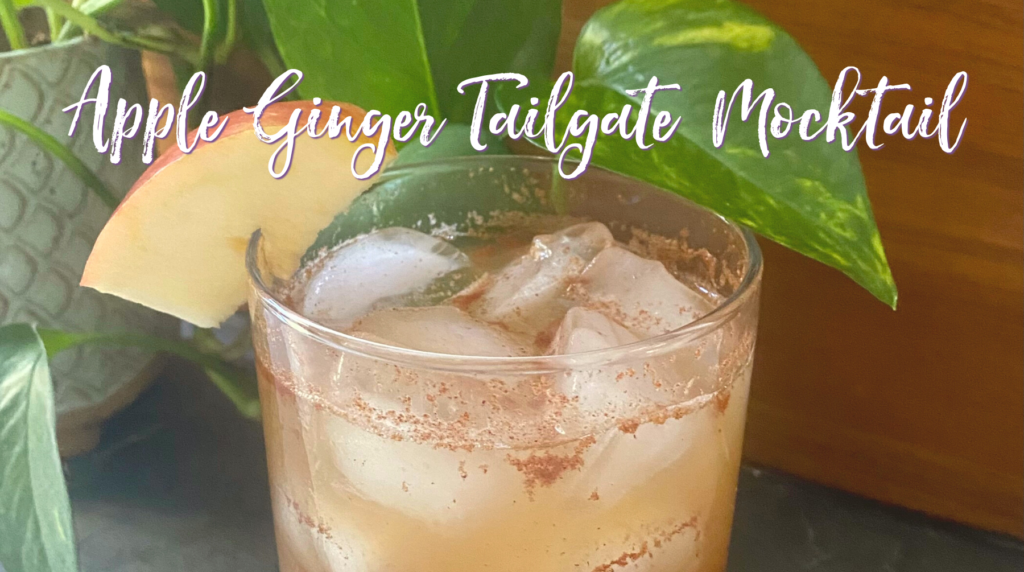 When you think of fall, what comes to mind? For many fall means one thing – football! Gathering with friends and family to cheer on your favorite team creates the opportunity for celebration and connection, often centered around tasty snacks and drinks. This fall, we want to highlight a mocktail recipe that is bound to be a winner no matter which team you cheer on!
Non-alcoholic beverages often get a bad reputation for being boring and many gatherings may only offer options like soda, water, or tea. No matter your reason for choosing to limit or avoid alcohol, boring drinks do not have to be your reality!
This mocktail recipe is packed with flavor and may even support gut health as its primary ingredient is kombucha, a fermented (probiotic-rich) tea beverage.1 Note that kombucha often has trace amounts of alcohol, often less than 0.5%, due to the fermentation process. Additionally, this recipe includes unfiltered apple juice which may provide higher amounts of polyphenols compared to traditional apple juice.2 Polyphenols are naturally occurring compounds in plant foods that can have antioxidant properties when consumed.3
Apple Ginger Tailgate Mocktail
Serves 1
Ingredients:
1 tsp maple syrup
1/4 tsp ground cinnamon
2 tsp fresh or bottled lemon juice
1/4 C unfiltered apple juice
3-4 ice cubes
3/4 C ginger lemon kombucha of choice (brands that carry this include KeVita, Health Ade, Tribucha in the Raleigh-
Durham area, and Humm)
Apple slice or lemon wedge to garnish
Directions:
Add maple syrup, cinnamon, lemon juice, and apple juice to cocktail shaker or clean, lidded jar. Shake until ingredients combined.
Pour over ice in cocktail or wine glass.
Gently add kombucha to glass to avoid creating too much fizz. Stir.
Garnish, as desired, with apple slice or lemon wedge.
Swaps:
For the maple syrup: honey or omit
For the ground cinnamon: cinnamon stick garnish or omit
For the apple juice: apple cider
Sources:
https://health.clevelandclinic.org/what-are-kombuchas-health-benefits-and-how-much-can-you-safely-drink/
Oszmianski, J. Journal of the Science of Food and Agriculture, Jan. 15, 2006 online edition. News release, Society of Chemical Industry.