Tips for Staying Hydrated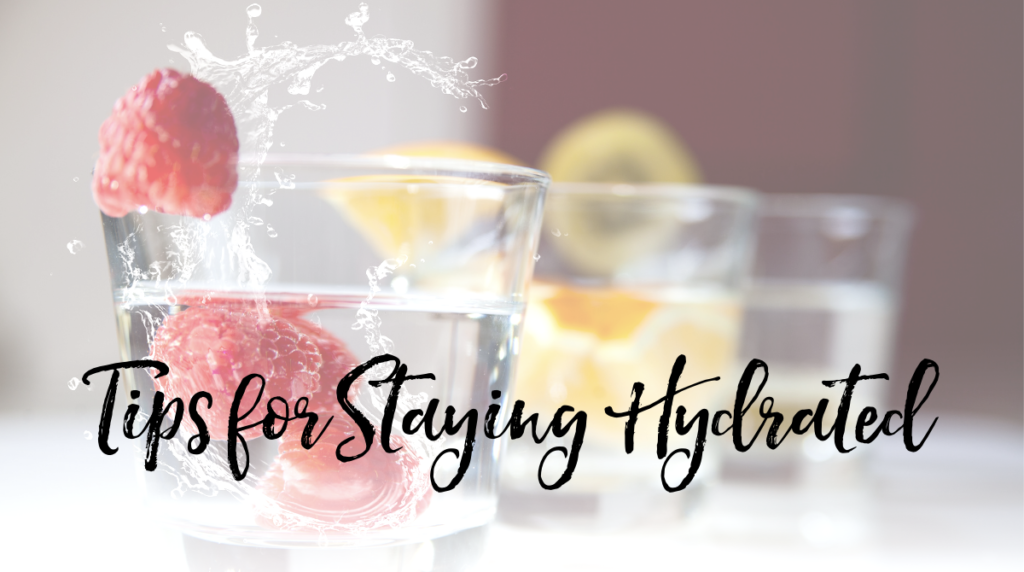 Did you know that water makes up 45-75% of the human body, depending on the stage of life?  In fact, water accounts for over 70% of the volume of the brain, heart, lungs, muscles, and kidneys!  Even our bones have significant water content. These stats aren't just fun facts for your next trivia game; when you take them into further consideration, the vital role of hydration becomes crystal clear.
So how can you be sure that you are consistently getting enough of the right fluid?  Recommendations vary based on height, weight, activity level, genetics, and health conditions. You can start with some simple tips for increasing your water intake to stay hydrated.
10 Tips for Staying Hydrated
Start your morning with a full glass of water, between 8-16 oz.  If you prefer something warm, try herbal tea or a cup of hot water and the juice of half a lemon.
Stick with water as much as possible. This helps avoid unnecessary sugars, additives, and caffeine.
If you don't enjoy plain water, flavor it naturally with fruits, vegetables, or herbs.
Keep a bottle of water nearby throughout the day, whether you're at work, school, home, or in the car.
Don't wait until you are thirsty to take a drink – by that time you are already dehydrated! Try to consume 6-8 oz of water per hour to stay ahead of thirst.  If you have trouble remembering, set a reminder on your phone until it becomes a habit.
Food accounts for 20-30% of your daily water intake. Eating colorful fruits and vegetables not only ensures you receive an abundance of nutrients but will also help keep you hydrated.
Is tracking water intake not for you? That's ok! The color of your urine is generally a good indicator of your current hydration level.
When drinking alcohol, pace yourself with a glass of water for each alcoholic beverage that you consume.
Sweating is the body's natural cooling mechanism when it gets overheated from physical activity or summer temperatures and humidity. As soon as you begin to feel sweaty, it's a good time to take a drink and replace the fluids lost.
Pace yourself. Hydration is not a race, it is a continuous cycle. Consistent hydration is best achieved by incorporating fluids throughout the day rather than crushing your water goal by 10 am.
Learn more about why water is considered the most important nutrient by joining our upcoming class, Hydrate for Health, on July 13.  Click here to sign up for this class or other topics in the Summer Wellness Series!