Save Those Scraps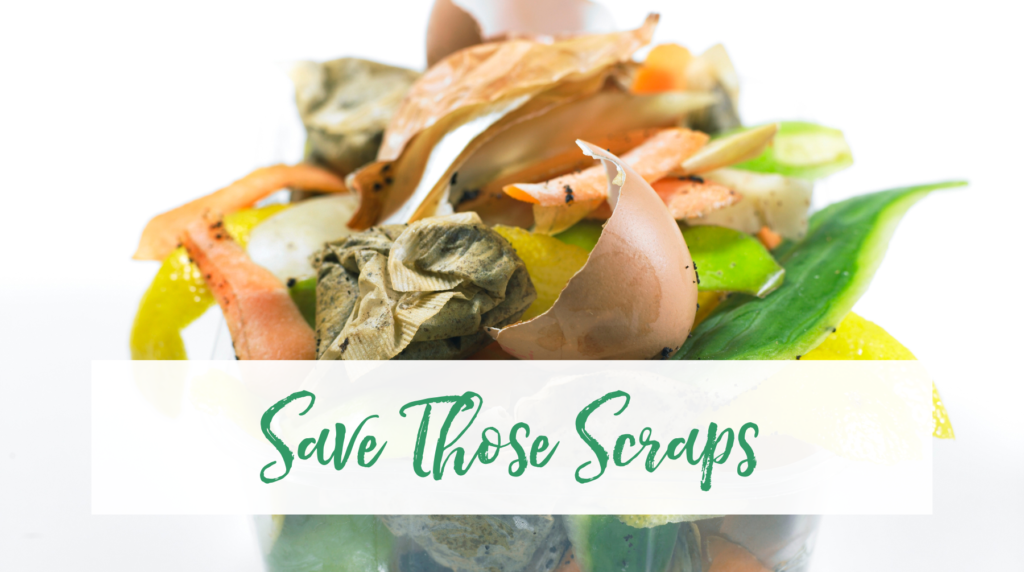 Have you ever looked at the scraps from meal prepping and wished they could go somewhere other than the trash? In previous blogs, we have covered some of the biggest contributors to food waste such as misinterpreting food labels, forecasting to reduce excess, and how to know if a food is still good or not. But what can we do about the "inedible" parts of foods like peels, cores, meat trimmings, shells, and stems? When these organic materials end up in a landfill they impact the earth's atmosphere and climate.1 The gasses they produce constitute the majority of methane gas emissions in the US!2
Throwing away edible food has other impacts as well. You can save thousands of dollars each year by reducing waste in your kitchen! In fact, one woman saved $18,000 a year by practicing zero waste.4 Research has also shown that intentionally using or re-purposing food rather than throwing it out can translate to resourcefulness in other areas of your life.4 Let's look at creative ways to re-purpose scraps to help the environment, economy, and maybe even your budget!
Coffee Grounds
Almost 65% of Americans drink coffee daily, and over 6 million tons of coffee grounds per year end up in landfills worldwide.3
Veggie Peels/Scraps
Potatoes
Greens & Herbs
Carrots
Stalks
Miscellaneous
Fruit
Citrus Peels
Citrus peels can carry more pesticides and herbicides than others, so buy organic citrus if possible and wash peels well with a fruit and veggie cleaner.
Apples & Bananas
Tropical Fruits & Melons
Grain products
Cereals and grain products make up the largest percentage of food that ends up in landfills.5
Animal Products
Egg, Shells, & Bones
Fat & Grease
There are so many different ways to reuse foods and food scraps that can help create new flavorful dishes and even aid in health. Although life can get busy, consider freezing vegetable scraps in a bag for broths or fruit peels for teas! Another option to help reduce carbon emissions is donating food scraps to local farms for animal feed. You might also consider sharing waste or starting your own compost pile! In just a few steps, you can be well on your way to creating nutrient-rich compost that can be used to fertilize your plants or your neighbors'!
The dietitians here at Summerfield can't wait to hear about the ways you can save food and create new recipes!
Sources: