Recipe: Roasted Pumpkin Seeds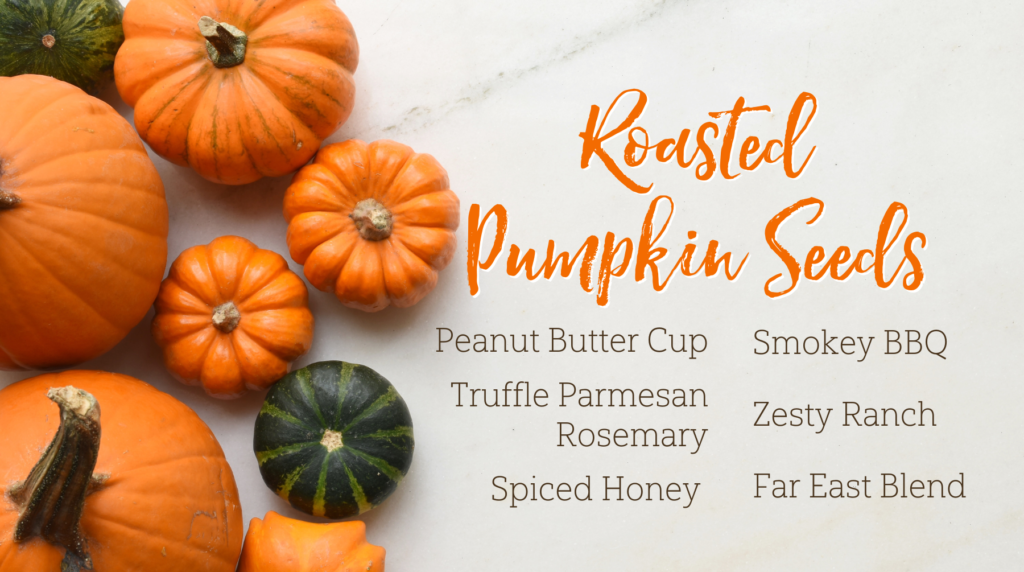 Carving pumpkins with the family? What better way to extend the joy than making a yummy pumpkin seed treat? Pumpkin seeds are high in iron, zinc, magnesium, and fiber. Studies have shown that pumpkin seeds may be linked to improved cardiovascular function, estrogen levels, and blood sugar support. Plus, using the seeds of your carved pumpkin means there is less food waste! So let's spice things up a bit with 6 different blends that are sure to please. Although your pumpkins may be empty, your stomach won't be!
Roasted Pumpkin Seeds
Serves 4-6
Ingredients:
Zesty Ranch

1 1/2 C pumpkin seeds
1 tbsp avocado oil
1 Tbsp ranch seasoning mix
2 tsp dill
1/4 tsp salt
1 tsp lemon juice

Spiced Honey

1 1/2 C pumpkin seeds
1 tbsp coconut oil
2 tsp pumpkin pie spice
1 tsp cinnamon
1/4 tsp ginger
1/8 tsp salt
1 tbsp vanilla
1 tbsp honey

Smokey BBQ

1 1/2 C pumpkin seeds
1 tbsp avocado oil
1 tsp onion powder
1 tsp garlic powder
1/2 tsp smoked paprika
1/2 tsp salt
1/4 tsp cayenne pepper
1/4 tsp ground mustard
1/4 tsp light brown sugar

Far East Blend

1 1/2 C pumpkin seeds
1 tbsp avocado oil
1/2 tsp turmeric
1 1/2 tsp za'atar
1 1/2 tsp garam masala
1/2 tsp black pepper
3/4 tsp salt

Peanut Butter Cup

1 1/2 C pumpkin seeds
1 tbsp coconut oil
1 1/2 tbsp powdered PB
1/2 tbsp cocoa powder
1/8 tsp salt
1 1/2 tbsp powdered sugar
1 tsp vanilla

Truffle Parmesan Rosemary

1 1/2 C pumpkin seeds
1 tbsp avocado oil

1 tsp rosemary

1/2 tsp truffle salt

1 tbsp grated parmesan cheese

1 tsp garlic powder

Directions:
Scoop pumpkin "guts" out, separating large chunks of pumpkin fibers from seeds.
Place seeds in bowl of cool water. Separate remaining fibers from seeds using hands. Pumpkin "guts" should sink to bottom of bowl.
Remove cleaned seeds from water. Pat dry on towel or leave out to dry overnight.
Select your seed spice recipe. Place 1 1/2 C dried seeds in large bowl. Toss with 1 Tbsp of oil to coat.
Add dry seasonings per selected recipe and stir to coat.
Mix in any wet ingredients.
Spread pumpkin seeds in single layer on baking sheet. The more space the seeds have, the crispier they become!
Bake at 275°F, 40-45 minutes, stirring seeds every 15 minutes. Seeds are done when crispy.
Store in air-tight container or mason jar at room temperature.
TIP: Keep an eye on your seeds as cooking times may vary slightly. If roasted seeds become soft over time, place them in a toaster or conventional oven at 300°F for 5-10 minutes to bring back the crunch!
Swaps:
For the light brown sugar: 1 tsp honey
For the parmesan cheese: nutritional yeast