Recipe: Sheet Pan Pesto Chicken & Veggies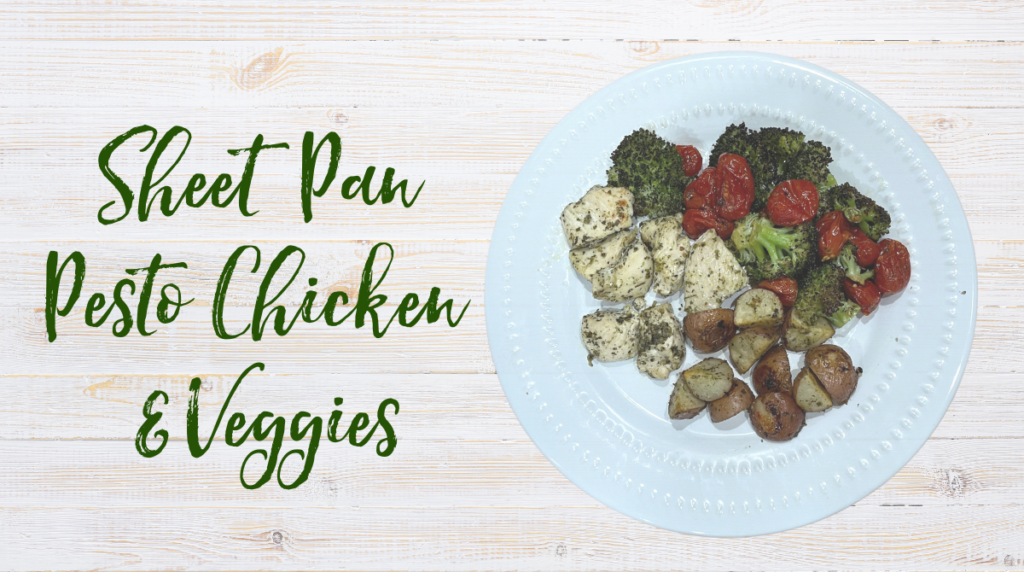 Sheet pan meals strike gold again with this pesto chicken and veggie dish. A bold and flavorful sauce like pesto plays a starring role, pulling together almost any protein and vegetable combination. While classic basil pesto works great, you could also consider a sundried tomato pesto for a fun twist.
This recipe works great for plate method meal prep, incorporating all three elements. Portions can easily be divided into single-serving containers for reheating at lunchtime. Check the list of 'swaps' to customize your creation or add variety to this dish, which may easily become a go-to favorite!
Sheet Pan Pesto Chicken & Veggies
Serves 4
Ingredients:
Cooking spray or oil
1 lb red baby potatoes
1/3 C jarred basil pesto, divided
2 crowns broccoli
1 pint grape tomatoes
3 boneless, skinless, chicken breasts (about 1 1/2 lbs)
Mozzarella cheese (Optional)
Directions:
Preheat oven to 425 °F.
Line large baking sheet with aluminum foil or grease baking sheet with cooking spray or oil.
Dice potatoes into about ½-inch thick cubes. Add to a large bowl with about ½ pesto. Toss until well coated.
Add potatoes to baking sheet, place in oven, and roast for 20-25 minutes.
Chop broccoli crowns into florets. Add broccoli, pint of grape tomatoes, and spoonful of pesto to large bowl used for potatoes. Toss well to combine.
Chop chicken into 1-inch pieces. Add to separate bowl with remaining pesto. Toss well to coat.
Remove potatoes from oven. Add broccoli, tomatoes, and chicken to sheet pan, carefully spreading mixture into one layer.
Place baking sheet back in oven and cook for 20 minutes (or until center of chicken is 165°F)
Divide into 4 servings, sprinkle with mozzarella cheese (if desired) and enjoy!
Swaps:
For the chicken: chicken thighs, tempeh, pork tenderloin, or shrimp
For the potatoes: Yukon gold potatoes, tricolor potatoes, turnips, rutabaga, or sweet potatoes
For the veggies: carrots, cauliflower, Brussels sprouts, parsnips, onion, asparagus, green beans, onion, or mushrooms