Recipe: Pesto Salmon Spinach Pasta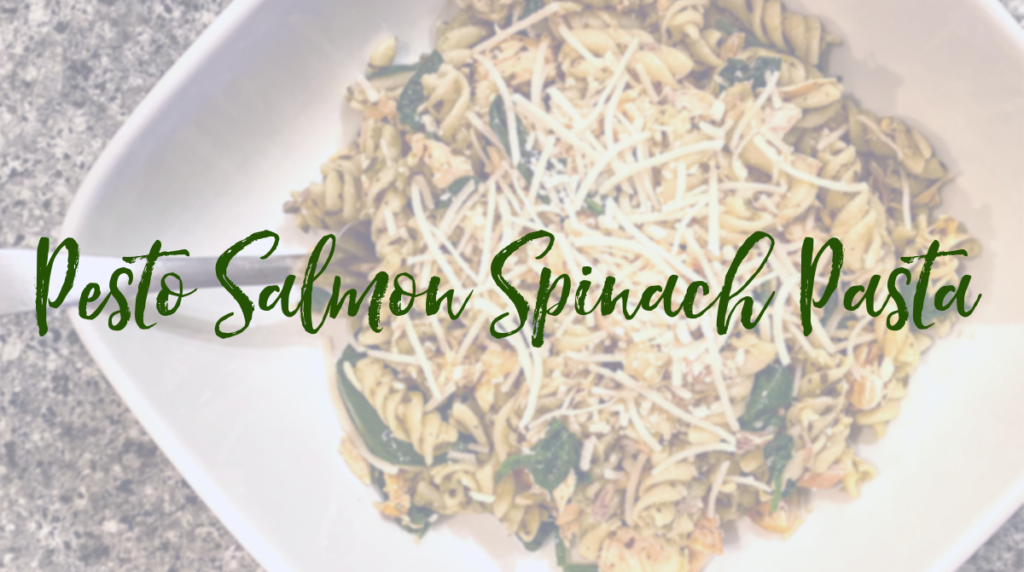 Tired of your traditional pasta dish? This rotini recipe highlights the vibrant flavors of basil pesto and nutrient-packed salmon!
You've probably heard before that salmon is fabulous for heart health. This oily fish contains types of fat our bodies require: omega-3 fatty acids. Omega-3s are vital for cardiovascular and brain health and can also help reduce inflammation throughout the body. Salmon is also an excellent source of protein, selenium (which is necessary for thyroid health), and B12 (a B vitamin often missing from vegetarian diets).
It's recommended Americans eat 2 servings of fatty fish per week, but most of us don't meet this goal. Different types of salmon (depending on location and farm vs. wild) may also contain varying amounts of mercury, so it's recommended you eat no more than 4 servings of fatty fish per week. Pregnant women are recommended to eat no more than 2 servings of fish per week and to avoid all high mercury content fish (such as swordfish and king mackerel).
Pesto Salmon Spinach Pasta
Serves 6-8
Ingredients
16 oz rotini pasta, uncooked
2 lbs wild-caught salmon fillets
3 C fresh spinach
6 oz jar basil pesto sauce
Parmesan cheese, grated (optional)
Directions
Preheat oven to 350°F. Place salmon fillets on a baking sheet (skin side down if not skinless). Once oven has reached 350°F, insert salmon and cook for 20 minutes, or until an internal temperature of 145°F is reached. While salmon is cooking, prepare pasta according to package instructions.
Drain excess water from pasta, rinse, and return pasta back to pot. Add spinach to pasta. Cover pot with lid for 6-8 minutes for the spinach to soften, stirring halfway, until the spinach is mostly wilted. Add the pesto to pasta. Stir to combine.
Use a fork to flake baked salmon and skin apart into bite-size portions. Omit salmon skin, if preferred. Add salmon to pasta and stir to combine.
Divide into serving bowls and top with Parmesan cheese, if desired. Serve and enjoy!
Swaps
For the salmon: chicken, trout, cod, mahi-mahi, or shrimp (adjust cooking times accordingly)
For the spinach: baby kale leaves or chopped mushrooms
For the basil pesto: sun-dried tomato pesto