Recipe: Farro Salad with Chickpeas, Cranberries, & Walnuts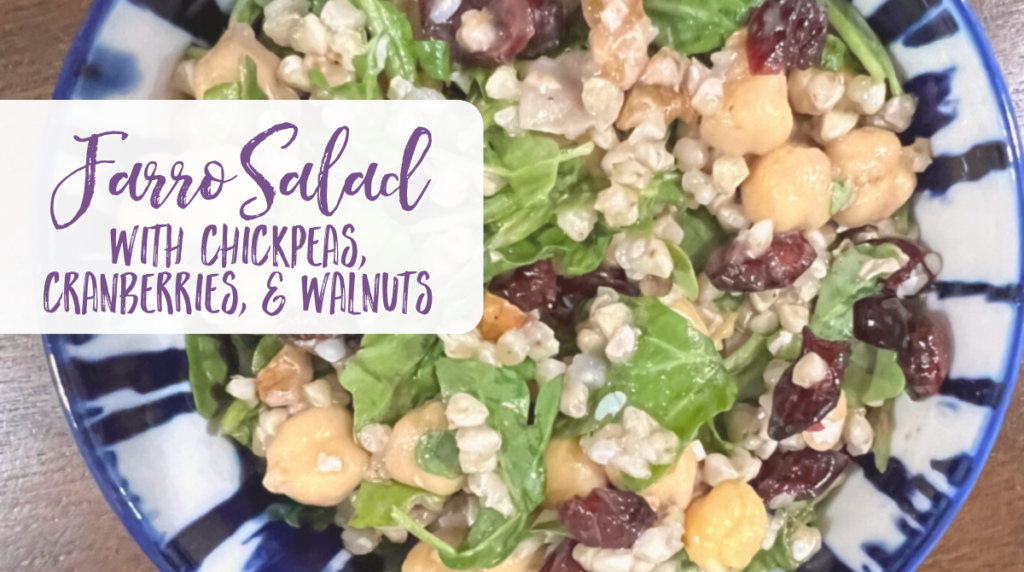 Want a hearty grain salad that is sure to please all year round? Loaded with antioxidants, omega 3's, fiber, B, C, and A vitamins, and minerals such as magnesium, zinc, and copper, this dish is extremely nutrient-dense. If you've never tried farro, this is your chance! This ancient relative of wheat provides a nutty flavor and dense texture. This farro salad can be served warm or cold and is perfect for meal prep!
Farro Salad with Chickpeas, Cranberries, & Walnuts
Serves 6
Ingredients:
2 C water
1/2 tsp salt
1 C uncooked farro, rinsed
2 C spinach, torn or roughly chopped
15 oz can chickpeas, drained and rinsed
1/2 C dried cranberries
1/2 C walnuts, toasted
Dressing:
3 Tbsp apple cider vinegar
1 1/2 Tbsp olive oil
1 Tbsp Dijon mustard
2 cloves garlic, minced (or 3-4 tsp jarred minced garlic)
Juice of 1/2 lemon
2 tsp maple syrup
1/2 tsp freshly ground black pepper
1 tsp Kosher salt
Directions:
In large pot on stove over high heat bring 1/2 tsp salt and water to boil. Add farro. Reduce heat. Simmer, uncovered, 25-30 minutes or until water absorbs.
Meanwhile, in small mixing bowl, whisk dressing ingredients until combined.
Pour cooked farro into strainer. Rinse with cold water until slightly cooled.
Place farro, spinach, chickpeas, cranberries, walnuts, and dressing in large bowl. Toss well to combine. Serve warm or chilled.
TIP: Serve on a bed of greens with your favorite protein to make a plate method meal. Try it with our yummy Savory Pork Tenderloin or Quick Shrimp Saute!
Swaps:
For the farro: quinoa, buckwheat, wheat berries, bulgur, or couscous
For the spinach: arugula or kale
For the chickpeas: lentils, navy beans, or white beans
For the walnuts: almonds, sunflower seeds, pumpkin seeds, or pecans
For the cranberries: raisins or dried cherries
For the maple syrup: honey
For the Kosher salt: sea salt