Recipe: Savory Pork Tenderloin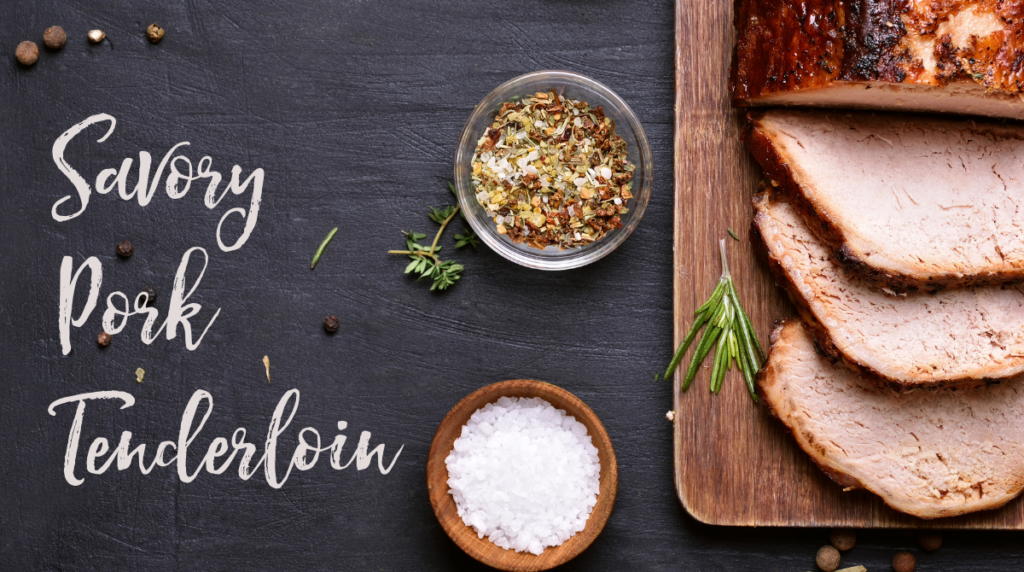 Have you ever accidentally overcooked your pork? It's easy to do and likely doesn't yield the delicious result you were intending. One of the best ways to prevent overcooking any meat is with a meat thermometer. Another is to be aware of your meat/poultry type and cut. There are best cooking methods for each!
Tenderloin is the leanest cut of pork and is comparable to skinless chicken breast in fat content. This is great from a heart health perspective, but it also means the meat is more prone to losing moisture than fattier cuts. Cooking to the recommended temperature and using the tenderloin's natural juices for basting (pouring juices back onto the meat) can help keep the tenderloin moist and tender. If you have an Instant Pot, consider this recipe instead of the one below to cut down on cooking time!
Ounce for ounce, pork contains a similar protein content to chicken breast. Pork is also rich in many B vitamins necessary for metabolism including thiamine, which is uncommon in other red meats. Lastly, pork is a good source of minerals, such as selenium and zinc, necessary for a healthy thyroid and immune system.
Savory Pork Tenderloin
Serves 5-6
Ingredients
1 Tbsp olive oil
1 lb pork tenderloin
Desired spice mix (see below)
Directions
Preheat oven to 400°F. Lightly coat a large baking dish or casserole dish with olive oil.
Add pork tenderloin to baking dish, coat in oil by flipping over a few times. Combine desired spice mix in a small bowl. Sprinkle spices over all sides of tenderloin, rotating to coat evenly.
Bake pork tenderloin for 20-25 minutes, until crisp and golden brown on the outside with an internal temperature of 145°F. Option to spoon juices onto tenderloin to add moisture back when serving. Place tenderloin on cutting board and allow to rest for 5 to 10 minutes. Slice and serve.
Spice Mixtures
Option 1: 2-3 Tbsp Italian seasoning, 1 Tbsp garlic powder, and salt and pepper to taste
Option 2: 1 Tbsp chili powder, 1 Tbsp paprika, 1 Tbsp garlic powder, ½ Tbsp cumin, and salt and pepper to taste
TIP: This recipe highlights the protein portion for Plate Method. Suggested use in recipes includes shredded pork tacos, sliced pork with BBQ or Asian sauces on top of a salad, or simply paired with roasted potatoes and veggies.
Recipe modified from: Crème da la Crumb