Recipe: 30-Minute Salmon & Veggies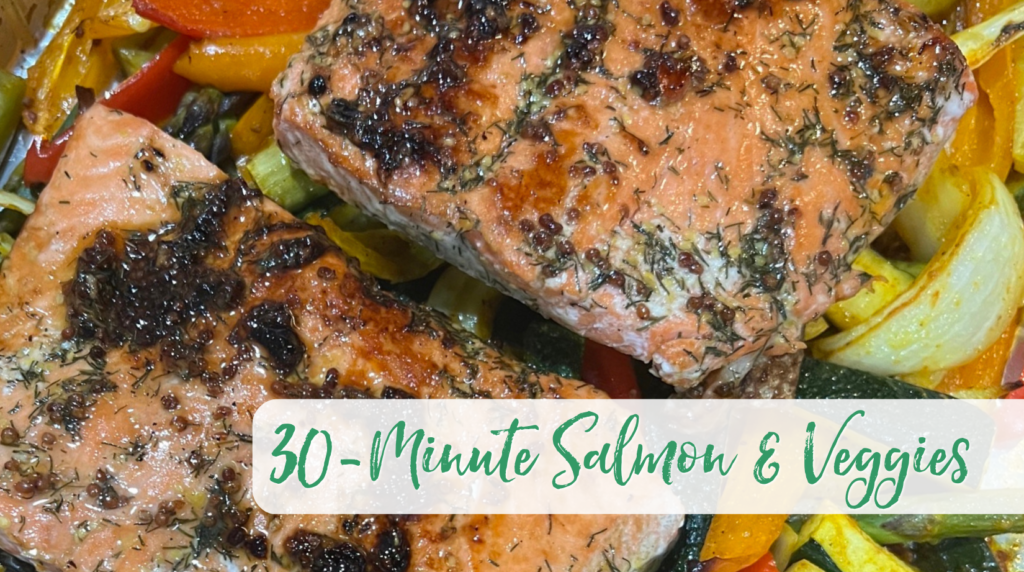 Looking for an easy weeknight dinner that's delicious and healthy? Look no further! Our 30-Minute Salmon & Veggies is sure to delight every one of your tastebuds. From sweet and smoky to acidic and earthy flavors, this dish has it all!
The variety of colors in this dish means that it's packed with a multitude of vitamins, minerals, and antioxidants. Healthy fats are no stranger here either, as this recipe provides more than your daily dose of omega 3's and polyunsaturated fats. Pair this dish with a carb source, such as our Moroccan Spiced Chickpeas or roasted potatoes, and you may have just created your family's new go-to dinner.
30-Minute Salmon & Veggies
Serves 2-3
Ingredients:
1/2 lb asparagus
1 medium zucchini
1 large bell pepper
1/2 sweet onion
2 Tbsp fresh dill
Juice from 1 lemon (about 4 Tbsp)
1 1/2 Tbsp olive oil
1 Tbsp Dijon mustard
1 Tbsp agave syrup
1 tsp smoked paprika
1 tsp salt, plus more to taste
1 tsp pepper, plus more to taste
8-10 oz salmon fillets (2-3 fillets)
1 Tbsp avocado oil
1/2 Tbsp butter
Directions:
Preheat oven to 375°F. Line baking sheet with parchment paper. Wash vegetables. Discard asparagus ends. Thinly slice zucchini, pepper, and onion. Destem and mince dill. Set all aside.
In large bowl, whisk together 2 Tbsp lemon juice, olive oil, mustard, agave, paprika, salt, and pepper. Add asparagus, zucchini, pepper, and onion. Toss to evenly coat. Transfer mixture to baking sheet. Roast 15-20 minutes.
Gently pat salmon fillets dry with paper towels. Season both sides with salt and pepper, to taste. Set aside.
In large skillet on stove over medium-high heat, heat butter and avocado oil until shimmering. Place salmon skin-side down on pan. Add dill to oil. Cook, undisturbed, 4 minutes or until salmon skin is golden.
Flip salmon. Reduce heat to medium. Cook 4 minutes, or until thickest part of salmon cooked to preference or internal temperature 140°F. Remove from heat.
Remove vegetables from oven. Set aside to cool.
Plate salmon skin-side down with pan drippings and remaining lemon juice spooned over top. Serve alongside warm roasted vegetables and starch of choice.
TIP:This recipe works well with a variety of roasted vegetables, so feel free to include whatever vegetables you have available or others you prefer.
Swaps:
For the agave syrup: honey or maple syrup
For the fresh dill: dried dill
For the smoked paprika: regular paprika
Recipe modified from: Once Upon a Chef