Recipe: Moroccan Spiced Chickpeas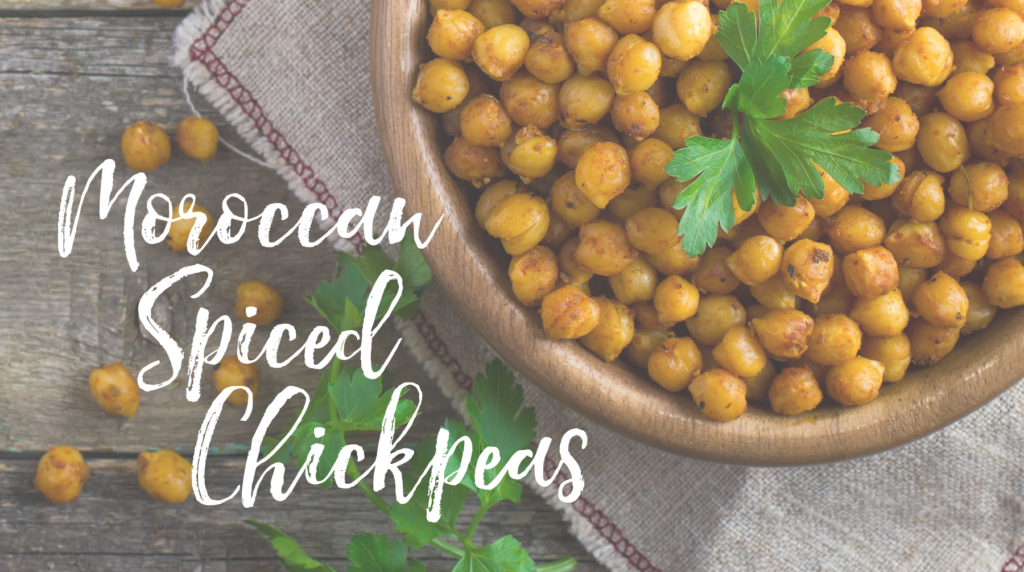 This Moroccan-inspired dish is where flavor meets comfort, with chickpeas as the star. Did you know chickpeas, AKA "garbanzo beans", do wonders for the heart?
Chickpeas contain "sitosterol" which is a structure similar to cholesterol that interferes with the body's absorption of cholesterol. This helps to lower blood cholesterol levels. Additionally, the fiber and unsaturated fats may favorably affect blood lipid levels; therefore, a triple threat in heart protection!
Moroccan Spiced Chickpeas
Serves 4-6
Ingredients:
1 Tbsp olive oil
1/4 yellow onion, chopped
1 clove garlic, minced
1 tsp turmeric
1 tsp garam masala
1 Tbsp chili powder
1 Tbsp cumin
1 tsp salt
1/4 tsp cinnamon
1/4 tsp cayenne
2 cans chickpeas (14 oz each), drained and rinsed
2 cans fire-roasted diced tomatoes (14 oz each), drained
1/2 Tbsp lemon juice (approx. 1/2 lemon)
1/4 C fresh mint
1/4 C plain Greek yogurt
1/4 C hummus
Instructions:
Heat olive oil in large skillet on stove over medium heat. Add onion. Sauté until soft, 10-15 minutes.
Add garlic, turmeric, garam masala, chili powder, cumin, cinnamon, cayenne, salt, and chickpeas to skillet. Stir until very fragrant, 1-2 minutes.
Add drained, fire-roasted tomatoes and simmer 20 minutes, stirring occasionally.
Remove from heat. Top with lemon juice and mint. Serve warm alongside hummus and Greek yogurt.
TIP: Consider completing the meal by serving with your favorite plate method additions or ours, listed below:
1 C Moroccan Spiced Chickpeas for quarter plate vegetarian protein
1/2 C couscous, quinoa, or brown rice for quarter plate starch/carbohydrate
1 diced cucumber or jicama bulb, for half plate non-starchy vegetables
2 C kale, chopped into bite-size pieces for half plate non-starchy vegetables
Swaps:
For the chickpeas: canned white beans
For the fire-roasted diced tomatoes: regular canned diced tomatoes
For the mint: parsley or cilantro
Source: https://www.hsph.harvard.edu/nutritionsource/food-features/chickpeas-garbanzo-beans/
Adapted from: https://pinchofyum.com/morrocan-spiced-chickpea-glow-bowl