Tips for Enjoying Summer Seasonal Produce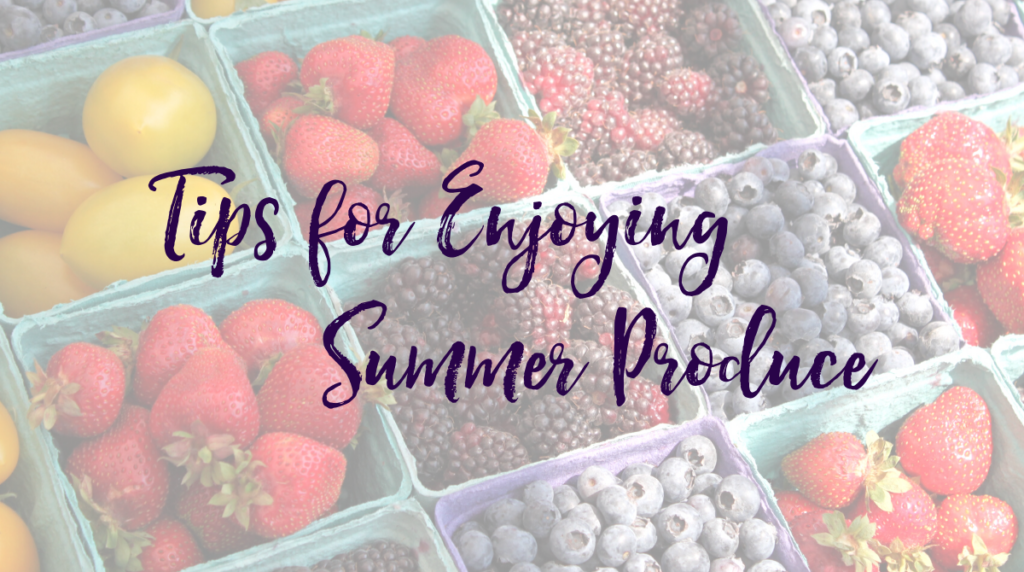 Summer is the perfect time for enjoying the flavors of fresh, local produce. With an abundance and variety of fruits and vegetables that are now in season, summer also provides an excellent opportunity to soak up all their health benefits. When you choose produce that is currently in season, not only is it more nutrient-dense, but it is also tastier because it's picked at its peak of freshness. Before your next trip to the store, check out some ideas to make the most of your next produce haul.
3 Tips for Enjoying Summer Produce
Identify what's in season
The Seasonal Food Guide is one of our favorite resources for identifying what is in season. It's user-friendly and sortable by state, month, and/or product type. In addition to helping you decide what to add to your grocery list, you can also find tips on selection and cooking!  It is also a fun resource to learn about how your food is grown.
Produce from local Farmer's Markets are often riper, fresher, and affordable. Cutting out transportation helps retain flavor and nutrients. When you buy directly from the farm, it is often cheaper than the grocery store, and you are helping support the local agricultural community. Many markets also accept SNAP benefits, and some even offer a "Double Bucks" matching program.
Proper storage to extend the life and freshness
There's nothing worse than starting dinner prep only to find that your zucchini is mushy and inedible. Did you know that onions release a gas when stored in the fridge, which can spoil other vegetables? Fruits and veggies have various shelf-lives, and they thrive under different conditions.  Check out our produce storage guide to help extend the life and optimal freshness.
Get inspired
Vacations, celebrations, and long days at the pool are things that remind us of summertime fun. Let's add food to that list too! Infuse summer vibes and produce into your meals by checking out our Spring and Summer Recipes. All our recipes are 'dietitian tested and approved' so you'll know they're both delicious and nutritious.
You can learn more about the benefits of seasonal produce and much more by joining us for our Summer Wellness Series, beginning June 29th. Classes are packed with ideas for enjoying all that the summer has to offer while keeping your plate balanced and your belly full.