Recipe: Chilled Salmon Citrus Salad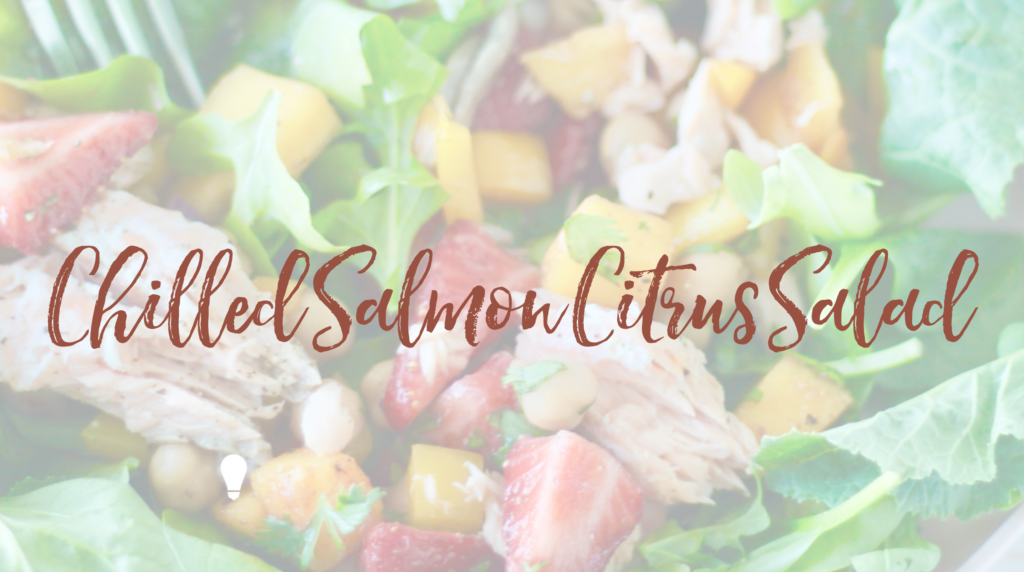 It's true what they say, we do eat with our eyes first. The appearance of foods can have an aversive or alluring effect on our desire to eat. This salad is a perfect example of how visually appealing a healthy meal can be, incorporating all the components of the plate in one vibrant dish.
Salmon, rich in omega-3 fats, is a versatile protein that can be served hot or cold. For summer salads, it works beautifully when chilled. The fresh fruit, vinegar, herbs, and spices each provide complementary flavors and textures, vitamin C, and other important antioxidants. Layered atop a bed of dark greens, providing vital minerals such as magnesium and calcium for heart and bone health, this salad shines as a nutrition powerhouse. If you like, consult our list of swaps to customize your summer salad experience.
Chilled Salmon Citrus Salad
Serves 6
Ingredients
1 1/2 lbs salmon, chilled
1 C mango chunks (fresh or frozen and defrosted)
1/2 C strawberries, sliced
2 yellow or orange bell peppers, diced
1 can chickpeas, drained and rinsed
1/4 red onion, diced
1/4 C fresh cilantro, chopped
1/4 C lime juice (approximately 2 limes worth)
1 Tbsp white balsamic vinegar
1/4 tsp salt
1/4 tsp smoked paprika
1/4 tsp cumin
6 C arugula, spinach, and kale mix
Directions
Preheat oven to 375°F. Line baking sheet with aluminum foil. Add salmon to sheet. Bake 20 minutes or until internal temperature 145°F in thickest portion of fillet.
In large bowl, toss together mangos, strawberries, bell peppers, chickpeas, red onion, cilantro, lime juice, white balsamic vinegar, salt, smoked paprika, and cumin. Fold mixture well.
Remove salmon from oven. Divide into large sections or flake into bite-size pieces. Place in refrigerator to chill, 5 minutes.
Divide salad greens between 6 plates. Add layer of fruit and veggie mixture and top with salmon.
Swaps
For the salmon: cooked shrimp or chicken
For the arugula and greens mixture: Romaine lettuce or mixed leafy greens of choice
For the mango: canned Mandarin oranges (drained) or Halo orange sections
For the strawberries: blueberries, blackberries, cherries (destemmed and pitted), or raspberries
For the white balsamic vinegar: red wine vinegar