Reducing Food Waste with Source Reduction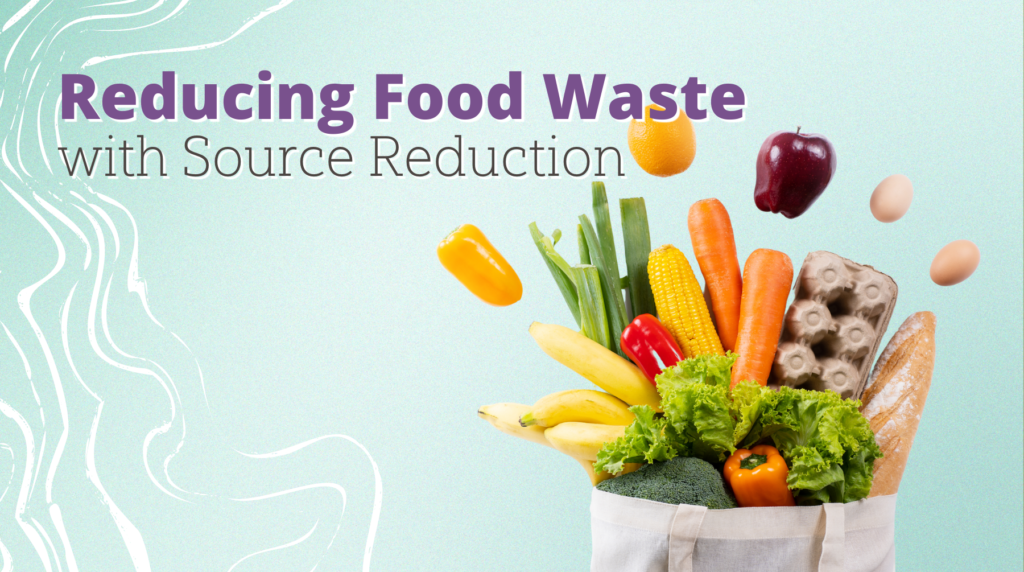 Whether it's rising food costs, environmental considerations or just wanting to be more frugal in general, you've come to the right place to learn how to take small steps to make a big impact toward reducing food waste!
We all have likely heard that food waste is a big issue, but let's dive into the facts:
1 in 3 foods produced in the world will be wasted.1
A staggering 30-40% of all food that is produced in the US ends up in landfills, making food the largest component. That's 80 million pounds of food discarded each year in the US and 1.4 billion tons globally.1
The US throws away the most food out of the 35 most wealthy nations in the world, at about 220 lbs per person per year.2
35% of Americans before COVID reported dealing with some degree of food insecurity, however, these numbers are estimated to be closer to 50% in 2022 due to inflation in grocery prices.1
One of the biggest reasons why Americans throw out food is due to misinterpretation of food labels and expiration dates.1
Food waste accounts for 11% of the Earth's emissions. Energy and water are wasted in the production of food, and discarded food causes massive amounts of nitrogenous waste, algae blooms, and ecological dead zones.1
The average American loses $1,600-2,000 per year due to food waste, which adds up to $1 trillion lost in the economy per year.1
43% of food waste occurs in households, 26% occurs in restaurants/food services/institutions, 13% happens at grocery stores, 16% occurs on farms, and 2% from food manufacturers.3
The most common foods that are wasted are fruits and veggies, followed by seafood, grains, meat, and then dairy.1
This is sobering information to read, which leads us to the question, "What can we do about it?" The first place to start according to the Food Recovery Hierarchy is source reduction, which is the focus of this article. This means planning and forecasting to reduce any excess food production. Read on for some actionable ways you can do this.
Planning meals
Many of us go to the store without a plan, which may lead to us buying more than we may need. When we don't have a plan for food, it may sit there for a while until it goes bad or we realize we can't eat everything we bought in time! Picking out meals for the week, assigning meals to certain days of the week, and then sticking to the plan may be the biggest way to put a dent in the massive pile of food waste. Here are some strategies to figure out the age-old question: "What's for dinner?"
Theme Nights: One approach that works well for people is theme night, as it creates a framework which to work from. Some common themes are meatless Monday, Taco Tuesday, pizza night, breakfast for dinner, or any other cuisines you or your family enjoy. Don't forget to pencil in meals out if that is something your family likes to do.
Arsenal Approach: If you're the type of person who enjoys consistency in meals, try picking out 3-7 "go-to" meal ideas that you can fall back upon.
Shop Your Pantry: Take a look at what you have in your pantry, fridge, and freezer. Put each food in a carb, protein, or veggie column. Pair items together to create a partial or full meal, and identify additional ingredients as necessary.
Mix N' Match: Here at Summerfield, we have created a helpful resource that can guide you through creating your own meal based on your cuisine preference. Speak with your RD for access to this!
Variety: If you like to switch things up each night, here are some great recipe sources:

Summerfield's Healthy Insights Blog: Our blog is filled to the brim with healthy meal, snack, and drink ideas for any time of the day!
Recipe blogs: Pinch of Yum, Love and Lemons, Budget Bytes, Minimalist Baker, Cookie and Kate, Sweet Peas and Saffon, and Serious Eats.
Yummly: a wealth of recipe information all customizable to your food needs and preferences
Pinterest
Planning Apps: OrganizEat, Intent, MeaLime, Paprika ($), Pepper Plate ($), and Plan to Eat ($).
Cookbooks: In our digital day and age, we forget that recipe books can be wonderful sources as well. Take a look through old favorites and family recipes, or invest in something new! If you are not sure which cookbook may be best for you, speak with your dietitian.

Home-Delivery Meal Services: If time is a limited resource, meal kits sent straight to your home can be a great solution! With already portioned ingredients and clear instructions, these meals can be easy and produce virtually no food waste. It can be a great option for however many days per week you would like! Some companies include Home Chef, Every Plate, Hello Fresh, Dinnerly, Daily Harvest, Freshly, Sunbasket, and Blue Apron.
Grocery Delivery: Want to get groceries delivered to your door and fight food waste on farms and grocery stores? Companies like Imperfect Food, Misfits Markets, and Hungry Harvest allow you to customize your produce box using foods that would have been thrown away otherwise. Having seasonal produce delivered can help guide your recipes for the week. These companies also have pantry staples and meat/seafood, and other companies like Butcher Box and Good Chop are solely meat delivery services.
Creating a Grocery List
Okay, so we have a meal plan. Now what? We now need to figure out how much of each ingredient to purchase. Important things to consider at this step are the number of mouths to feed, number of servings, and recipe yield.
If following an online recipe, take advantage of that digital recipe serving size estimator or figure out your conversion factor and multiply it by each ingredient to figure out how much you need to buy. Hint: meal planning apps like MeaLime and Intent will already create grocery lists based on your input data.
Portion Calculator

: The "guest-imator" and meal prep mate are wonderful tools to help you figure out how much food you need for any meal.
Planning Apps: Recipe Keeper, Plan to Eat, Any List, and Cook List allow you to easily create precise grocery lists from recipes.
The following estimations are based on the nutritional needs of an average person per meal:

3-4 oz of meat, seafood, or plant-based protein
2/3 to 1 cup of starch (grain, starchy veggie, or fruit)
1-1.5 cups of cooked veggies or 2 cups of raw vegetables
Utilizing Leftovers
You made an awesome meal, and now you have leftovers – congrats! This stage can be doomsday for many foods, however, it doesn't have to be! Below are some good pointers on how to reinvent leftovers (whether from home-cooked meals or meals out), store them properly, and plan for next time.
Re-invent: While heating the same plate as last night is an option, so is taking specific foods and turning them into something else entirely:

Poultry: Add to sandwiches, paninis, flatbreads, pizzas, bowls, or salads! Incorporate into pasta, soups, skillets, and casseroles.
Ground meat: Add to nachos, enchiladas, burritos, quesadillas, or tacos! Mix into rice pilaf, Bolognese sauce, mac and cheese, chili, or Korean bulgogi.
Seafood: Make tuna or salmon cakes or loaves, fish or shrimp tacos, shrimp scampi, seafood salad, shrimp cocktail, or gumbo!

Veggies: Add to pitas, paninis, soups, pasta, casseroles, or veggie fritters. Place atop salads, bowls, flatbreads, or pizzas. Blend for veggie soups and sauces. Try them in our Veggies Last Chance recipe!
Potatoes: Make potato pancakes, hashbrowns, gnocchi, skillets, breakfast potatoes, scalloped potatoes, or crispy potato balls.

Storage: Most sources recommend using up leftovers within 4-5 days after preparation. If you made too much to eat in that amount of time or prefer to eat the leftovers at a later time, there's always the freezer. Most meals can be stored in an airtight container and safely enjoyed for up to a year later, so make sure to label and date your containers in the freezer!
Give Away: Maybe it's your neighbor down the street, your elderly parent who lives nearby, or your kid that you're sending back to college; whoever it may be, giving away excess ingredients or leftovers can be a great way to keep food out of the landfill and on someone else's plate.
Forecasting: A helpful way to fine-tune your meal planning/prep in a way that reduces food waste is to take note of how food was enjoyed in your house. Was there a lot of meat leftover? Was that new type of lettuce not a huge hit? Jot down these reflections or talk about them with your family. Then utilize this information to reduce waste even more next time!
Now we know about the impact of food waste and some ways to reduce the production of excess food inside the home. If you want to make this a reality, start by trying one or two in the next few weeks to find what works best for you or your family. And as always, our dietitians here at Summerfield are always happy to help with meal planning, preparing for grocery store trips, and being great accountability buddies! Reach out to Summerfield at info@summmerfieldcw.com to connect with a dietitian today!
Sources:
1. https://www.rts.com/resources/guides/food-waste-america/
2. https://www.usnews.com/news/best-countries/articles/2019-07-29/the-us-wastes-more-food-per-person-than-other-developed-countries-report-says#:~:text=According%20to%20the%20report%2C%20although,was%20the%20United%20Arab%20Emirates
3. https://www.pewtrusts.org/en/research-and-analysis/blogs/stateline/2018/12/20/rescue-angels-fight-waste-to-feed-the-hungry