Recipe: Roasted Southwestern Salad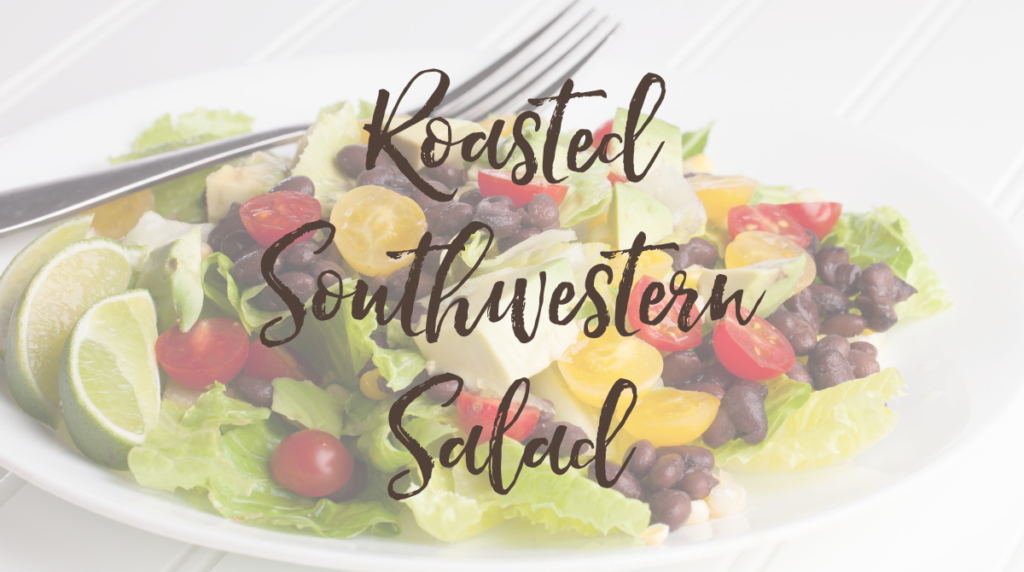 This salad is a blend of roasted sweet potatoes, southwestern flavor, and plant-based protein. It makes a colorful and filling meal that is easy to prep. Whether it's for a hearty family dinner or multiple lunches throughout your week – it's a yummy twist to your standard salad.
Adding warm ingredients to any salad can take your flavors to the next level! Roasting sweet potatoes brings out a delicately sweet flavor that cools the spice of the southwestern flair from sautéed veggies and black beans.
Not only are the flavors delicious, but sweet potatoes add bright orange color to your plate and are a great source of vitamin A and fiber. Plus, a half-cup of black beans provides 7 grams of plant-based protein.
Roasted Southwestern Salad
Serves 3-4
Ingredients:
1 Tbsp olive oil, divided
2 sweet potatoes, cubed
1/2 tsp salt
1/2 tsp pepper
1 medium sweet onion, chopped
1 bell pepper, chopped
2 cans of black beans (15.5 oz each), drained and rinsed
15.5 oz can of corn, drained and rinsed
1/2 C water
1 Tbsp lime juice (approx. 1 lime)
1 tsp Adobo powder
1 tsp chili powder
1 tsp garlic powder
1 tsp oregano
1 tsp paprika
1 tsp cumin
2 C baby mixed greens
1 tomato, diced (Optional)
1/2 jalapeno, finely chopped (Optional)
1/4 C fresh cilantro, finely chopped (Optional)
1/2 C shredded cheddar cheese (Optional)
1/4 C sour cream (Optional)
1 avocado, sliced (Optional)
1/2 C salsa (Optional)
Directions:
Preheat oven to 400˚F. Line baking sheet with foil and coat with 1/2 Tbsp olive oil.
Add cubed sweet potatoes and sprinkle with salt and pepper. Place in oven. Roast 20 minutes.
Remove potatoes from oven. Flip, then return to oven. Roast 10-20 minutes. Sweet potatoes are finished when soft with slightly-browned edges.
Meanwhile, in large skillet on stove over medium heat, add 1/2 Tbsp olive oil, onion, and bell pepper. Stir to coat veggies in oil. Cook until onions translucent and veggies softened, 5-8 minutes.
Add beans and corn to skillet. Add 1/2 C water. Stir ingredients together. Reduce heat to low.
Add lime juice, Adobo powder, chili powder, garlic powder, oregano, paprika, and cumin to skillet. Stir. Cook 4-5 minutes.
Craft your salad on plate or bowl by tossing together mixed greens, roasted sweet potato, and skillet veggies. Top with optional ingredients of choice.
Swaps:
For the potatoes: white or russet potatoes, jicama, carrots
For the black beans: chickpeas, kidney beans, tofu, cooked chicken
For the tomatoes: canned tomatoes, red bell pepper
For the mixed greens: lettuce, spinach, kale, or other favorite leafy green
For the sour cream: plain Greek yogurt
For the salsa: salad dressing of choice