Navigating COVID: Meal Planning, Pantry Staples, and Food Safety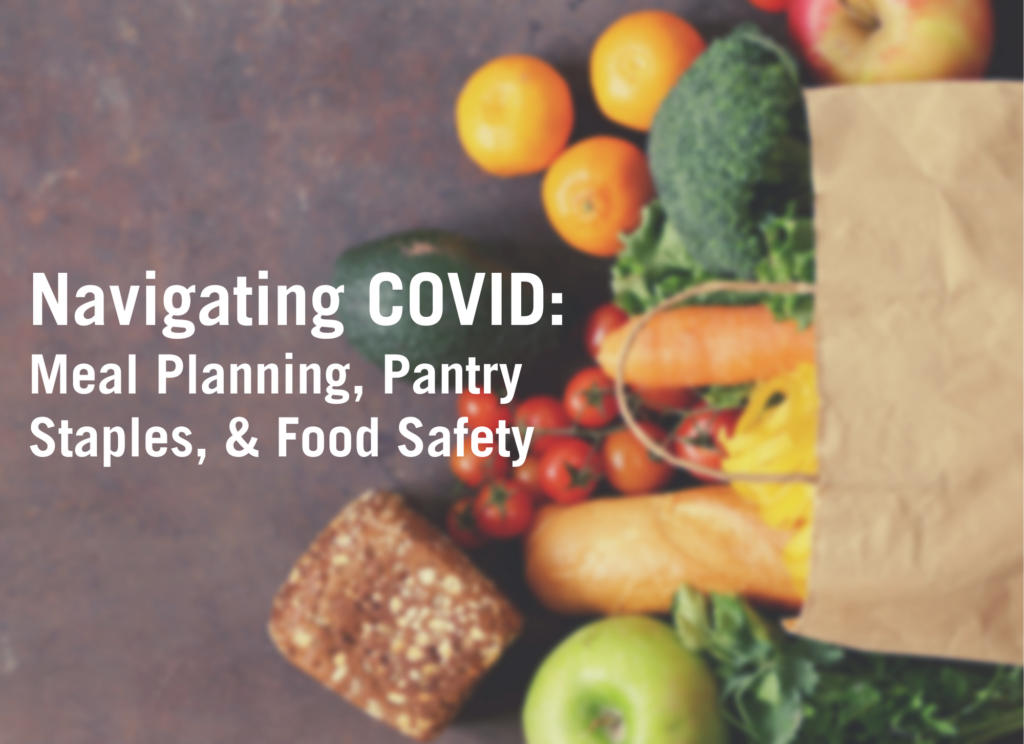 Meal planning throughout the COVID-19 pandemic is a beneficial skill to keep your mind engaged and your belly happy. Now is a great time to flex those culinary muscles and continue healthy habits while cooking. Adapting to this new normal may require some changes with how you have been planning and preparing, though. Utilize these strategies and suggestions to optimize your meal planning throughout a time where more hands-on prep in the kitchen can be expected.
Meal Planning From Your Own Pantry
Before you venture to the grocery store, first assess what you have in your fridge, pantry, and freezer.  This can help reduce food cost by limiting your grocery haul and will also ensure you have enough space to properly store any food you purchase.
Need guidance? Download our Meal Planning Helper by clicking here.
Balanced Staple Ingredients for Your Kitchen
Once you have taken inventory, use what you already have at home to plan your meals and create your grocery list.  We suggest tailoring your grocery list to include things that have a long shelf life, focusing on nutrient-dense foods with lots of colors.  Yup, that means this is still a time to eat your vegetables! While fresh fruits and vegetables may not be the first thing you think of when you read "shelf life", know that some produce can maintain freshness in the fridge or on the kitchen counter for quite some time! Frozen, canned, and jarred vegetables are also great options.
Click here to download/print our guide on Long Lasting Produce and Pantry/Freezer Staples.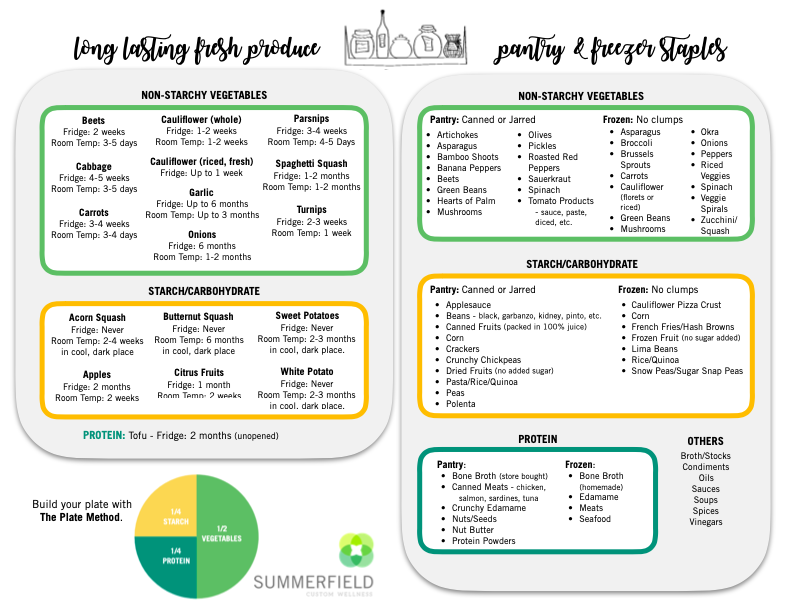 COVID-19 and Food Safety
Although foodborne illness may be a concern when preparing, handling, and storing food, coronavirus is not classified as a foodborne pathogen. According to foodsafety.gov, "… there are no known reports of human illnesses that suggest COVID-19 can be transmitted by food or food packaging. However, it is always important to follow good hygiene practices (i.e., wash hands and surfaces often, separate raw meat from other foods, cook to the right temperature, and refrigerate foods promptly) when handling or preparing foods."
Embrace your kitchen during this time, with assurance that your home-cooked meals will assist in keeping you happy & healthy!