Diversify Your Plate this National Nutrition Month!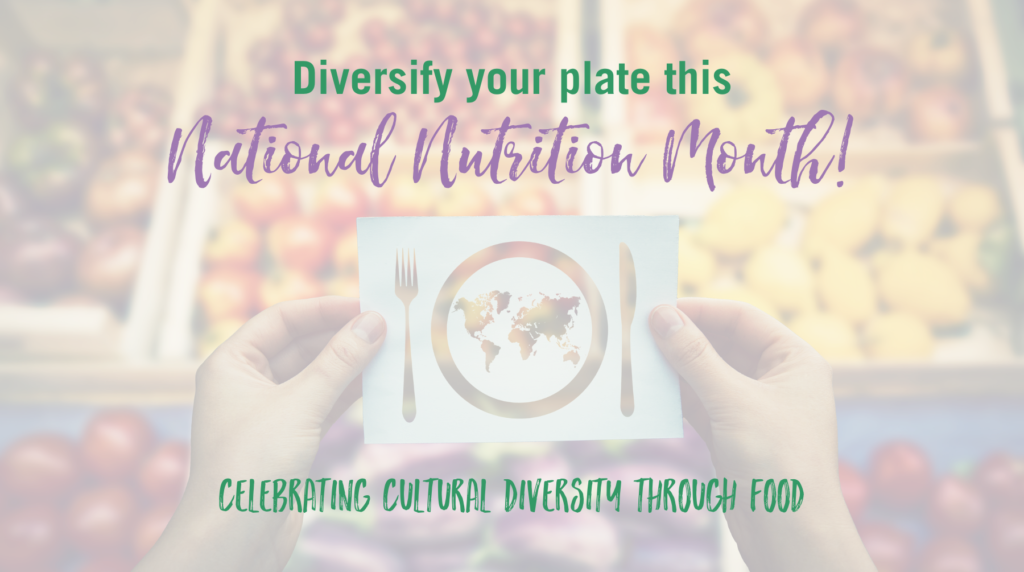 As we enter March, many are looking forward to warmer temperatures, later sunsets, and springtime blooms. Those are not the only reasons to celebrate, though, as Summerfield recognizes March as National Nutrition Month! This year's theme is "Celebrate a World of Flavors," creating a wonderful opportunity to highlight diverse tastes and foods from cultures around the world.
When you think of multicultural foods, what comes to mind? Do you think of Spanakopita from Greece? What about ceviche from Peru? Paella from Spain? Jerk chicken from the Caribbean Islands? These diverse dishes certainly have ties to a specific country or region, but traditional recipes are not the only way we can celebrate flavors from around the globe. In fact, diversifying your palate can be as simple as venturing out of the typical, local grocery store and into an international supermarket.
Many grocery stores in the United States carry the same produce year-round and often do not offer a lot of variety with more distinct, lesser-known fruits or vegetables. There are thousands of edible plant species on earth and our food supply only includes a small portion of these species. While staple produce at a typical grocery store are important components of a balanced diet, variety in flavors, textures, and nutrient profiles can be found in fruits and vegetables that you may only stumble upon at an international supermarket. Often, these markets sell varieties of produce that you can't find elsewhere. Keep reading for a small sample of unique, culturally-diverse produce you may want to try the next time you have the opportunity!
Fruits
1: Dragon Fruit
Dragon fruit originally comes from Central and South America and is now primarily grown in Mexico, Asia, and Israel. Dragon fruit is known for its bright pink or yellow exterior and smooth, mild texture. The inside of the fruit can be pink or a creamy white color with small, edible seeds that provide some crunch. There are around ten different varieties of dragon fruit, all of which share a similar, semi-sweet flavor. The easiest way to eat dragon fruit is to slice it down the middle and scoop the inside with a spoon. Dragon fruit is not only tasty, but also a good source of fiber, magnesium, and vitamin B2. Try it in this delicious Dragon Fruit Smoothie recipe!
2: Guava
Guava trees, originally grown in Central and South America, are now found in other parts of the world including Hawaii, Florida, and California. Guava is commonly consumed in the Americas and widely eaten in Indian, Pilipino, Thai, and Chinese cultures. Interestingly, a single guava tree can produce fruit for up to 40 years! The guava fruit looks like a green pear on the outside with a pink, red, yellow, or white inside. Guava is often touted as a nutrient powerhouse as it is rich in fiber, potassium, magnesium, folate, and lycopene. When picking guava to eat, gently press on the peel and choose a fruit that has a small amount of give. Ripe fruit should have a sweet, musky smell. Guava can be eaten with the skin on (wash first!) or sliced into wedges and eaten similar to an unpeeled orange. Guava seeds are edible and harmless; however, some may prefer to scoop them out with the tip of a knife or fork.
3: Jackfruit
Jackfruit trees grow in the tropical climate of many Asian countries including India, Thailand, Bangladesh, and Indonesia. The jackfruit grows along the trunk of the tree and is the largest tree-grown fruit – some weighing upwards of 100 pounds! Most often Jackfruit is cooked prior to consumption. This fruit has a distinct, "meaty" texture and takes on the flavor of other ingredients such as spices or marinades. Because of its protein-like texture and mild flavor, Jackfruit is often used in place of animal proteins in dishes like tacos, pulled "pork" BBQ sandwiches, and grilled kababs. We think it's particularly delicious as a chicken substitute in this Chipotle-Inspired Lunch Bowl. While Jackfruit does not contain substantial amounts of protein, it does provide key micronutrients including vitamin B6, vitamin C, potassium, and fiber.
4: Lychee
Lychee has been grown in China for over 2,000 years and can now be found in the United States (Texas, Florida, and California), Africa, throughout Asia, and in areas of Central and South America. Lychee resembles a firm, golf-ball-sized, prickly raspberry as it commonly has a deep pink exterior. Lychee has a floral aroma and semi-tart, sweet flavor similar to a grape. To eat lychee, simply pierce the skin with a clean fingernail and peel back to reveal a smooth, off-white interior. Be careful – there is a pit underneath that tasty fruit! Lychee is an excellent source of vitamin C and other important micronutrients.
5: Papaya
The papaya originated in Mesoamerica and now grows throughout South and Central America, Africa, and even Asia. Hawaii is the only state in the US that produces papaya commercially. Papaya, while technically a berry, can grow to approximately three to five pounds. Papayas are often yellow-green on the outside with a bright orange center that surrounds pearl-shaped, gelatinous, black seeds. Papaya can be found year-round in many markets or grocery stores; however, they may be tastiest during peak season from June to September. Papayas often spoil quickly once ripened but can be cut into cubes and frozen to use in smoothies. Try adding it to this Creamy Tropical Green Smoothie! Papayas are an excellent source of potassium, folate, vitamin A, lycopene, and vitamin C. Unripe papayas also contain papain, a digestive enzyme that has been studied for its digestive and anti-inflammatory properties.
Vegetables
1: Broccoli Rabe

Broccoli rabe, or rapini, belongs to the same family of cruciferous vegetables as broccoli, kale, radish, cauliflower, and brussels sprouts (along with many others!). Unlike traditional broccoli, broccoli rabe has smaller, softer florets and plentiful leaves. Broccoli rabe does not require any peeling or chopping as the stalks and leaves are tender, flavorful, and provide additional nutritional value. Like other cruciferous vegetables, broccoli rabe is high in fiber which can promote a healthy gut microbiota and bowel regularity. Additionally, broccoli rabe is delicious raw or cooked and provides many micronutrients including calcium, iron, vitamin K, vitamin A, and folate. Add it to the Rainbow Vegetabowl for a yummy boost of nutrients and fiber!
2: Chinese Okra
Despite the name, Chinese okra is unrelated to the traditional okra many are familiar with. Also called Angled Luffa, Chinese okra is most closely related to squash, melon, and cucumbers. Its taste is similar to zucchini. Chinese okra is used to make loofas when dried and is grown in tropical regions including Honduras, the Dominican Republic, India, and Florida. This unique vegetable is high in fiber, choline, vitamin K, and magnesium. While you can eat Chinese okra raw, it is often cooked prior to consumption. Due to the high fiber content, which may be irritating to individuals with certain digestive concerns, many choose to peel the outer layer during preparation. Chinese okra is a delicious addition to stir-fries, soups, stews, and roasted sheet-pan meals.
3: Grey Squash
This tasty summer squash is similar to zucchini in both appearance and flavor. In fact, grey squash isn't even grey! It has a bright green, speckled peel. Grey squash originates in the Americas and can be eaten raw or prepared using a variety of cooking methods such as roasting, sautéing, steaming, and grilling. While not an international food, typical US grocery stores may not carry this variety of squash – making it difficult to find outside of your local farmers market during peak summertime harvest. Due to its high water content, grey squash can easily be grated and incorporated into sauces, homemade baked goods, and mixed dishes such as meatloaf or lasagna. Most of the nutrients, including potassium, vitamin C, and fiber, are found within the peel, so it is best to eat it unpeeled to get the most out of this mild vegetable.
4: Koimo Sweet Potato
The Asian koimo sweet potato differs from the standard, orange yam with its rich yellow interior and maroon peel. This sweet potato variety has a starchy, dry texture that lends well to roasting or baking methods, especially when tossed in a heart-healthy fat such as olive or avocado oil. Try subbing them in for regular sweet potatoes in this delicious crockpot BBQ recipe! Some describe the flavor of the koimo sweet potato as nutty and mildly-sweet. The koimo sweet potato is rich in potassium, vitamin A, vitamin C, and thiamine, making this starchy vegetable a nutritious part of your plate!
5: Radicchio
Radicchio is a brightly-colored member of the chicory family, making it a cousin of other leafy vegetables such as endive and escarole. Radicchio is primarily grown in Italy, its country of origin, in addition to France, New Jersey, California, and Mexico. Many love radicchio for its natural crunch that lends well to raw preparation methods like the delicious Radicchio Quinoa Salad or Warm Fennel Radicchio Salad! It's also favored in slaws and even lettuce wraps as a replacement for sandwich bread or tortillas. Radicchio can also be grilled, sauteed, or roasted – all of which bring out a sweeter flavor profile. Radicchio is an excellent source of vitamin K and contains smaller amounts of vitamin C, copper, potassium, and zinc.
Whether or not you choose to visit your local international supermarket, we hope you feel inspired to expand your palate this National Nutrition Month as we celebrate diversity through food. Food is more than just the nutrition it provides. It tells the story of culture and tradition – both of which are always worth celebrating!