Setting the Table for Success: Family Meals During The Back-To-School Season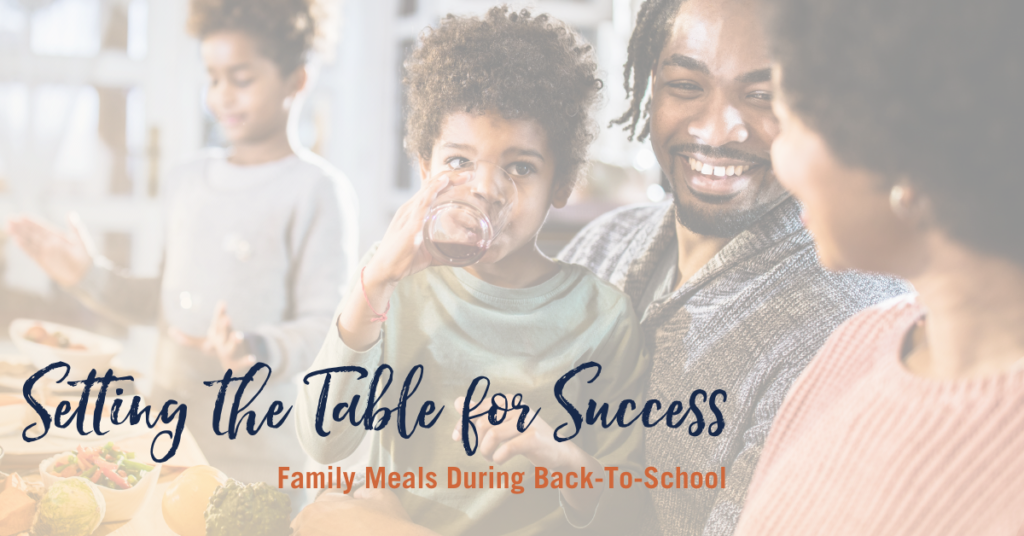 As the hustle and bustle of back-to-school season begins, it can be easy for family meals to take a backseat to the chaos. Carving out time for dinner at home may be challenging in the midst of school orientation, homework, adjusting to new schedules, and extracurriculars. However, let's take a moment to appreciate the immense value of gathering around the table together. Humans connect over meals because food has the amazing ability to bring people together. Biologically, we all need to eat, and socially, meal times offer a shared experience that allows conversations to flow, stories to be shared, and relationships to be strengthened – fostering a sense of community and belonging. Family meals provide a precious opportunity for connection, support childhood development, and serve as a powerful platform for modeling healthy behaviors. Let's dive in and explore why family meals are so important, along with tips to create a positive mealtime environment.
Importance of Family Meals (even if they aren't every night!)
1. Connection and Bonding: In our busy lives, it's crucial to set aside time for genuine connection. Family meals offer a chance to come together, share experiences, and strengthen familial bonds.1 Sitting down as a family promotes communication, allowing everyone to take a break from their individual activities and truly engage with each other. It's a moment to listen, laugh, and understand one another, fostering a sense of belonging and support.
2. Childhood Development: Family meals play a vital role in shaping the development of children. This shared time promotes emotional well-being and offers a safe space for children to express their thoughts and ideas. By engaging in conversation and active listening, parents can encourage their children's cognitive, social, and emotional growth.1 See the below list of benefits for children, teens, and adults!
Ages 1-51

Increased vocabulary and reading skills
Ages 6-121

Improved academic performance
Higher acceptance and intake of vegetables and fruits
Decreased consumption of trans fats and sugar-sweetened beverages
Ages 13-181,2

Improved academic performance
Reduction in risk-taking behaviors such as substance abuse, smoking, teen pregnancy
Lowered incidence of eating disorders, depression, and violence
Increased self-esteem
High-quality parental-teen relationships
Adults1

Improved self-esteem
Lower risk of depression
Increased intake of fruits and vegetables, fewer fast food meals
3. Modeling Healthy Behaviors: Research shows that several factors can influence a child's eating behaviors, but familial influence is likely the most important. One study found that there is a positive relationship between family meals and childhood consumption of fruits and vegetables. When parents model healthful food choices and establish positive eating habits, children are more likely to follow suit. Family meals create an environment where parents can lead by example, demonstrating the importance of balanced nutrition and mindful eating. Encouraging adventurous eating and involving children in meal planning and preparation can foster a lifelong appreciation for wholesome foods. Studies show that children who actively participate during meal preparation even report more positive emotions and feelings of control, thus influencing their willingness to consume foods like vegetables!4
Tips for a Positive Mealtime Environment and Making Family Meals Happen:
1. Accommodate preferences: Include at least one food item on the table that each family member enjoys. This helps create an inclusive atmosphere where everyone feels valued and can enjoy the meal together. This also helps to reduce mealtime struggles in which more selective eaters may resist the foods that are served.
2. Conversation starters: Encourage meaningful conversation by introducing fun and thought-provoking questions. Ask about everyone's day, share interesting stories or memories, or discuss current events. This not only stimulates engagement but also strengthens communication skills. Open-ended yet specific questions may be more impactful than simply asking, "How was your day?" You may be less likely to be met with "fine" and then crickets, if questions require a more detailed response! See the ideas below for a variety of questions, silly "would you rather" propositions, and topics to get the conversation going. Remember – parents can answer these questions too! Looking for a fun activity for the whole family? Have a "craft night" to create index cards with these questions (and more!) to pull from at the table. Each family member could contribute their ideas to provide an element of surprise!
Casually curious
What was something that made you laugh today?
What was something you would change about today?
What is something you hope that happens tomorrow?
What "specials" (art, PE, etc.) did you have today?
What is something you are looking forward to about tomorrow/this weekend?
What colors do you see on your plate tonight?
Let's listen. What sounds do you hear close by? Far away?
Show me your favorite silly face to make!5
Silly selections:
Would you rather have zebra stripes or cheetah spots?
Which is typically better: the book or the movie?
If you could live in any fictional place (i.e.: Hogwarts, Oz, a planet from Star Wars, Narnia, etc.), where would that be and why?
What pet would you rather have: a bird that could swim or a fish that could fly?
Would you rather have toes for fingers or fingers for toes?
What superpower do you wish you had and how would you use that to help others?5
Tell me more
Name something that makes you happy.5
Who were you a friend to today? Who was a friend to you?
What is one quality you appreciate in a friend? A teacher? A teammate?
Tell me about a time you were brave. What helped you practice bravery?
What book do you wish you could read for the first time again?
Who did you sit with during lunchtime today?5
Let's create a family bucket list for this year. What do you hope we can do together?
Tell me about a time you tried something new.5
How did you practice kindness today? Who was kind to you today?
Describe the flavor and textures of ____. Is it spicy, sweet, bland? Is it crunchy or soft? Is it cool or warm? What other foods have those same textures/flavors?
If you could invite anyone from history to dinner tonight, who would that be? What would you want to ask them?5
3. Screen-free zone: Designate mealtime as a screen-free zone by excluding phones, tablets, and televisions to maximize engagement and conversation. This practice allows everyone to focus on each other, fully participate in conversations, and practice mindfulness while eating.
4. Engage in meal planning: Involve children and teens in meal planning and preparation. Let them contribute ideas, help with grocery shopping, or assist in the kitchen. This hands-on experience cultivates a sense of curiosity, ownership, and excitement about food.6 Additionally, by getting more hands involved, family meals may end up on the table a little quicker during busy nights. Not only does this lighten the load for parents, but also instills a sense of teamwork! Below is a list of ideas for age-appropriate responsibilities, however, modify for what works best for your child and their developmental stage and supervise accordingly.

Ages 4-6:6-7

Washing fruits and vegetables
Tearing leafy greens for salads
Stirring ingredients in a bowl
Sprinkling toppings on dishes or salads
Setting the table with spoons, forks, and napkins
Wiping countertops
"Painting" with cooking oil and a basting brush
Sweeping under the table after the meal for any dropped food

Ages 7-10:6-7

Mixing ingredients for batter and dough
Spreading butter onto bread or toast
Forming hamburger patties or meatballs (with assistance, for food safety considerations)
Setting the table with plates, utensils (as appropriate), and napkins
Measuring ingredients
Opening cans with a can opener
Helping clean after a meal by taking their plate to the sink

Pre-teens (11-13 years old):6-7

Chopping or slicing soft produce items (after instruction on knife safety, or using child-safe knives such as the kit linked here)
Preparing simple sauces and dressings using a recipe
Assembling combined dishes like lasagna or casseroles
Operating some kitchen appliances such as a mixer, blender, or toaster
Boiling pasta with supervision
Cracking eggs
Loading the dishwasher after the meal

Teens (14+):6-7

Dicing or chopping vegetables and herbs
Following recipes with guidance
Baking or roasting dishes in the oven
Stir-frying ingredients on the stove
Experimenting with flavor combinations or seasonings with supervision
Assisting with clean-up as needed
5. Keep it positive: Create a judgment-free zone at the table. Celebrate each other's accomplishments, support each other through challenges, and promote a positive body image and relationship with food. This might look like parents intentionally including each child in the conversation, sharing what flavors and textures they notice about the meal, and refraining from discussing sensitive topics at the table. Additionally, it is helpful to remember that some children learn to like foods by exploration. A child might dip their broccoli in ketchup or add their peas atop their cheese pizza. While this may not be preferred by all taste buds, combinations like this may support a child in enjoying their eating experience and boost their veggie intake at the same time!
6. Set realistic expectations: Family meals don't need to be perfect or elaborate to be impactful. Children may not remember the perfectly cooked roast, spotless kitchen, or photo-worthy diced veggies. What they will remember? The laughter, conversation, and warmth that comes from quality family time. Embrace the beauty of simple, nourishing meals rather than lean into the stress of creating a culinary masterpiece or Pinterest-worthy table. Realistic expectations also extend to the attention span of younger children, who may be unable to sit at the table as long as their older siblings. Whether you can enjoy just one family meal per week or five, just remember any amount of quality time is certainly better than none!
7.  Schedule in leftovers or a "clean out the fridge" night: Throughout the school year, schedules can become quite busy. One way to include more family meals is to harness the power of leftovers. Intentionally prepare additional servings of a family favorite, or get creative with repurposing leftovers! Some ideas are listed below:
Leftover roasted chicken can be combined with frozen veggies and rice for an easy deconstructed chicken pot pie or fried rice
Leftover veggies can be used as a topping for a pizza using a pre-made crust
Leftover taco meat can be combined with black beans, frozen peppers and onions, canned tomatoes, and corn for taco soup or nachos
Leftover grilled steak can be combined with veggies for an easy stir-fry
Leftover roasted potatoes and veggies can be reheated and topped with an egg or two for a DIY breakfast-for-dinner hash
Interested in learning more about creating a positive meal environment or need help navigating food choices during this busy season? A Summerfield Dietitian can help! Reach out to our office at info@summerfieldcw.com to schedule your first appointment today.
Sources