Recipe: Fall Harvest Salad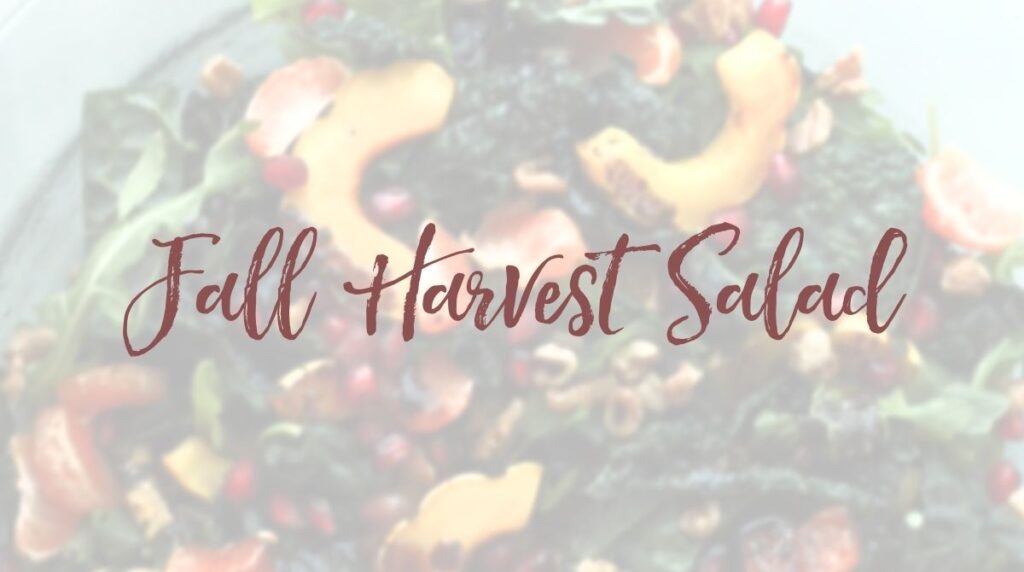 If you're looking for a show-stopping side dish, look no further than this Fall Harvest Salad. Along with the lovely orange, red, and green colors come a variety of phytochemicals, or plant compounds, that support and protect our cells from the damage that occurs behind the scenes every day. If you've ever heard the terms flavonoids, polyphenols, or carotenoids, these are a few of the antioxidant-rich all-stars!
This salad can easily be promoted to meal status with the addition of your favorite protein source. Great options to consider include roasted chicken, sauteed shrimp, cooked chickpeas, or pan-seared tempeh slices. We hope you enjoy this elegant salad for a flavorful and nutrition-packed taste of fall.
Fall Harvest Salad
Serves 10-12
Ingredients
 2 medium Delicata squash (scrubbed clean)
4 Tbsp olive oil, divided
1 tsp salt
Freshly ground pepper, to taste
2 Tbsp fresh sage, chopped (or 1 Tbsp ground sage)
6 C kale, rinsed, stems removed, and torn into bite-sized pieces
2 C baby arugula
1 C walnuts, toasted
Seeds from 1/2 pomegranate (or 2/3 C prepped pomegranate seeds ready to eat, found in produce section)
4 clementines, peeled and split into segments
2 Tbsp balsamic reduction (or balsamic vinegar)
2 Tbsp maple syrup
Directions
Preheat oven to 425°F. Line large baking sheet with foil.
Slice squash lengthwise and remove seeds. Cut into moon-shaped slivers, about 1/2-inch thick. Place in large bowl and add 2 Tbsp olive oil, salt, and pepper, tossing well to coat. Arrange squash in single layer on baking sheet. Do not rinse bowl. Roast 20-25 minutes, or until golden brown.
While squash is roasting, prepare other ingredients. For example: rinse and destem kale, toast walnuts, peel and section clementines, etc..
Remove squash from oven and return to unrinsed bowl. While squash is hot, add chopped sage and kale. Toss to combine. Cool to room temperature.
In small bowl, whisk together remaining oil, balsamic reduction, syrup, and pepper, to taste. Set aside.
Once cooled, add baby arugula, toasted walnuts, pomegranate seeds, and clementine segments to bowl with kale and squash. Toss salad components well to combine and serve with dressing separately or drizzled over salad.
Swaps
For the Delicata squash: a similarly-sized butternut squash, acorn squash, or pie pumpkin cut into bite-sized pieces
For the kale: collard greens or spinach
For the baby arugula: dandelion greens or mixed greens