Mix & Match Meal Planning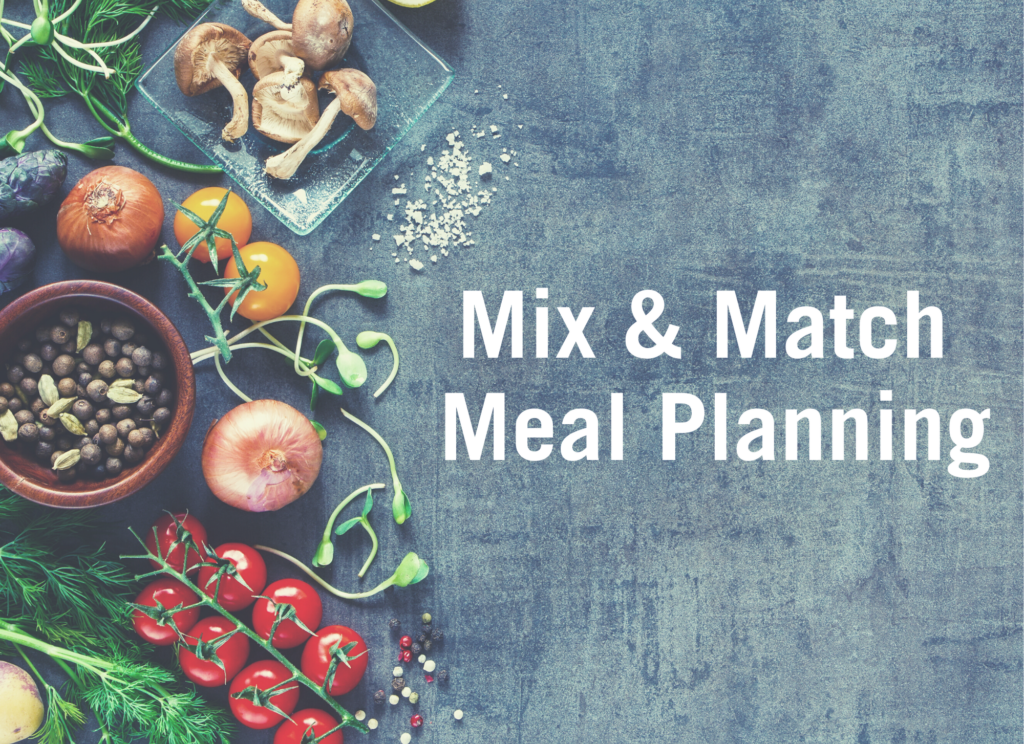 Introducing our Mix & Match meal planning tool to help you choose veggies, starches, proteins, and flavors to build delicious meals with 8 cuisines and themes: Asian, Egg Casseroles/Omelets, Indian, Italian, Latin, Mediterranean, Salads, and Soups/Stews/Chilis.  Use these strategies to customize your meal planning experience for what works best for you and your family.  Click the link above to download/print.
Meal Planning Themes
Instead of coming up with completely original meals every week, try organizing your meal plan according to theme nights.  Choose a cuisine theme from the handout and select your favorite veggies, starches, proteins, and spices from that section. Search for recipes that use those ingredients to build your meal.    See which items you already have at home and add the rest to your shopping list.  If you like leftovers, consider doubling the recipe.  You can have leftovers for the week, or you can freeze leftovers for up to 3 months.  Proteins and starches freeze better than vegetables.
Substitutions
Sometimes when we go shopping, an item is out of stock.  Let's say we were planning to make a sesame ginger stir fry with chicken, onions, peppers, carrots, broccoli, and rice, but there is no fresh broccoli at the store.  We can look for frozen broccoli or we can make the meal without broccoli.  We can also use the themes on the handout to find a substitution that would taste great with the other items you are able to purchase from the original recipe.  In this case, we could purchase eggplant or mushrooms to replace the broccoli.
What if chicken breast is out of stock?  We can buy a different cut like fingers or thighs.  Or we can switch the protein to beef, edamame, or shrimp.  What if they are out of rice?  Serve over cauliflower rice or quinoa.  We can always change out the sauce too – if there is none at the store or just to make multiple different meals out of the same ingredients!
Veggie's Last Chance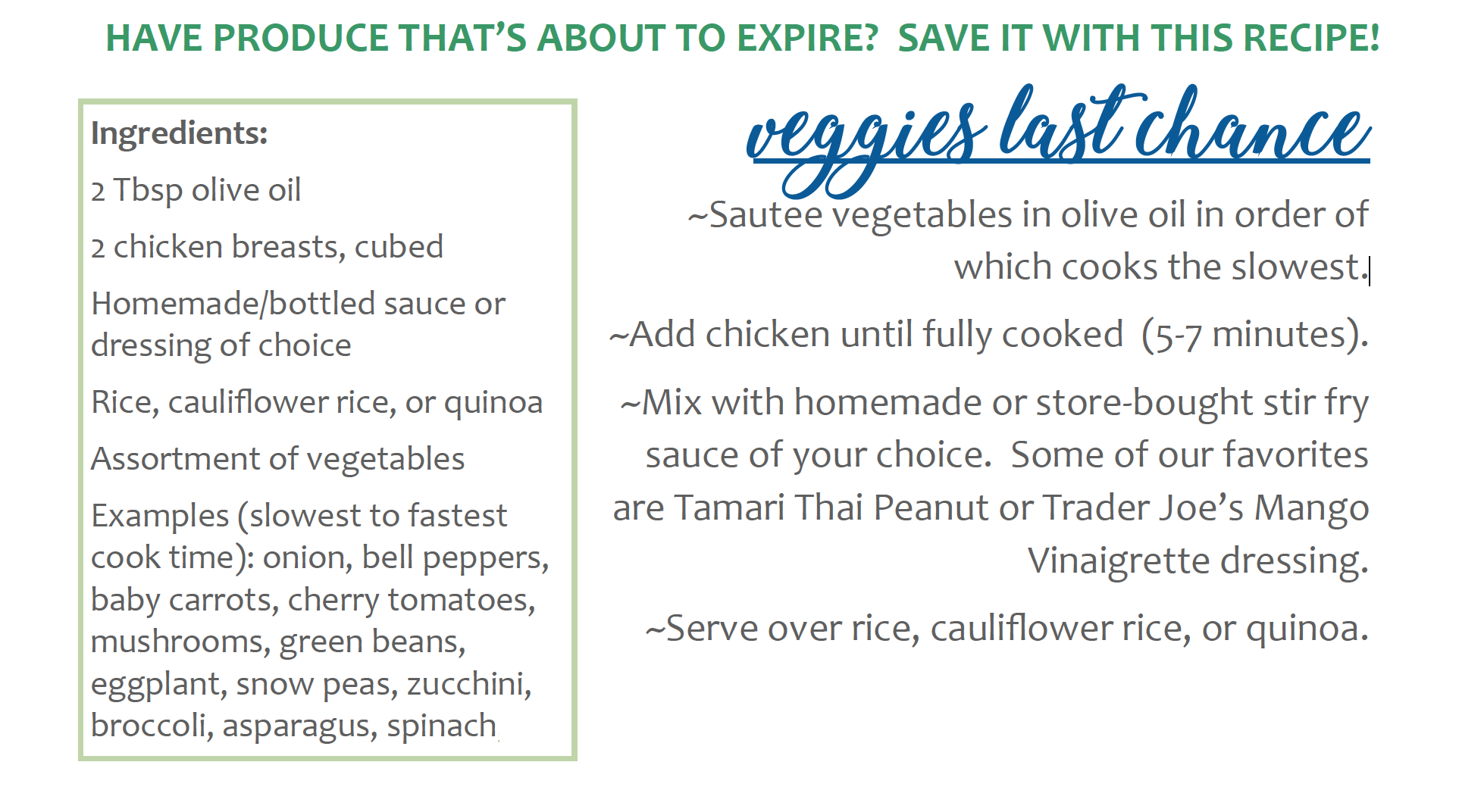 Do you have some produce that you need to cook before it goes to waste?  Consult this handout and make a masterpiece with our Veggie's Last Chance recipe.
List the items that are about to expire and other ingredients you have on hand for sauces and spices.  Find the cuisine or theme on the handout that includes the foods and flavors you have at home.
Search for recipes if needed.  Pick other veggies, starches, proteins, or flavorings from that section to finish off your Plate Method meal.
The current pandemic is causing an increase in out of stock items and forcing us to stretch our grocery orders and trips out over longer periods of time.  We hope these tools will help you build delicious meals while stretching your food budget.  We are sure you will find other creative ways to use this tool.  Please let us know what you discover!