Recipe: Dragon Fruit Smoothie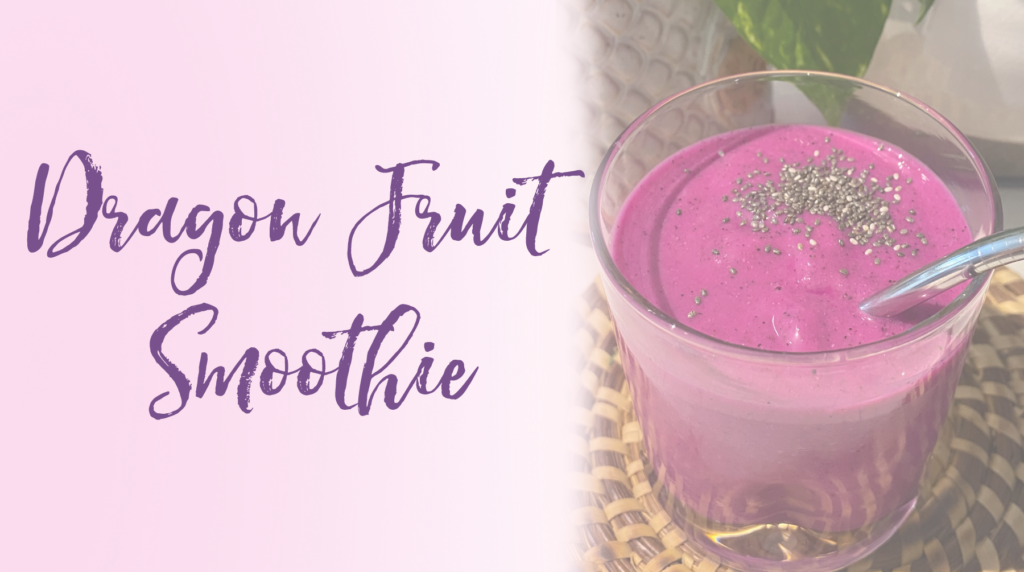 Making smoothies is a wonderful way to increase your daily fruit consumption. This Dragon Fruit Smoothie is not only a tasty way to add fruit to your day, but an extra dose of veggies, too! Frozen, riced cauliflower is undetectable in flavor and gives the smoothie a creamy texture!
Dragon fruit is a delicious, colorful fruit that is traditionally grown in warmer climates like the ones across South America, Central America, and Israel. The fruit can be tricky to find in some grocery stores but is often carried in international markets. Unsure of where to purchase dragon fruit or having little luck finding it at your local store? Check out your frozen fruit aisle! Many stores carry single-serve pouches of dragon fruit puree that can be easily incorporated into smoothies without any need to pull out your cutting board.
Thanks to the chia seeds, cauliflower, and fruits in this recipe, each serving provides approximately 8.5 g of fiber (using frozen dragon fruit puree). This smoothie also provides many micronutrients including calcium, magnesium, potassium, and vitamins B6, C, and K – just to name a few. To transform this smoothie into a more filling, complete snack, consider adding a scoop of your favorite protein powder or a half-cup of either plain or vanilla Greek yogurt.
Dragon Fruit Smoothie
Serves 2
Ingredients:
1 dragon fruit, halved
1 medium banana, frozen
8 oz unsweetened almond milk, plus more to taste
1 C cauliflower rice, frozen and unseasoned
1/4 C cold water, plus more to taste
2 Tbsp chia seeds
1/2 Tbsp honey
Directions:
Using a metal spoon, scoop flesh out of dragon fruit rind.
Peel and roughly chop frozen banana.
Add all ingredients to blender.
Blend 60 seconds, stopping and stirring ingredients as needed. Add more water, plant-based milk, or ice as needed until preferred consistency has been reached.
Divide into two servings and serve cold.
TIP: Not sure what to do with your second serving? Consider freezing it in an ice tray to make smoothie "ice cubes" – quick, easily-blended snacks!
Swaps:
For the whole dragon fruit: one frozen dragon fruit pouch or 1 C frozen dragon fruit chunks
For the chia seeds: flax seeds
For the honey: maple syrup, agave, or 1 tsp stevia powder (use sparingly – stevia is extra sweet!)
For the cauliflower rice: frozen or raw cauliflower florets or  frozen, diced cucumber
For the banana: frozen pineapple, mango, or peaches
For the almond milk: water, reduced-fat milk, or plant-based milk like soy, rice, oat, or nut