Recipe: Cinnamon Banana Streusel Muffins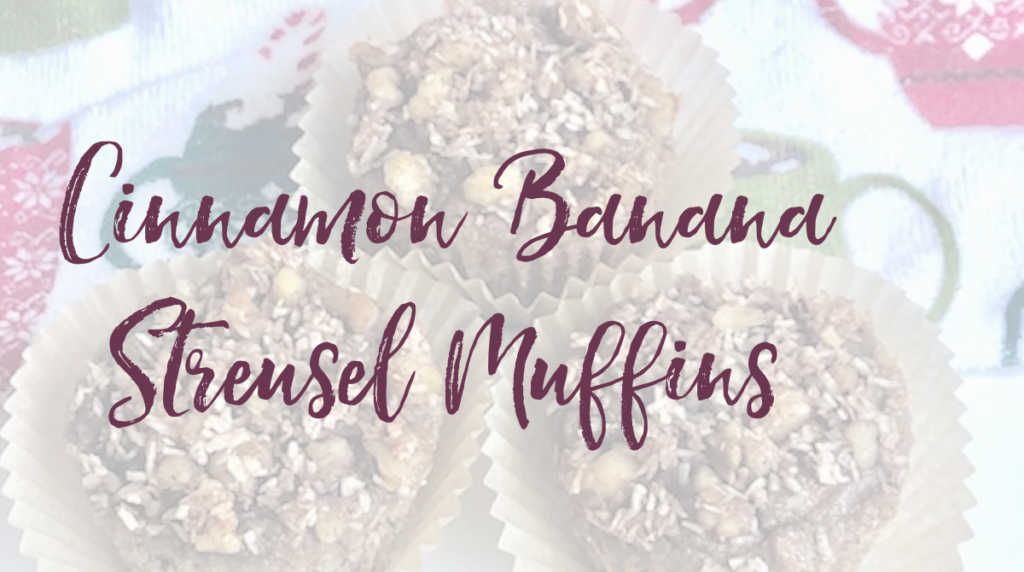 This recipe highlights coconut flour as a gluten- and grain-free baking alternative. Made from dried, ground flesh of coconuts, it is a natural byproduct of coconut milk production. Coconut flour is higher in fiber with a moderate fat content when compared to most other flours. While it has a fairly dry texture and is usually used in small amounts, the high moisture content of the other ingredients makes it the perfect choice in this muffin recipe.
Muffins are a great make-ahead breakfast component during busy times of the year. Whether it be the holidays, back to school, shifting toward summer activities, or just a switch of schedules, mealtime can easily become stressful with the need for advanced prep and planning. Thanks to their moist and tender consistency, these muffins hold up very well when prepared in advance and refrigerated or frozen. They are already rich in fats from both the nut/seed butter and coconut oil so pair them with a protein source for a balanced snack or light meal. Stable blood sugars and satisfied tummies all around!
Serves 10
Ingredients
Non-stick spray (or muffin tin liners)
3 very ripe bananas
3 eggs, room temperature
4 Tbsp pure maple syrup (or honey), divided
1/3 C tahini, almond butter (or nut butter of choice)
1/4 C plus 2 tsp coconut oil, melted, divided
1/2 C coconut flour
1 tsp baking soda
1 tsp baking powder
1 Tbsp cinnamon
Sprinkle of sea salt, to taste
1/4 C unsweetened shredded coconut
1/4 C chopped walnuts (or pecans)
Directions
 Preheat oven to 350°F. Prepare muffin pan with liners or non-stick spray.
 Blend bananas, eggs, 3 Tbsp maple syrup, tahini, and 1/4 C coconut oil in blender until smooth. Add coconut flour, baking soda, baking powder, cinnamon, and sea salt. Pulse to thoroughly combine. Set batter aside to rest. Mixture will continue to thicken as coconut flour continues to absorb moisture.
 In a small bowl, combine 1 Tbsp maple syrup, 2 tsp coconut oil, shredded coconut, and chopped walnuts and stir well to create crumbly mixture.
 Pour batter into 10 muffin cups, filling each halfway.  Sprinkle 1 tsp of streusel mixture onto batter and top with remaining batter, filling muffin cups 2/3 full.
 Divide remaining streusel mix between muffins – sprinkling on top of each.
 Bake muffins 18-20 minutes or until golden and set. They will be soft and moist but a toothpick should come out clean when inserted to test for doneness. Cool completely and store chilled (due to high moisture content). Luckily these muffins are more dense and delicious when chilled!
Recipe modified from: Kale Junkie
TIP: We don't recommend any substitutions be made for the flour in this recipe as coconut flour acts very different than most other flours (regular, gluten-free blends, almond, oat, etc.).