Recipe: Chipotle-Inspired Lunch Bowl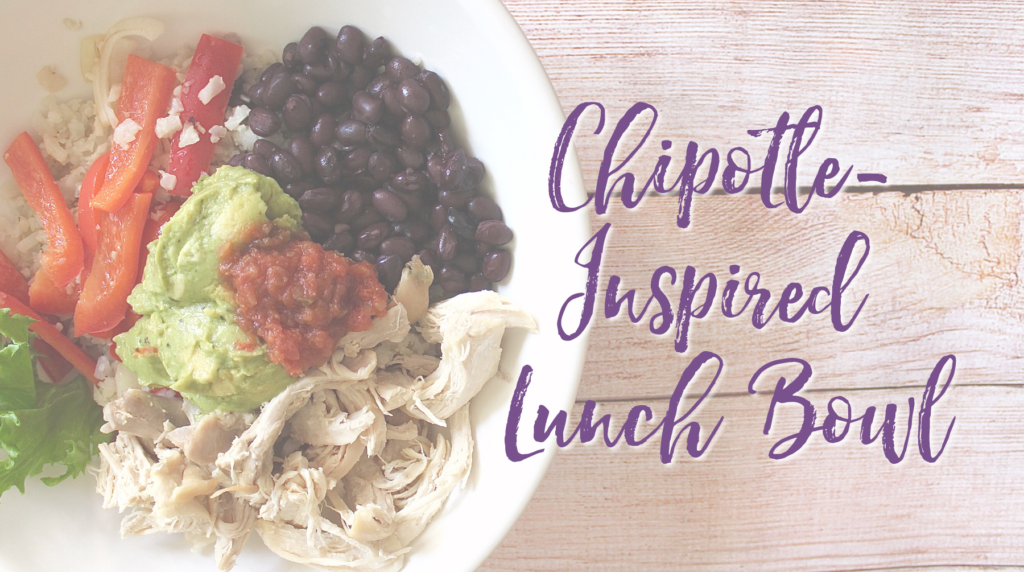 This copycat Chipotle lunch bowl is a great option for a fast weekday lunch or a quick weeknight dinner. The concept incorporates a variety of colorful non-starchy vegetables, energizing carbohydrates from the black beans, protein-packed chicken, and healthy fats from the guacamole to provide a well-rounded, nutrient-dense meal.
The best part about this recipe is how customizable it is. Check out the swaps listed below to craft a fabulous meal to suit your taste buds. If you're a fan of leftovers or are rocking the meal prep game, the ingredients can easily be doubled or tripled for multiple servings. Enjoy the flavors of fast and fresh southwestern cuisine from the comfort of your own kitchen!
Our favorite thing about lunch bowls is that the customization options are limitless!  Check out our Mix n' Match Meal Planning Handout for more inspiration.
Chipotle-Inspired Lunch Bowl
Serves 1
Ingredients:
2 Tbsp avocado oil, divided
3/4 C cauliflower rice
1/2 C black beans, rinsed
1/4 C peppers, cut into strips
1/4 C onions, cut into strips
4 oz shredded rotisserie chicken
1/4 C lettuce, shredded
1-2 Tbsp salsa
1-2 Tbsp guacamole
Directions:
Heat 1 Tbsp avocado oil in frying pan on stovetop over medium-high heat. Add cauliflower rice. Sauté 10 minutes.
Add black beans to separate saucepan on stove over medium heat. Cover with lid until fully heated.
Remove cauliflower rice from frying pan. Add to base of serving bowl. Add remaining avocado oil to pan with julienned peppers and onions. Lightly sauté 5 minutes.
Build your bowl. We recommend layering cauliflower rice, peppers and onions, shredded chicken, black beans, shredded lettuce, salsa, and guacamole.
TIP: If prepping for lunches for the workweek, multiply ingredients by five.
Swaps:
For the chicken: beans, carnitas, steak, jackfruit, or tofu
For the black beans: white rice, pinto beans, or corn
For the veggies: jicama, mushrooms, or broccoli
Additional toppings: sour cream, hot sauce, shredded cheese, cilantro, or lime juice