Recipe: Blueberry Banana Protein Oatmeal Bake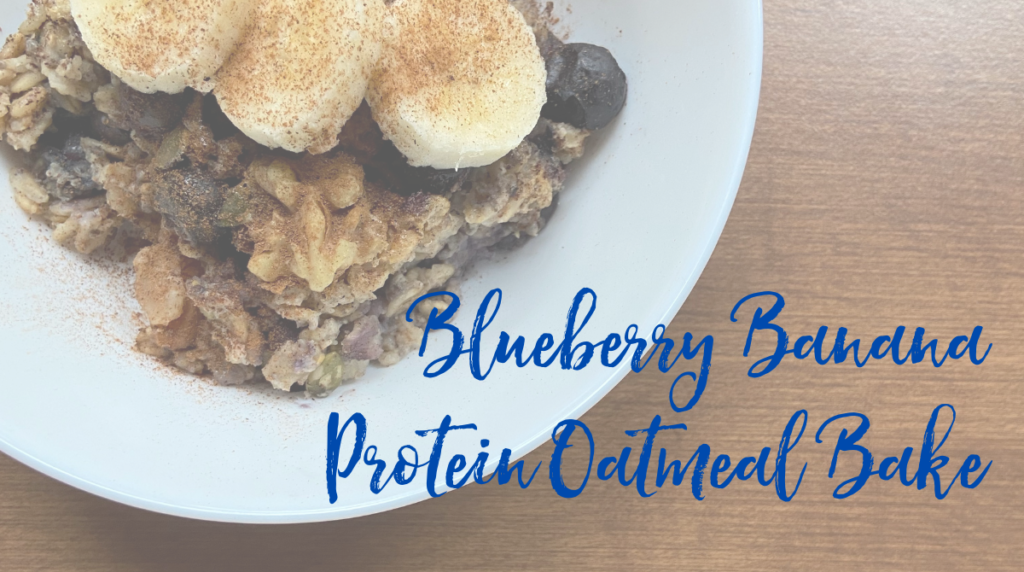 There's so much to love about this Blueberry Banana Protein Oatmeal Bake. This filling breakfast is not only delicious but it's also packed full of nutrients!
You may see that our breakfast recipes include oats a lot, but there's a reason! Oats are often gluten-free (if cross-contamination is avoided) and their fiber and protein make them a great choice for a filling breakfast. But of course, there's much more to this recipe than just oats!
This oatmeal bake is also rich in antioxidants and vitamin K from blueberries and pumpkin seeds. Chia seeds, pecans, and pumpkin seeds also pack this dish full of "good" fats including much-needed omega-3s from the chia seeds. The protein powder, eggs, and milk add protein. Plus, you could always add a veggie egg scramble or Easy Egg & Veggie Bake on the side for a complete plate method breakfast!
All in all, this breakfast is a powerhouse of nutrients and is a great option for hosting breakfast/brunch or just as an option for breakfast leftovers!
Blueberry Banana Protein Oatmeal Bake
Serves 6-7
Ingredients:
Non-stick cooking spray
3 C frozen blueberries, divided
2 1/2 C oatmeal (quick-cook or rolled plain oats)
1 1/2 Tbsp chia seeds
1 tsp baking powder
2 tsp cinnamon
2 very ripe bananas, peeled
1/3 C protein powder of choice (we recommend vanilla!)
2 large eggs
1 3/4 C milk
3 Tbsp pumpkin seeds (Optional)
3 Tbsp chopped pecans (Optional)
Directions:
Pre-heat oven to 375° F. Spray 9×13 baking dish with non-stick cooking spray.
Add 2 C frozen blueberries to baking dish, spreading evenly to cover bottom.
In small bowl, combine oatmeal, chia seeds, baking powder, and cinnamon. Pour over blueberries in baking dish, spreading evenly.
In same small bowl, mash bananas with fork or potato masher. Add protein powder, eggs, and milk. Stir to combine. Spread evenly over oatmeal layer in baking dish. Top with remaining frozen blueberries and optional pumpkin seeds and pecans.
Place baking dish on center rack of preheated oven. Bake 40 minutes.
Remove from oven. Cool 10 minutes before cutting and serving.
TIP: Doing the Reset & Rebalance program? Serve this dish with the veggie egg scramble (featured in the Reset & Rebalance workbook) or our Easy Egg & Veggie Bake to make it plate method!
Swaps:
For the pecans and pumpkin seeds: almonds, walnuts, or other nuts of choice
For the chia seeds: milled flax seeds or hemp seeds
Recipe modified from: https://sunkissedkitchen.com/blackberry-baked-oatmeal/