Recipe: Warm Veggie & Quinoa Buddha Bowl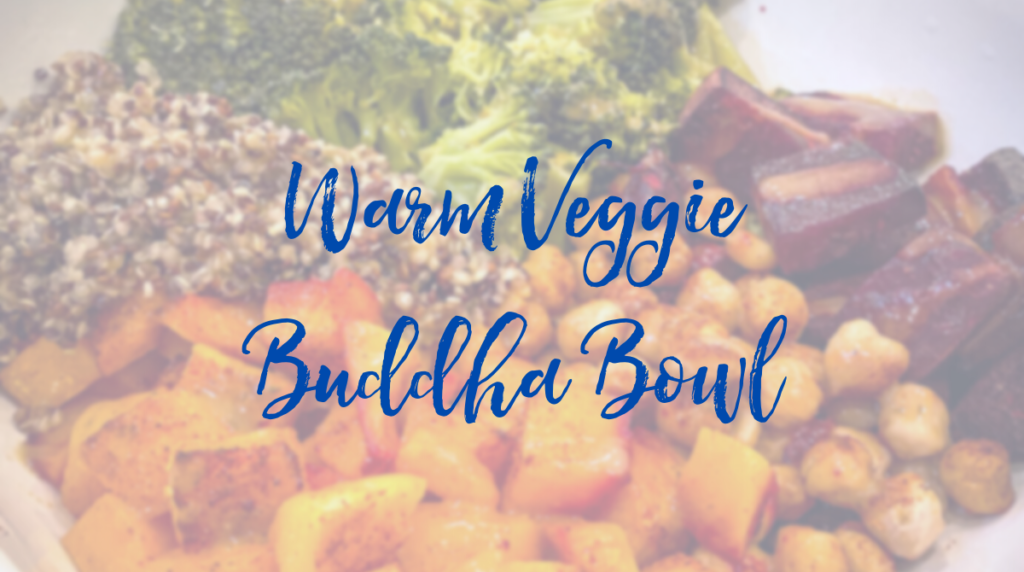 Buddha bowls are traditionally served cold, but this recipe combines a variety of cooked veggies for a warm and satisfying dish any time of year.
It's unknown exactly where Buddha bowls got their name, but it's thought the name may have originated from the connection between Buddha and balance. This dish helps provide nutritional balance through an abundance of antioxidants, fiber, vitamins, and minerals spread throughout veggies, quinoa, and chickpeas.
We hope you enjoy this unique way to add more veggies to your day. Feel free to customize to your liking by mixing up the spices, veggies, and dressing.
Warm Veggie & Quinoa Buddha Bowl
Serves 2
Ingredients
For the roasted veggies:
2 C butternut squash, peeled and diced
1 medium beet, peeled and chopped
14.5 oz canned chickpeas, drained
3 Tbsp olive oil
1 tsp sea salt
1/2 tsp fresh cracked pepper
1/2 tsp garlic powder
1/2 tsp smoked paprika
For the grains:
1 C quinoa, cooked per package directions
Water, for cooking
For the steamed veggies:
1 C fresh broccoli florets
4 C fresh spinach
Juice of a 1/2 lemon, about 1.5 Tbsp
Toppings:
Directions
Preheat the oven to 425°F. Place the butternut squash, chopped beet, and chickpeas onto a baking sheet. Drizzle with olive oil and sprinkle with salt and pepper. Additionally, sprinkle the garlic powder over the beets and the smoked paprika over the squash and chickpeas. Roast this medley for 30-35 minutes, stirring halfway through, until the vegetables are tender and the chickpeas are crisp.
While the veggies are roasting, cook quinoa according to package instructions.
On the stovetop, add 1 inch of water to a pot and bring to a boil over medium-high heat. Insert steamer basket, add broccoli, cover and steam for 3-4 minutes. Remove lid and add spinach to broccoli. Replace lid and steam for another 1-2 minutes until broccoli is tender and spinach is wilted. Remove from heat and drizzle with lemon juice.
Divide the broccoli and spinach evenly between two bowls. To each bowl, distribute equal portions of quinoa, roasted veggies and chickpeas. Drizzle bowls with tahini dressing and serve!TIP: To increase protein, add your preference of prepared beef, lamb, fish, chicken, tofu, or tempeh.
Swaps
For the butternut squash: sweet potatoes or white potatoes
For the spinach: kale or Swiss chard
For the broccoli: cauliflower, green beans, or asparagus
For the quinoa: rice, farro, barley, or cauliflower rice
For the Tahini dressing: red wine vinegar or balsamic vinegar
Recipe modified from: Simply Quinoa