Recipe: Very Veggie Chili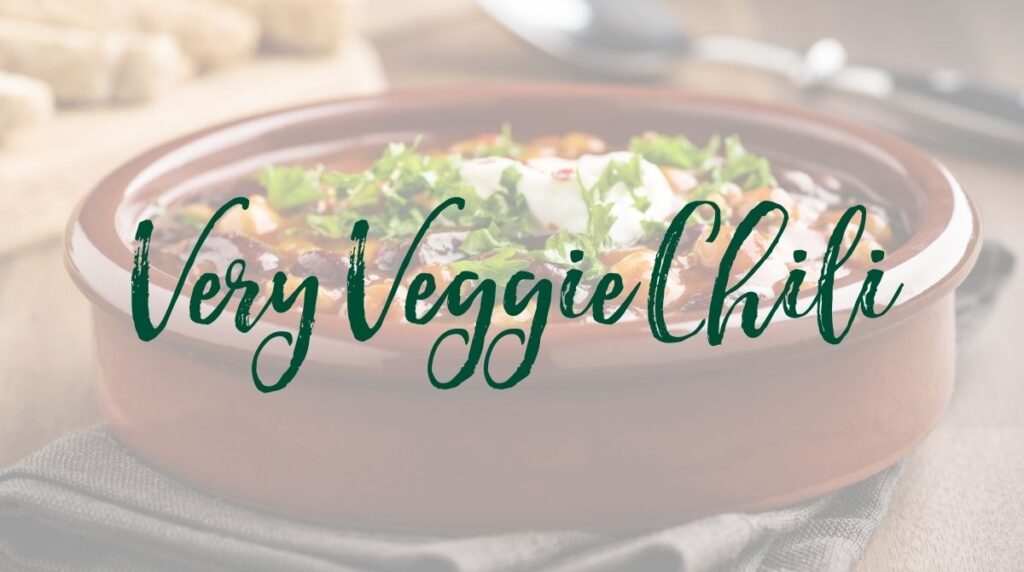 This chili has an extra dose of veggies for a more balanced, but hearty recipe. A food processor or a blender with a food processor attachment can make chopping vegetables for soups, chili, and salsa quick and easy.  The sky is the limit on ways to mix and match ingredients for chili. Be sure to consider other versatile veggies, like zucchini, summer squash, mushrooms, or even greens. In the end, all the flavors come together, thanks to classic chili spices, creating a warm bowl of seasonal comfort.
Very Veggie Chili
Serves 6-8
Ingredients:
1 Tbsp olive oil or cooking spray
1 large onion, chopped
3 medium carrots, thinly sliced into rounds or chopped
2-4 cloves garlic, minced (or 4-6 tsp minced garlic from a jar)
2 medium green or red peppers, chopped
1 lb 93%-lean ground turkey or lean ground beef
3 large tomatoes, chopped
2-3 Tbsp chili powder
1 Tbsp paprika
1 tsp red pepper flakes or hot chili pepper sauce (Optional)
2 tsp ground cumin
15 oz can tomato sauce (no salt added or low-sodium, if desired)
32 oz carton low-sodium chicken broth
6 oz can tomato paste
1 1/2 Tbsp apple cider vinegar
2 cans kidney beans, rinsed and drained (15 oz)
1/2 tsp Kosher salt, or to taste
1/8 tsp ground black pepper, or to taste
1/4 C scallions, chopped (Optional)
Directions:
 Coat large pot with cooking spray or oil. Place on stove over medium heat. Add onion and carrots, sauté until soft, 5 – 7 minutes.
Add garlic, stirring frequently, 1 minute. Add peppers. Sauté 2 minutes.
Add turkey or beef. Brown meat, breaking it up with wooden spoon as it cooks through, about 5 minutes.
Stir in chopped tomatoes, chili powder, paprika, red pepper flakes, and cumin. Add tomato sauce, broth, tomato paste, apple cider vinegar, kidney beans, salt, and pepper. Bring to boil. Reduce heat to simmer, stirring occasionally as chili thickens, about 30 minutes.
Serve warm, topped with optional chopped scallions.
TIP: If chili is too thick, try adding 1/4 C chicken broth to desired consistency. If too thin, try adding mashed kidney beans. If chili is too spicy, try adding 1 Tbsp honey (or omit chili flakes during cooking if mild chili is preferred).