Recipe: Versatile Veggie and Lentil Loaf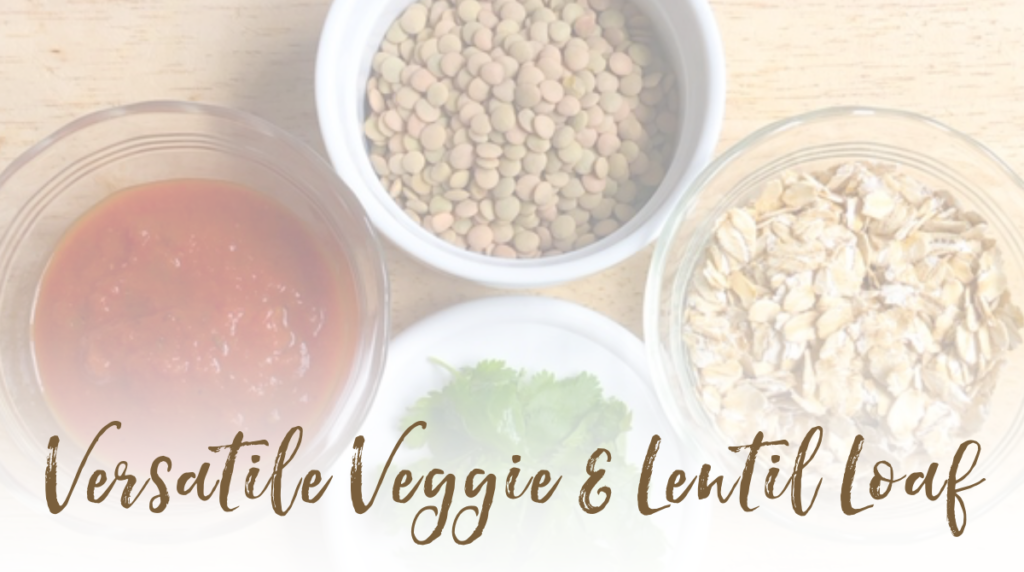 Lentils are a versatile staple to incorporate when preparing plant based meals.  They are commonly available in shades of brown, green, and red, with each having a slightly different texture and application in recipes.  For this dish, brown lentils work best as a hearty and chewy ground meat alternative for a vegetarian spin on the classic meat loaf.
High in fiber, this recipe incorporates whole grains and veggies along with the plant protein in lentils, making it a fabulous foundation for a plate method meal.  Serve with marinara for an Italian spin, salsa for a Mexican twist, or ketchup for a more traditional route.  Paired with your favorite vegetable side dish, this lentil loaf is like a warm welcome to the shift toward cooler temperatures ahead.
Versatile Veggie and Lentil Loaf
Serves 4-6
Ingredients:
2 C water
1 C dry brown lentils
1 Tbsp olive oil
1.5 C chopped veggies of your choice (such as onion, carrot,
mushroom, bell pepper)
1 C quick oats (or leftover rice)
2/3 C tomato sauce, salsa or ketchup; more for serving
2 eggs, beaten
1 bunch fresh herbs, chopped (parsley, cilantro, or scallions)
2 Tbsp flour of your choice (wheat flour or a gluten-free flour
blend work well)
2 tsp soy sauce or tamari
1 tsp garlic powder
1 tsp oregano
Directions:
 Preheat oven to 375°F.
Bring water to boil in a medium stock pot on the stove and lentils reduce heat to simmer, cooking until lentils are tender and still hold their shape (soft but not mushy), about 25 minutes. Drain any excess liquid and transfer lentils to a large bowl. While still warm, use a large fork or potato masher to mash half of the lentils (this will help bind the other ingredients to form a loaf).
While lentils are cooking, heat olive oil in a small skillet over medium heat and sauté chopped veggies until softened. Transfer veggies to the bowl with cooked lentils and add remaining ingredients (oats through oregano) and stir well to combine. Spread mixture into oiled 9×5″ loaf pan.
Bake for 45 minutes or until dry, firm, and golden brown on top. Cool loaf in the pan for 10 minutes. Run a knife around the edges to help loosen and the loaf and turn it out onto a serving platter. Top loaf with preferred sauce (tomato sauce, salsa, or ketchup) and herbs, as desired.
Swaps
For the eggs: Make it vegan by using 2 Tbsp milled flax seed + 5 Tbsp water
For the dry lentils: Skip the step of cooking dry lentils and use 15 oz can of brown lentils instead.
For the oats: If you don't have quick oats, pulse rolled oats in a food processor/blender cup a few times to break them into smaller pieces.
Recipe modified from: One Green Planet