Recipe: Roasted Mediterranean Veggie Orzo Salad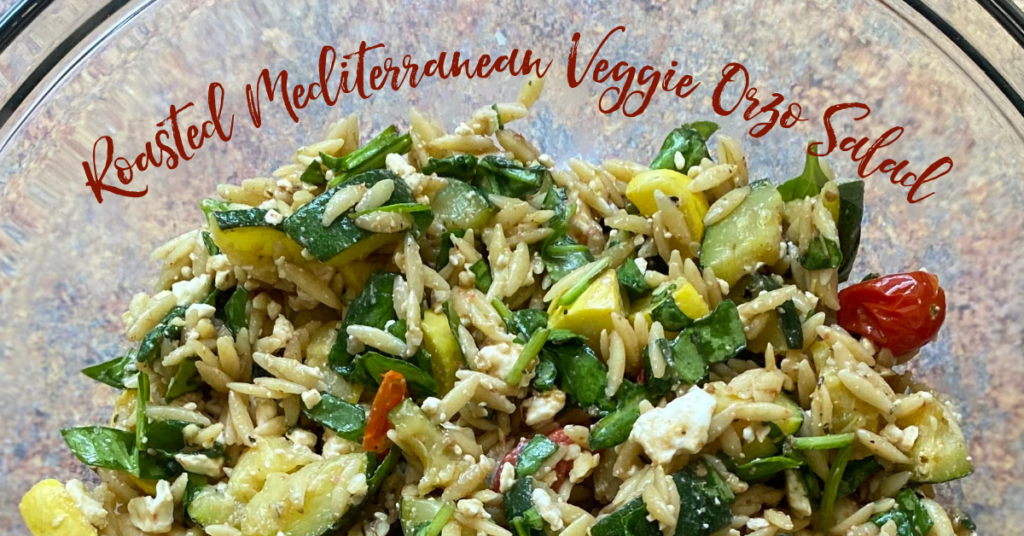 Summer is the perfect season for pasta salad!  This vibrant, wholesome orzo pasta salad recipe is packed full of roasted veggies, leafy greens, and healthy fats, making it a delicious addition to your summer table.
One of the star ingredients in this recipe is the tomato, which is in season between June and September, depending on your location. Tomatoes are an excellent source of lycopene, a powerful antioxidant that gives them their vibrant red hue.1  Research has shown that lycopene can help reduce inflammation in the body, which is linked to a variety of chronic diseases.1
To make this delectable pasta salad, you will need about 5 cups of raw veggies for roasting, such as zucchini, yellow squash, and cherry tomatoes. However, feel free to get creative and swap for what you love or have on hand instead! Asparagus, red onion, peppers, and eggplant are all fantastic options that each bring their own unique flavor and texture to this dish. Olive lover? Feel free to toss a few of those in before serving! Pair with your favorite protein or use a chickpea or lentil pasta for a complete, plate method meal.
Roasted Mediterranean Veggie Orzo Salad
Serves 4-6
Ingredients:
1 medium zucchini, diced
1 medium yellow squash, diced
1 C cherry tomatoes
4 Tbsp olive oil, divided into equal portions
2 tsp garlic powder
1 tsp Italian seasoning
1/4 tsp each salt and pepper
1 C dry orzo pasta
2 C water
4 oz  crumbled feta cheese
3 C spinach, rough chopped
2 Tbsp balsamic or red wine vinegar
Directions:
Preheat oven to 350°F. Toss vegetables in half of the olive oil, garlic powder, and Italian seasoning. Roast for 15 minutes or until tender. Flip vegetables halfway if desired.
Bring water to boil in medium-sized pot. Cook orzo pasta per package instructions to al dente consistency. Strain pasta and set aside to cool.
Whisk remaining olive oil, vinegar, salt, and pepper together. In a large bowl, combine dressing, cooled pasta and vegetables, spinach, and cheese. Toss together and serve with protein of choice for a plate method meal.
Store leftovers in the refrigerator for 3-4 days in an airtight container.
Swaps:
For the feta: dairy-free cheese, parmesan, goat cheese, or omit
For the veggies included: additional spinach, red onion, asparagus, eggplant, or peppers
For the orzo: pasta of choice or canned chickpeas
For the spinach: baby kale, arugula
Recipe modified from: https://www.recipetineats.com/vegetarian-pasta-salad/
Sources