Recipe: Very Veggie Lasagna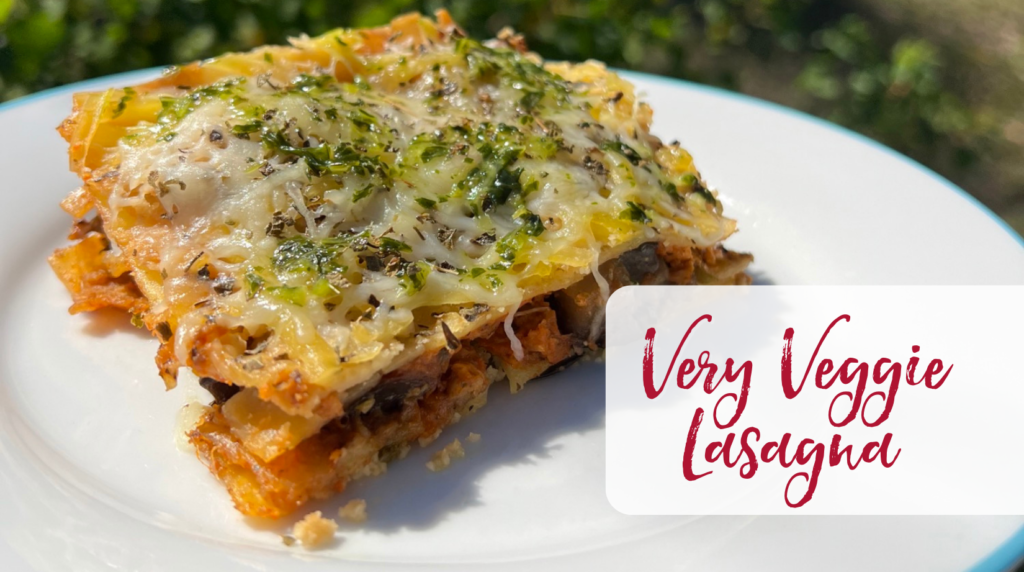 On a cold winter's evening, there are few things as satisfying as a nice, warm slice of lasagna. The delicious blankets of pasta, cream, and tomato originated in Greece and were introduced to America by Italian immigrants in the 1800s. Since then, lasagna has been one of the most popular dishes in the US due to its filling and satisfying nature.
This dish can be served alone, with a side salad, or prepped and frozen to be enjoyed at a later time. This recipe adds a veggie "punch" which significantly increases the nutrient content of each bite. Have veggies that need to be used up? Add them to the sauce! Feel free to customize the veggies included in this recipe according to your preference or availability.
The strong flavor of tomato happens to be a versatile vehicle for whichever vegetables you think would go best in this recipe. We optimized other aspects of the recipe such as choosing leaner proteins and dairy products to help support heart health and using whole wheat pasta to add more fiber to help support blood sugar.
Whether you're gluten-free, dairy-free, or none of the above, we got you covered with modifications to extend the joy without compromising on taste. We hope you have a chance to dig into our veggie-packed lasagna and taste the comfort this holiday season.
Very Veggie Lasagna
Serves 12
Ingredients:
2 carrots
1 zucchini
1 red pepper
8 oz mushrooms
1 medium onion
1 small eggplant
1/3 C fresh basil
12 oz cottage cheese
2.5 C marinara sauce
5-6 oz fresh baby spinach
1 tsp salt
1 tsp black pepper
1-2 Tbsp avocado oil
2 cloves minced garlic (or 3-4 tsp minced garlic from a jar)
16 oz ground chicken
1 package no-boil whole wheat lasagna noodles
Parmesan cheese (Optional)
Directions:
Preheat oven to 425°F. Peel carrots. Cut zucchini, carrots, and red pepper into large chunks. Clean and slice mushrooms. Dice onion. Dice eggplant into 1-inch cubes. Roughly chop basil. Set aside.
Add cottage cheese to blender. Blend until consistency of ricotta cheese. Place cottage cheese into bowl. Set aside.
Add marina sauce, zucchini, carrots, red pepper, basil, and spinach to blender. Blend until smooth. Use blender tamper or 1/2 C water to loosen if mixture sticks.
Heat avocado oil in large skillet on stovetop over medium heat. Once shimmering, add onion, eggplant, mushrooms, 1/2 tsp salt, and 1/2 tsp black pepper. Cook, stirring often, until most moisture gone and vegetables tender and turning golden on edges, 8-10 minutes. Add splash of oil, if necessary, to prevent sticking to pan.
Add garlic to pan. Cook until fragrant.
Add ground chicken to pan with remaining salt and pepper. Brown, 14-17 minutes.
Spread 1/2 C sauce in 9×12-inch pan. Top with 3-4 noodles in even row, overlapping edges as necessary. Spread 1 C cottage cheese evenly over noodles. Top with half sauteed veggie and ground meat mixture. Top with 3/4 C sauce. Repeat this step once before moving to step 8.
Top with 3 noodles. Evenly spread 3/4 C sauce on top to cover noodles.
Wrap sheet of parchment paper or aluminum foil over top of lasagna. Ensure it's taut and not touching top sauce layer. Bake, covered, 25 minutes.
Remove cover, rotate pan 180°, and continue cooking about 5-10 minutes or until dish steaming and bubbling at corners.
Remove from oven. Set aside to cool, 15-20 minutes.
Drizzle remaining cottage cheese on top (if too thick to drizzle, mix in small amount of water to thin). Sprinkle Parmesan and fresh basil on top. Slice and serve.
TIP: Using gluten-free noodles? Ensure the top layer of noodles is fully covered in sauce and/or cheese to prevent drying out in the oven.
Swaps:
For the fresh basil: 3 Tbsp basil paste
For the avocado oil: olive oil
For the cottage cheese: cashew cream cottage cheese alternative or vegan ricotta
For the ground chicken: ground turkey
For the no-boil whole wheat lasagna noodles: gluten-free no-boil alternative (Barilla, Chickapea, and Jovial are common options)
For the optional Parmesan cheese: vegan parmesan cheese
Recipe modified from: Cookie and Kate