Recipe: Very Veggie Fried Rice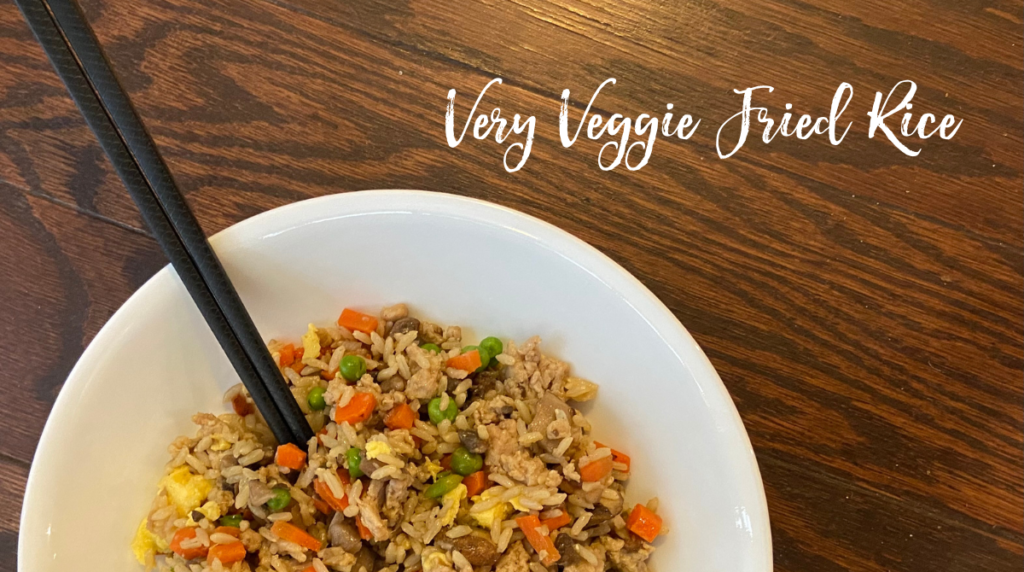 Many of us only consider certain dishes when we think of restaurant meals or takeout.  But often, we can make our restaurant favorites right at home and with a healthy twist.  This fried rice is a perfect example of combining the flavors we love in an Asian cuisine staple with the nutritional benefits of adding more vegetables to our plate.  Another benefit of making it your way is the ability to customize to your preferences the veggies, proteins or even the grains used – choosing to add zucchini or greens, swap in shrimp or use cauliflower rice or quinoa.
What really makes this dish restaurant quality is the flavor infused from the sesame oil, soy sauce, fresh ginger and garlic.  If you enjoy Asian fare and are looking to do more cooking at home – consider these ingredients a worthy investment and fundamental piece in creating more meals featuring the flavors you love most.
Very Veggie Fried Rice
Serves: 4
Ingredients:
3 C cooked brown rice
3 Tbsp sesame oil, divided
1 lb ground chicken
1 tsp salt
1/2 tsp pepper
2 Tbsp grated ginger, divided
2 tsp minced garlic
1 container (8 oz) mushrooms, roughly diced
3 large carrots, peeled and diced
1 C frozen peas
2 tsp olive oil
2 eggs, lightly beaten
1/4 C soy sauce
Fresh cilantro or green onions, for garnish
Directions:
Prepare brown rice according to package directions to yield 3 cups cooked.
Heat 2 tsp sesame oil over medium heat in a wok or large frying pan.  Add ground chicken, salt, pepper, and 2 tsp ginger.  Break apart chicken and stir until chicken is cooked through, approximately 5 minutes.  Remove the chicken to a large bowl and set aside.
In the same pan, heat 2 tsp sesame oil with mushrooms and sauté for 3-5 minutes until soft.  Drain the mushrooms, remove from pan, and set aside with the ground chicken.
In the same pan, heat 2 tsp sesame oil, garlic, and remaining ginger for 1 minute until fragrant.  Add carrots and sauté for 3-5 minutes, then add frozen peas and cook for another 2-3 minutes.
In a separate pan, heat olive oil, add eggs and scramble until cooked through.  Break the scrambled eggs into larger or smaller pieces per your preference.
To the pan with carrots and peas, add in the chicken, mushrooms, eggs, and rice.  Combine soy sauce and remaining 1 Tbsp sesame oil, drizzle over the rice mixture, and stir to combine.
Swaps:
For the brown rice:  white rice, cauliflower rice, or quinoa
For the ground chicken:  ground turkey, ground beef, or omit for vegan/vegetarian
For the fresh ginger:  1/2 tsp grated ginger
For the mushrooms:  2 diced zucchini or squash, 1 cup diced broccoli, or omit
For the carrots & peas:  frozen carrot & pea mixture (2 cups)
For the soy sauce:  gluten-free tamari or coconut aminos
Recipe adapted from:
https://www.scrambledchefs.com/the-best-chicken-fried-rice-recipe/
https://glutenfreeandmore.com/blog/2016/12/classic-gluten-free-fried-rice-recipe.html