Recipe: Veggie Avocado Breakfast Quesadilla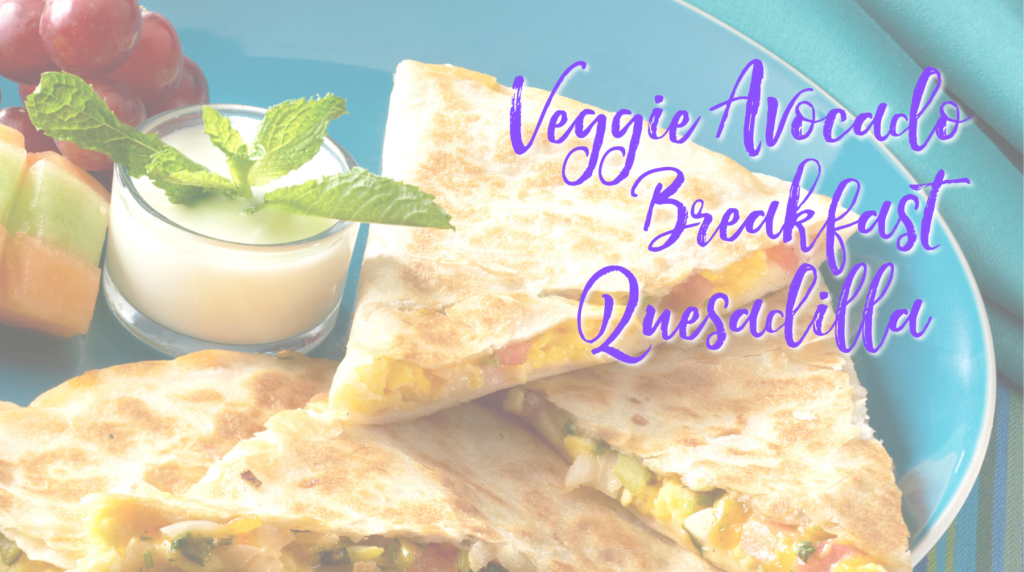 Try switching up your morning meal with this tasty breakfast quesadilla. This recipe is a complete plate method meal and is a great way to add variety to your breakfast while sneaking in some healthy fats with an avocado!
Avocados (actually a fruit!) are packed with healthy, unsaturated fats which not only contribute to this meal's satiating properties, but can also help lower your "bad" LDL cholesterol and raise your "good" HDL cholesterol. This fruit is also surprisingly high in fiber – 1/2 of a medium avocado has approximately 7 grams! Fiber can further assist in controlling "bad" LDL cholesterol and is also important for satiety and bowel regularity.
If you're not a fan of savory breakfasts, this quesadilla can also make a great lunch or dinner!
Veggie Avocado Breakfast Quesadilla
Serves 4
Ingredients
 8 large eggs
1 Tbsp avocado oil
1/2 yellow onion, diced
1 red pepper, diced
1 C spinach leaves
4 medium tortillas (8-10 inches)
1/2 tsp ground pepper
1/4 tsp salt or to taste
1/2 C sharp cheddar cheese, grated and divided
1 large avocado, diced
Hot sauce or salsa, to taste (Optional)
Directions
Crack eggs into medium-sized bowl. Whisk together. Set aside.
Heat large, nonstick skillet on stove over medium heat. Add avocado oil. Heat pan 1 minute.
Add diced onion and pepper. Cook until fragrant, 3-4 minutes, stirring to cook evenly.
Reduce heat to medium-low. Add egg mixture and spinach to skillet. Cook, stirring occasionally until eggs set and spinach wilts, 5-7 minutes. Season with salt and pepper. Transfer to plate. Set aside.
Heat same nonstick skillet on stove over medium-high heat. Place 1 tortilla in pan and top half of tortilla with 2 Tbsp cheese, 1/4 scrambled egg and veggie mix, and 1/4 diced avocado.
With spatula, fold tortilla to form half-circle. Press down on tortilla with spatula as cheese melts, to seal quesadilla. Use spatula to lift edge of tortilla to check under-side of quesadilla.
When bottom is golden-brown, flip quesadilla in pan to brown other side.
Remove quesadilla from pan. Place on serving plate. Repeat steps 5 and 6 with remaining ingredients for 3 additional servings.
When ready to serve, cut each quesadilla into thirds and serve with optional hot sauce or salsa.
Swaps
For the avocado oil: olive oil, coconut oil, or another oil of choice
For the whole wheat tortillas: gluten-free tortillas, Trader Joe's jicama wraps, or corn tortillas (layering two, sandwich style, instead of folding, for quesadilla assembly)
For the cheddar cheese: Mexican-blend cheese, mozzarella cheese, or dairy-free cheese of choice
For the red pepper: green, orange, or yellow pepper
For the onion: 1 clove minced garlic or diced shallots