Recipe: Vegan Faux Veggie Queso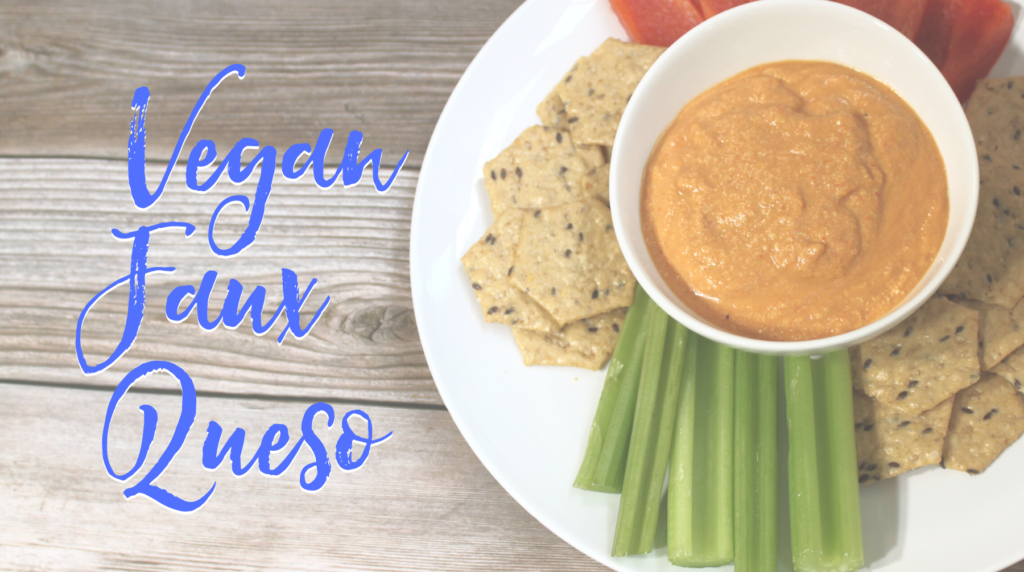 Typically you see dips made to be served with veggies on the side. We turned the concept inside out and added most of the veggies into the dip. Then we took it one step further with a flavor combination that reminds you of a savory cheese sauce without the cheese.
The pairing of nutritional yeast and raw cashews blends into a creamy mixture that is often used in place of cheese sauce for dairy-free recipes like queso, mac-and-cheese, or a sauce to serve on veggies. This pairing can be served hot or cold and either is great for this dish!
Vegan Faux Veggie Queso
Serves 6
Ingredients:
2/3 C raw cashews
1/4 C nutritional yeast
1 small red bell pepper, cut into sections
1 C fresh salsa
1/4 tsp sea salt
1/4 tsp garlic powder
1/8 tsp cumin
1/2 tsp turmeric
1/8 tsp cayenne pepper plus more, to taste (Optional)
Directions:
Place cashews in small bowl and cover with warm water. Soak 10 minutes.
While cashews soak, combine remaining ingredients in blender cup or food processor.
Drain cashews and add to blender/food processor.
Blend all ingredients until completely smooth, stopping to scrape sides, as needed.
Serve dip at room temperature or warm with veggies, chips, or crackers.
Swaps:
For the red bell pepper: orange or yellow bell pepper
For the cashews: There are no optimal swaps for the cashews – their soft texture and mild flavor make them an ideal nut for blending in this type of recipe.
For the fresh salsa: Pico de Gallo or medium jarred salsa
Recipe modified from: Hummusapien