Recipe: Turkey Kielbasa, Red Beans, and Cauli Rice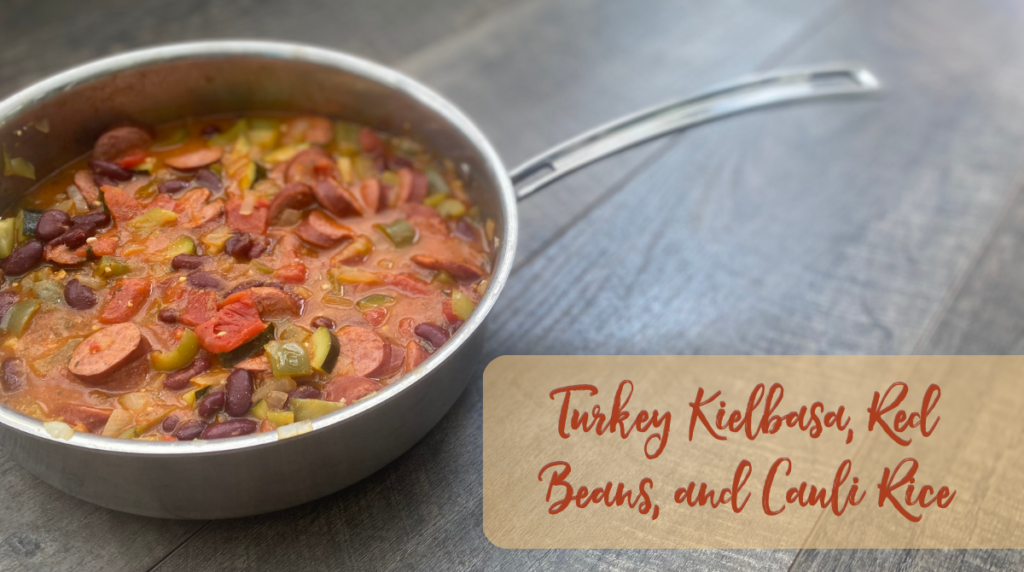 One-pot dinners are a lifesaver on busy weeknights when you are short on time but still want to enjoy a home-cooked meal. If you are looking for a one-pot dish that packs a powerful punch of flavor and nutrition, consider this reimagined red beans and rice recipe!
Red beans and rice is a classic dish that originates from the southern region of the US and is often associated with Luisiana.1 Traditionally, this meal was consumed at Monday dinner, using leftover ham bones from the weekend to season the beans.1
While this reimagined recipe lacks the richness from those bones to quicken the cooking time, it is certainly not void of flavor! Dry herbs and spices, including chili powder, black pepper, garlic powder, cumin, and parsley, create nice a pop of flavor.
As or the main ingredients and their nutrition contributions, kidney beans are an excellent source of plant-based protein ad fiber, contributing to satisfaction and blood sugar regulation.2 Tomatoes are packed full of the phytonutrient lycopene, a powerful antioxidant associated with a reduced risk of some chronic diseases – such as heart disease and some cancers.3 Even more, the bell peppers and zucchini both provide vitamin C and potassium to support healthy immunity and bone health. 4-6
Turkey Kielbasa, Red Beans, and Cauli Rice
Serves 5-6
Ingredients:
2 tbsp olive or avocado oil
1 large yellow onion, rough diced
3 garlic cloves, minced (or 1 Tbsp jarred minced garlic)
2 large bell peppers, rough diced
13 oz fully cooked turkey kielbasa (low sodium, if available)
1 medium zucchini, diced
1 C low-sodium vegetable or chicken broth
1 can no salt added red kidney beans, drained and rinsed
14.5 oz can diced tomatoes (with the liquid)
1/4 to 1/2 tsp chili powder
1 tsp black pepper
2 tsp garlic powder
1 tsp ground cumin
1 Tbsp dried parsley
16 oz frozen cauliflower rice, cooked according to package instructions
Directions:
Add oil to a large saucepan over medium heat. Cook onions for 5-6 minutes or until soft. Stir in garlic and sauté for 1-2 minutes. Stir in peppers and cook until all vegetables are tender.
Add kielbasa to pan and brown for 5 minutes. Add zucchini to pan and cook until slightly tender, stirring occasionally.
Pour broth into mixture and cook for 2-3 minutes.
Add beans, tomatoes, and spices to pan and stir until combined. Cover and reduce heat to low and simmer for 15 minutes, checking occasionally to ensure mixture is not sticking to pan. Reduce heat or add additional liquid as needed.
Serve atop one fistful of cauliflower rice.
TIP: To save even more time, swap the fresh onions and peppers for a frozen pepper and onion blend! Watching your sodium intake? Take a look at our swaps for the turkey kielbasa down below!
Swaps:
For the kielbasa: ground turkey or chicken, shrimp, or additional beans
For the seasonings: Cajun seasoning blend
For the chili powder: paprika
Sources: