Recipe: Sweet & Green Summer Salad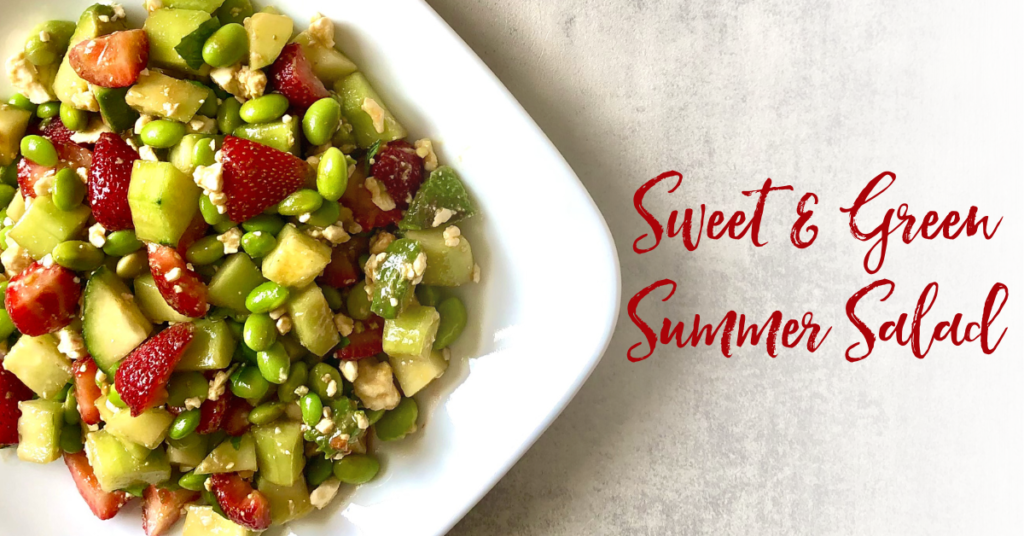 There's nothing wrong with keeping it simple, but sometimes, you just need a recipe that elevates a basic meal. This summer salad is an easy way to serve popular ingredients in a new way. It covers all the bases for a stellar side dish – crunchy, chewy, creamy, sweet, salty, and satisfying. Additionally, it's worth mentioning the abundance of fiber and healthy fats present in this dish thanks to the nutrient-packed berries, avocado, edamame, and cucumbers!
This salad really could be the star of the meal, paired with your favorite summer protein – such as pan-seared shrimp, fish, grilled chicken, or pork tenderloin. To make it a vegetarian meal, serve with grilled tofu and top with your favorite nuts or seeds as a fabulous meal for two.  Don't overlook the power of a hearty salad to transform a go-to meal into anything but basic!
Sweet and Green Summer Salad
Serves 3-4
Ingredients:
Salad
1 1/2 C shelled edamame (thawed, if frozen)
10 oz small strawberries, cut in half or quarters
2 small to medium, ripe but firm avocados, cubed
2 large cucumbers, peeled and cut into quarters
1/3 C red onion, chopped
4 oz crumbled feta
Fresh basil leaves, for garnish
Basic balsamic dressing
1/4 C extra-virgin olive oil
1/4 C balsamic vinegar
4 tsp Tamari or soy sauce
1 tsp pure maple syrup or honey
Directions:
Add all salad ingredients to a large mixing bowl.
In a small jar, combine dressing ingredients and cover tightly with lid.  Shake vigorously to thoroughly combine. Pour dressing over the salad in large bowl. Gently stir salad until coated with dressing.
Enjoy salad at room temperature or chilled. Store in refrigerator in an airtight container. Salad is best shortly after preparation, however will remain delicious for up to 24 hours if stored properly in the refrigerator. If preparing in advance, add avocado just prior to serving to minimize browning.
Swaps:
For the edamame: chickpeas
For the strawberries: peaches, blueberries
For the red onion: green onion
For the feta: goat cheese or omit
For the soy sauce: coconut aminos
Recipe modified from UpBeetAndKaleingIt