Recipe: Autumn Sweet Potato & Kale Soup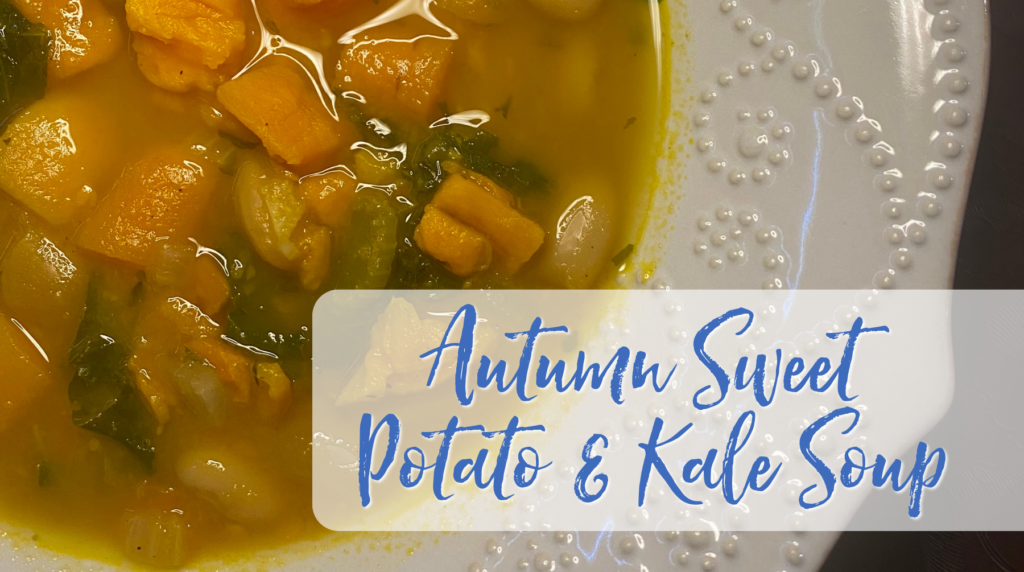 Soup season is finally here! While soups are tasty year-round, there is something special about that first pot of soup once the air becomes crisp. This Autumn Sweet Potato & Kale soup is a filling, flavorful addition to your fall table and can be frozen to reheat at a later time.
Summerfield Custom Wellness is located in North Carolina, a state that produces 60% of the nation's yearly supply of sweet potatoes.1 NC farmers harvest around 1.6 billion pounds of sweet potatoes yearly with growing regions predominantly located in eastern counties along the Coastal Plain Region.1,2
Sweet potatoes are a rich source of complex carbohydrates, fiber, potassium, vitamin A, vitamin C, and a handful of B vitamins. This soup is packed with around 8 grams of dietary fiber to not only help with blood sugar regulation and satiety but also to feed the tiny bacteria that live within the intestines. Each serving contains around 8 grams of plant protein thanks to the cannellini beans. To make this a more filling, complete meal, consider doubling the beans in the recipe, adding your favorite lean ground meat such as turkey, beef, or chicken, or serving with a leafy-green salad topped with your favorite fall flavors!
Autumn Sweet Potato & Kale Soup
Serves 4
Ingredients:
3 sweet potatoes (approximately 4 C)
1 C carrots
1/4 tsp ground cinnamon
1/2 tsp ground cumin
1 Tbsp avocado oil, divided
2 cloves garlic, minced (or 2-3 tsp minced garlic from a jar)
1/2 small onion, diced
1 large stalk celery, chopped
32 oz low-sodium vegetable broth
3 C kale
15 oz cannellini beans
1 Tbsp dried parsley
1/2 tsp salt
Black pepper, to taste
Directions:
Preheat oven to 375°F. Line rimmed baking sheet with aluminum foil.
Peel and dice sweet potatoes. Rough chop carrots. Wash and chop kale. Drain and rinse cannellini beans. Set all aside.
Add potatoes, carrots, cinnamon, cumin, and 1/2 Tbsp oil to large bowl. Toss to coat veggies. Spread evenly on baking sheet.
Roast 25-30 minutes on middle oven rack.
Remove baking sheet from oven. Gently toss veggies with spatula. Return to oven, 15-20 minutes, or until tender and lightly caramelized.
Remove baking sheet from oven. Set aside 1 C baked veggies. Allow pan to cool.
In deep stock pot on stove over medium heat, heat remaining oil. Add garlic, onion, and celery to pot. Cook 3-5 minutes or until onions are translucent and tender, stirring regularly.
Remove pot from heat. Scoop veggies from pot with slotted spoon. Set aside with reserved roasted carrots and sweet potatoes.
Add remaining roasted vegetables and about 16 oz vegetable broth to pot. Use immersion blender to blend directly in pot, or carefully pour pot contents into food processor or traditional blender to blend, until smooth. Return to pot.
Pour remaining broth into pot with blended mixture. Stir until combined.
Add reserved vegetables, beans, kale, and remaining seasonings to pot. Stir.
Return pot to stove. Bring to simmer over medium-high heat, 2-3 minutes.
Reduce heat to low. Cover and cook additional 20-30 minutes.
Serve immediately or refrigerate in sealed container up to 5 days.
TIP: Consider using multicolored carrots to make this dish more colorful and nutritious!
Swaps:
For the sweet potatoes: pumpkin
For the avocado oil: coconut oil, almond oil, or olive oil
For the vegetable broth: vegetable stock or chicken broth
Sources: