Recipe: Superfood Granola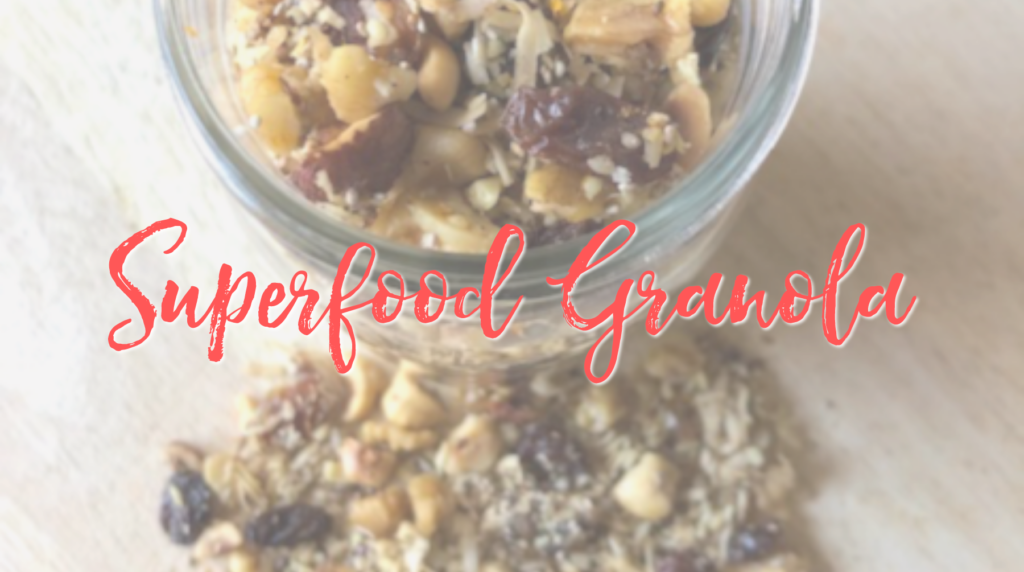 A homemade snack mix that is brimming with satisfying superfoods and surprisingly grain-free? Yep! No oats in this granola-esque snack, which makes it a versatile option to include while following the adjustment plan.
This mix is energy-packed, thanks to the nuts, seeds, and dried fruit providing satiating protein, healthy fats, and fiber. Not to mention it has the perfect blend of crunchy and chewy as well as salty and sweet. Enjoy it as a stand-alone snack or stirred into your favorite regular or dairy-free yogurt.
Superfood Granola
Serves 4-6
Ingredients:
1/2 C unsweetened coconut flakes
1 C nuts (your choice), roughly chopped
1/4 C Medjool dates, chopped
1/4 C dried cherries or cranberries
2 Tbsp chia seeds
1 Tbsp hemp heart seeds
1 Tbsp flax seeds
1 Tbsp apple cider vinegar
2 Tbsp orange juice, fresh-squeezed
1 tsp orange zest
1 Tbsp coconut oil, melted
1 Tbsp olive or canola oil
1 tsp cinnamon
Sea salt, to taste
Directions:
Preheat oven to 325°F. Line baking sheet with parchment paper.
Mix all ingredients in large bowl. Place in single layer on baking sheet. Bake 15 minutes (or until toasty), mixing granola every 5 minutes to prevent burning.
Store in airtight container.