Sun Safety: The Essential Guide to Protecting Your Skin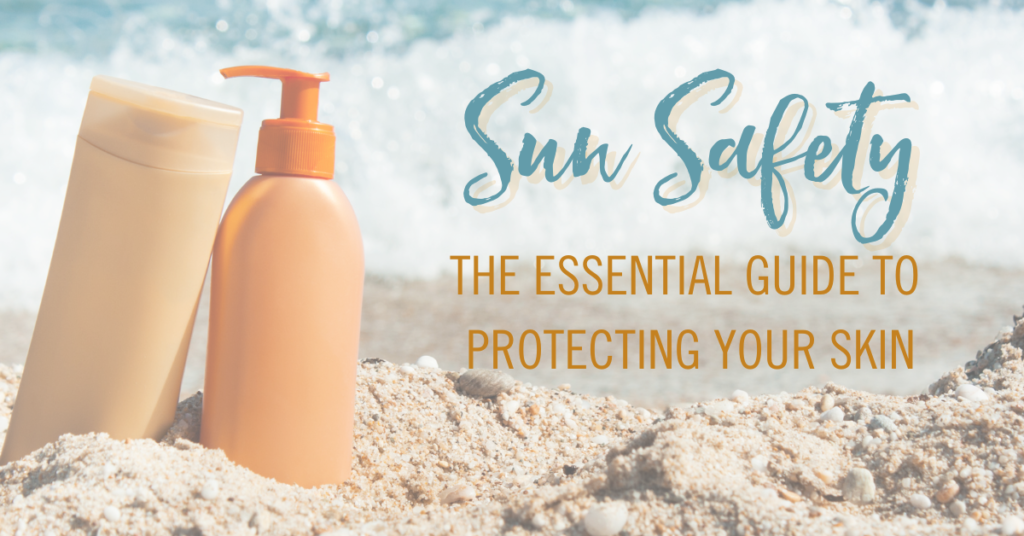 It's that time of year when sun protection shifts from being a "good idea" to ideally a top priority.  But deciding on sun protection can feel pretty confusing with so many options – liquid vs. spray, natural vs. traditional, SPF 15 or 50, and which ingredients you want and those you possibly don't.  One thing is for sure – sun protection is an important step in our daily routine that many of us may be skipping.
Only 1 in 10 Americans apply sunscreen daily, and two-thirds of individuals aim to wear sunscreen if they plan to be outside for an extended time.1  Only about 1/3 of the population is concerned about skin cancer, despite 70% of us having at least one risk factor, including exposure to natural or artificial light for extended periods of time, having a fair complexion (i.e., fair skin, light-colored eyes, blond or red hair), and a history of bad sunburns or blistering.2
Dermatologist recommendations include selecting a waterproof, broad-spectrum (protecting against ultraviolet A and ultraviolet B) product with an SPF (sun protection factor) of 30-50 that has ingredients to accommodate your needs and preferences.2  Ultraviolet B (UVB) rays are known to cause surface damage (dark spots, freckles, lines, and wrinkles) and sunburns, while ultraviolet A (UVA) rays penetrate deeper layers of skin and result in aging skin. Both UVA and UVB rays harm skin cells; however, research suggests that UVA rays can genetically alter cells to result in damage and skin cancers.3  Data from the Skin Cancer Foundation shows that "UVA rays account for 95 percent of total UV that reaches the earth."3  While sunscreen usage increases in the summer months, dermatologists recommend daily sun protection all year round.
Sun Protection 101
Application Basics
Specifically, experts recommend applying one ounce of sunscreen to the body every two hours.1 This is approximately the size of a full shot glass. Some suggest replacing sunscreen every 12 months if it has not been used completely, though if a bottle lasts that long, consumers may not be using it often enough at an appropriate amount. Many have heard that sun protection is essential at the hottest parts of the day, between 10 AM and 4 PM, and while the sun's rays are most intense during these hours, skin damage or sunburn can occur at almost any point in the day.
Sunscreen Properties
"SPF" refers to how long the UV rays might take to redden your skin when the product is used exactly as directed.3  For example, a product with an SPF of 50 offers protection for 50 times longer as compared to bare skin with no sunscreen. Data suggest that products with an SPF higher than 50 likely provide a false sense of increased protection, leading to individuals underapplying or failing to reapply appropriately – thus actually increasing the risk of sun damage.3 Don't fret, though, if your favorite product is SPF 20! This does not mean it is void of benefits, but it may need to be reapplied more often if you plan to be out in the sun for longer lengths of time.
Sunscreen Classifications
In general, there are a few types of sunscreens on the market – mineral (physical), chemical, or hybrid. Mineral sunscreens may contain one or both of the active ingredients zinc oxide and titanium dioxide. These ingredients both work to reflect UV rays before they penetrate the layers of the skin.4  This is why these sunscreens are often referred to as a physical barrier/screen for the body and are known to block a wide range of UV rays. Additionally, mineral sunscreens are "photostable" and therefore do not require reapplication as frequently as chemical sunscreens when exposed to light. Mineral sunscreens are suggested as the better option for individuals with sensitive skin. A few experts prefer these generally due to less likelihood of irritating the skin and clogging pores while providing the anti-inflammatory benefits of zinc oxide.4
In the past, mineral sunscreens were typically formulated in a way that felt too thick and left a chalky white residue, but newer formulations contain nanoparticles that allow for better absorption and can be suitable for darker skin tones. Additionally, more products are available that offer some tint to accommodate many skin tones – such as tinted sunscreens or tinted moisturizers that contain SPF.  Notably, however, there is some debate over whether these particles are also more easily soluble in our ocean and water supply.
Chemical sunscreens contain chemicals that absorb harmful UV rays and then convert them to heat.4 Chemical sunscreens have more aesthetic appeal due to their ability to blend seamlessly into the skin without any white residue.  One drawback is the need to apply them 15 minutes before sun exposure to allow for their full protective effect. Common chemical UV filters found in the United States include oxybenzone, avobenzone, octinoxate, homosalate, octocrylene, octisalate, and ensulizole. These products are highlighted after research studies found them to be absorbed in higher concentrations than recommended by the FDA.4
The Environmental Working Group (EWG) is an organization that "provides information on sunscreen from the published scientific literature and provides ratings to indicate both efficacy and relative level of concern by exposure to the ingredients in the products.  The ratings reflect on potential health hazards."5  The EWG details that occasional sunscreen ingredients may be potential allergens and, when absorbed into the skin, may make their way into the bloodstream and disrupt the endocrine system (i.e., impacting hormones like estrogen).
The FDA permits the sale of these products, though it does not make specific conclusions regarding safety, and is requesting more data via continued research before applying the label of "generally recognized as safe, or GRAS".4 On a state level, places like Hawaii have banned oxybenzone and octinoxate, which plays a part in access to certain chemical sunscreens.4  Some studies have shown oxybenzone and octinodate are detrimental to coral reefs and toxic to marine life in high concentrations.4  It should also be highlighted that dermatologists and the FDA emphasize the risk of sun exposure, and skin concern has more concerning supportive evidence than the risk of chemical sunscreens.
Hybrid formulas allow for a product that contains the best qualities of both physical and chemical sunscreens.  Some dermatologists suggest finding a hybrid product with at least 7% zinc for the UV ray reflection.4 Other methods of sun protection include hats or visors, sun shades, sleeves or pants, and sunglasses.  And lastly, our dietary choices may also play an important role in sun protection.
Nutrients and Sun Protection
Scientific literature details the use of dietary antioxidants as "systemic photoprotective agents towards skin damage induced by UVA and UVB (rays)" and that "micronutrients present in the diet such as carotenoids, vitamins E and C, and polyphenols contribute to the antioxidant defense and may also contribute to endogenous photoprotection."6  But the role of nutrients as sun protection is a matter of consistent intake.  A sustained and frequent intake of specific micronutrients (carotenoids, polyphenols, and vitamins E and C) may provide an effective means of protecting skin from damage through UV exposure.6
Sources of Protective Nutrients
Carotenoids (which includes beta-carotene, lycopene, lutein, and zeaxanthin) – brightly colored produce such as spinach, kale, orange bell peppers, cantaloupe, carrots, broccoli watermelon, pink grapefruit
Vitamin E (alpha-tocopherol, found in the oil substance of plants) – wheat germ oil, sunflower seeds, almonds, hazelnuts, and oils made from these nuts and seeds
Vitamin C – citrus fruits, bell peppers, strawberries, tomatoes, cruciferous vegetables such as broccoli, Brussels sprouts, cabbage, cauliflower
Polyphenols (examples include: lignans, flavonoids, phenolic acids, and more) – berries, green tea, cocoa, olives, nuts, seeds, and spices such turmeric, cinnamon, cumin, basil, ginger, and more
One happy coincidence? Many of these great foods are abundantly available and highly enjoyable during the warmest weather months! At Summerfield, we love to celebrate the fact that the foods we eat can play such a valuable role in protecting our bodies in a way that many of us may not consider. Vibrantly colored plate method meals for the win, once again!
While there may be a few details to iron out as you select your go-to sun protection products and strategies, one thing is for sure, sun protection is an important step in our wellness routine.  If this topic intrigues you and you'd like to know more, check out the resources linked below or speak to a dermatologist for more customized recommendations.
Sources