Recipe: Summer Vegetable and White Bean Soup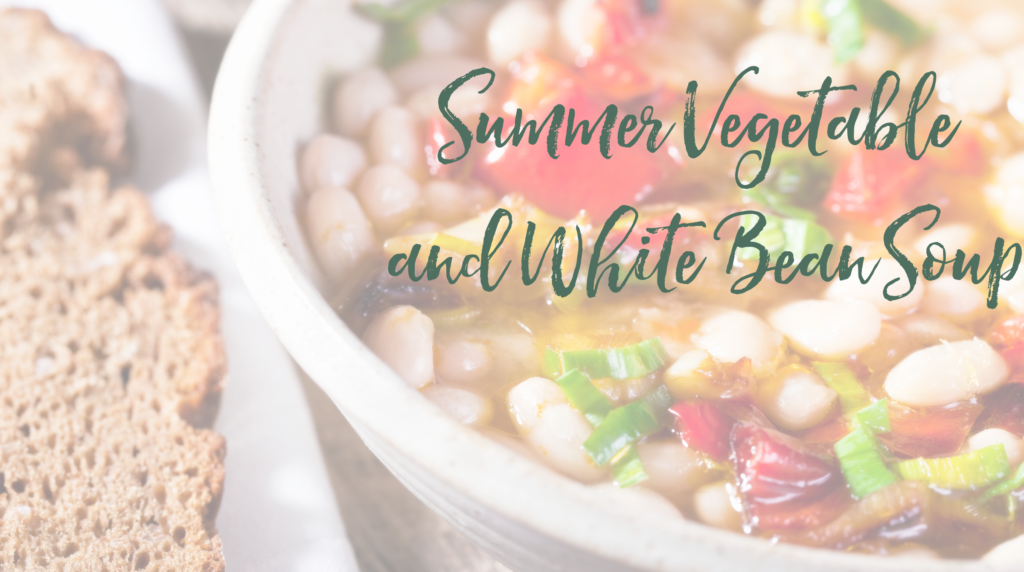 Soup generally comes to mind when the temperatures are cooling off, but this recipe's light, in-season ingredients make it a perfect dish for summer. Whether it be extra garden bounty or just items in need of use, soup can be a great way to extend the life of fresh veggies when they are past their peak.
Summer soups also make for a great way to add in plenty of vegetables if raw veggies don't always settle well for you. If you feel like being even more rebellious with your summer soup, this dish can certainly be enjoyed cold. Feel free to keep this soup as-is for a lighter meal or consider adding extra white beans, chicken sausage, or pairing it with fresh bread for a heartier dish!
Summer Vegetable and White Bean Soup
Serves 6
Ingredients:
2 tsp olive oil
2 small yellow onions, diced
2 large carrots, diced
3 cloves garlic, chopped (or 4-5 tsp minced garlic from a jar)
1 zucchini, diced
1 yellow squash, diced
2 tomatoes, diced
2 tsp dried thyme
2 tsp dried oregano
2 tsp dried basil
32 oz low-sodium vegetable or chicken stock
15 1/2 oz can tomato sauce
15 1/2 oz can white beans, rinsed and drained
Salt and pepper, to taste
8 oz bag kale, chopped and stems removed
Instructions:
In stockpot on stove over medium-high heat, add oil, onions, and carrots. Sauté until tender, about 3 minutes.
Add garlic, zucchini, squash, and tomatoes. Sauté 2-3 minutes or until tender.
Add thyme, oregano, and basil. Toast 1 minute.
Add broth, tomato sauce, white beans, salt, and pepper. Bring to a boil then reduce heat to low. Simmer about 15 minutes.
Add kale. Simmer 3 minutes or until tender. Serve hot or cold.
Swaps:
For the white beans: chickpeas, kidney beans, or pinto beans
For the tomatoes: 14.5 oz can diced tomatoes
For the kale: spinach or baby kale
For the dried herbs: fresh herbs, finely chopped (1 Tbsp each, added near end of cooking)