Recipe: Stuffed Pepper Soup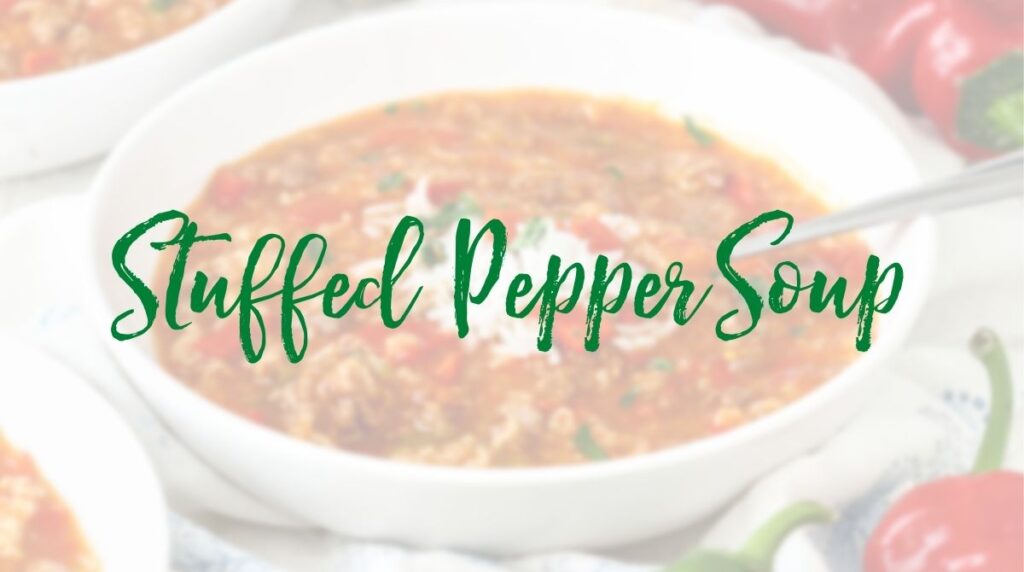 Reinspired recipes are often a fun way to add variety without reinventing the wheel. An oven-baked recipe turned satisfying soup seems like an equally easy way to both warm and fill our bellies. Speaking of easy, this soup has a few other tricks up its sleeve to make mealtime go off without a hitch. Consider swapping in a leftover grain, like cooked rice or another prepared grain, so you can skip the rice-cooking step. Other time-saving swaps include using a frozen, sliced, bell pepper medley in place of fresh peppers or buying precut fresh or frozen chopped onions, carrots, and celery commonly referred to as the mirepoix mixture. Consider whether kitchen hacks like these might be helpful in other recipes you enjoy preparing.
Stuffed Pepper Soup
Serves 4-6
Ingredients
1 C rice
1 lb ground turkey or beef
2 green bell peppers, chopped
1 C onion, finely diced*
1 C carrots, chopped*
3 stalks celery, chopped*
28 oz can diced tomatoes
6 oz can tomato sauce
4 C chicken broth
1 Tbsp Italian seasoning
Salt and pepper, to taste
Directions
Cook rice according to package. Typically this reads: Add 1 C rice and 2 C water to saucepan on stove over high heat. Bring to boil. Cover and reduce to low. Simmer 16-18 minutes or until water is absorbed.
Brown meat in large stock pot on stove over medium-high heat. Drain fat.
Add bell pepper and onion. Sauté 3 minutes.
Add carrots, celery, tomatoes, tomato sauce, broth, seasoning, salt, and pepper. Cover, reduce to low, and simmer 30-45 minutes or until peppers are tender.
Add rice to soup before serving.
TIP: For soups, chop veggies into a size that will fit on a spoon. Hate chopping? Replace starred ingredients with a 14.5 oz container mirepoix from refrigerated section of Trader Joes or 1 1/2 bags of frozen mirepoix (10 oz each) from Whole Foods.
Swaps
For the rice: cooked cauliflower rice, barley, quinoa, or farro
For the turkey or beef: cooked or canned lentils or crumbled tempeh
For the green peppers: red, orange, yellow, or a combination