Recipe: Spinach Artichoke Chicken Skillet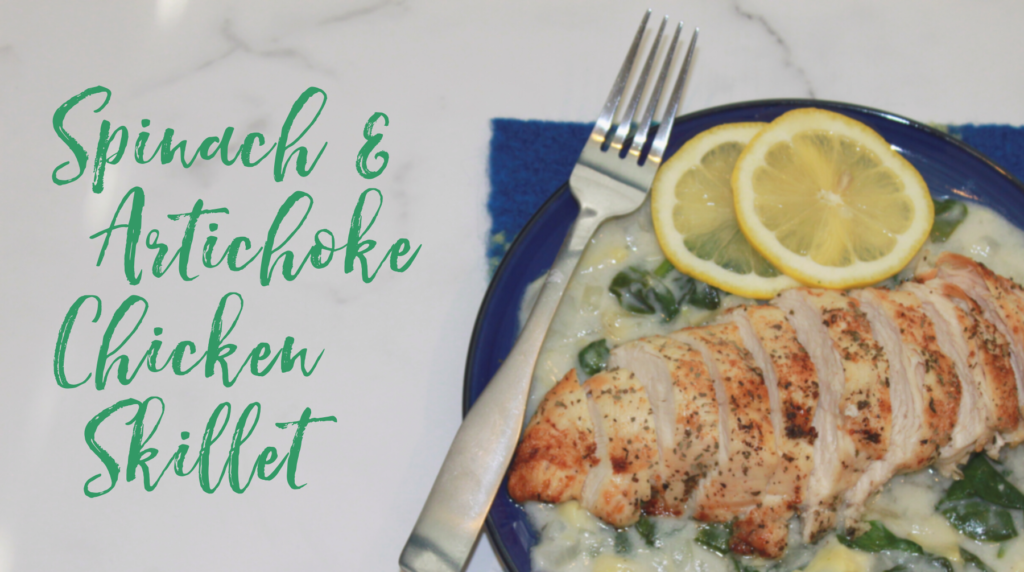 In the spirit of rich and flavorful seasonal dishes, this recipe highlights a few familiar favorites in a whole new way. Chicken paired with spinach and artichokes, topped with a creamy coconut sauce take dinnertime comfort food to the next level.
Artichokes can be cooked whole, but the easiest way to enjoy the soft and flavorful artichoke heart is to buy them canned. The hearts have a sweet and tangy taste and are high in fiber, vitamins, minerals, and antioxidants. They pair well with the creamy coconut milk sauce complemented by ghee and flavored boldly with garlic, onion, and a bright pop of lemon.
The ghee, aka clarified butter, has the water and milk solids removed making it better tolerated for those with lactose intolerance. Ghee also has a higher smoke point, meaning it can withstand higher temperatures before smoking or burning. This makes it a versatile alternative to traditional butter for high cooking temps.
Consider pairing this chicken and tasty sauce with your choice of starch (we recommended golden potatoes) to make it a complete Plate Method meal!
Spinach Artichoke Chicken Skillet
Serves 4
Ingredients
Chicken
4 boneless, skinless, chicken breasts (about 2 lb)
1 Tbsp chopped fresh basil leaves
1 Tbsp garlic powder
1 tsp salt
1/2 tsp black pepper
1 Tbsp avocado oil
Sauce
1 Tbsp ghee
1 tsp minced garlic from jar (or 2-3 garlic cloves, minced)
1 small yellow onion, finely chopped
1/4 C chicken broth
13.5 oz can full-fat coconut milk, unsweetened
1/2 lemon, juiced (approximately 1 Tbsp)
1/2 tsp salt
1/4 tsp black pepper
1 Tbsp arrowroot starch
2 Tbsp water
14 oz can quartered artichoke hearts, drained, rinsed, and roughly chopped
2 C fresh spinach (or more if you'd like more green in your dish)
Directions
In small bowl, mix basil, garlic powder, salt, and black pepper. Season chicken breasts on both sides with spice mixture.
Heat oil in large skillet on stovetop over medium heat. Cook chicken 6-8 minutes per side or until cooked to 165°F. Transfer cooked chicken to plate.
Rinse skillet with warm water to remove brown bits. Return skillet to stove. Melt ghee over medium heat. Add minced garlic and chopped onions. Sauté over medium heat, stirring occasionally, until fragrant, 1-2 minutes.
For the sauce, add chicken broth, coconut milk, lemon juice, salt, and pepper to medium bowl. Whisk thoroughly to combine. Add to skillet with garlic and onions.
In same bowl, whisk arrowroot powder and water together until dissolved. Add mixture to pan with other sauce ingredients and stir well to incorporate. Reduce heat to low-medium. Simmer 2-3 minutes or until sauce thickens. Reduce heat to low.
Add artichoke hearts and spinach to skillet, stirring into sauce. Return chicken to skillet. Spoon sauce over chicken. Plate and serve hot.
Swaps
For the fresh basil: 1 tsp dried basil or Italian seasoning
For the avocado oil: olive oil, butter, or ghee
For the ghee: avocado oil, olive oil, coconut oil, or butter
For the chicken broth: vegetable broth or ok to omit
For the arrowroot starch: cornstarch, tapioca starch, potato starch, or rice flour
Recipe modified from: https://thehealthyconsultant.com/spinach-artichoke-chicken-skillet-paleo-whole30-keto/