Recipe: Spicy Tuna Veggie Bowl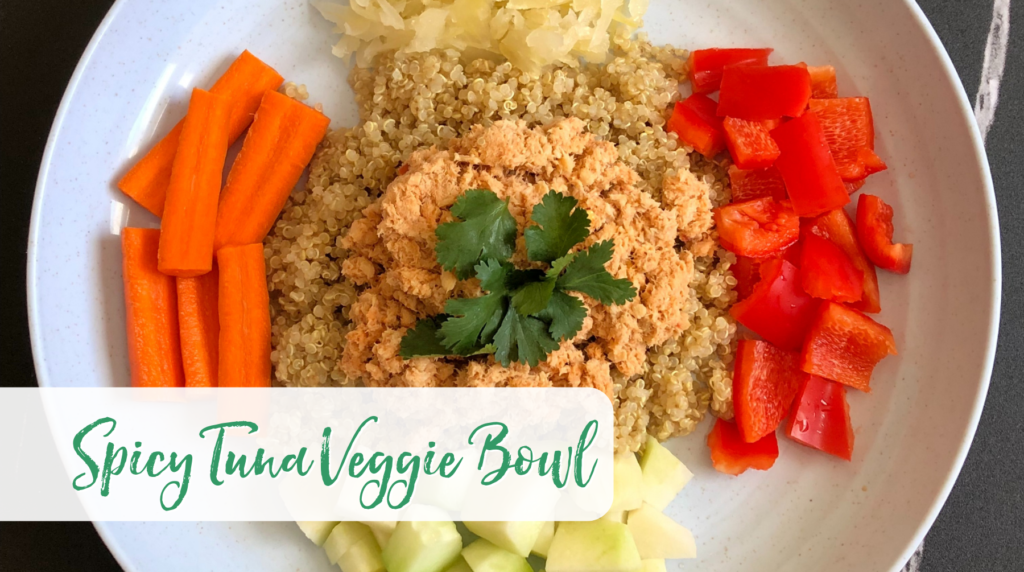 As food prices remain high, delicious and cost-effective meal ideas are truly essential. A tip for stretching your food dollars further is to consider choosing high-quality canned protein sources like salmon, tuna, and chicken. This lunch features canned tuna and can easily be adapted using our "swaps" to suit your protein or grain preferences.
When meal-prepped, the recipe comes together very quickly thanks to the use of pantry staples. And while it's crafted to serve two, doubling it would provide four weekday lunches, reducing the need to grab a higher-priced meal on the go. A meal idea that saves time and money? Definitely worth a try!
Spicy Tuna Veggie Bowl
Serves 2
Ingredients:
1/2 C dry quinoa
5 oz can tuna, drained
1 Tbsp mayonnaise
1-2 tsp chili garlic paste, to taste
3 C diced veggies, such as: cucumbers, bell peppers, kohlrabi, kimchi, sliced carrots, or sauerkraut
2 Tbsp Cilantro, and/or green onions, for garnish
Directions:
In covered pot on stovetop over high heat boil 1 C water and 1/2 C dry quinoa. Reduce to low. Simmer 10-20 minutes or until water is gone.
While quinoa cooks, combine tuna, mayo, and chili garlic in small bowl. Mix to thoroughly combine. Taste and adjust spices to your preference.
Once quinoa is fully cooked, remove from heat.
Equally divide quinoa, tuna, and add non-starchy vegetables of your choosing into dinner plates. Garnish with cilantro and/or green onions to serve, if desired.
Swaps:
For the quinoa: rice, brown rice, or cauliflower rice
For the tuna: canned salmon or canned chicken
For the mayonnaise: Greek yogurt, dairy-free yogurt, or vegan mayonnaise
For the chili garlic paste: sriracha