Recipe: Southwest Quinoa Bowl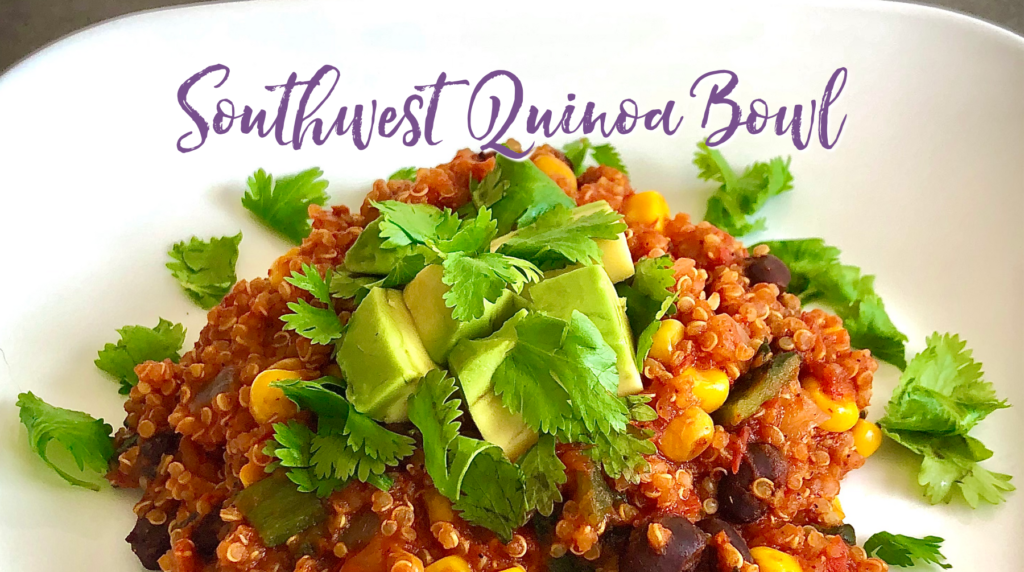 Southwestern flavors are a blend of culinary influences from Mexican, Native American, and Spanish cuisines. Seasonings typically include chili powder, paprika, garlic, cumin, oregano, and cayenne. Fresh peppers are also a traditional ingredient in these cuisines, much like the poblanos used in this dish. You can customize the spices in this dish to your flavor and spice-level preference!
The quinoa in this dish is often referred to as a pseudo-grain (it's technically a seed!), given its similar use in recipes and high fiber content. One way it differs nutritionally is that quinoa provides 8 grams of protein per serving, which is much higher than most grains. Pairing quinoa with beans provides ample amounts of plant protein as well as fiber, making this dish as hearty and satisfying as it is flavorful.
Southwest Quinoa Bowl
Serves 4-6
Ingredients:
2 poblano peppers
1 tsp olive oil
1 small onion, chopped
2 cloves of garlic, minced (or 3-4 tsp jarred minced garlic)
1/2 tsp smoked paprika
2 tsp chili powder
Pinch of cayenne pepper
1/2 tsp salt plus more to taste
1/4 tsp fresh ground black pepper plus more to taste
28 oz can crushed tomatoes
8 oz can tomato sauce plus more to taste
1 C water plus more as needed
1 C uncooked quinoa
1 1/2 C frozen organic corn kernels
15 oz can black beans, rinsed well
1 avocado, diced
Fresh cilantro, roughly chopped
Directions:
Place oven rack in upper third of oven. Turn on broiler. Line baking sheet with foil. Lay peppers on their sides on baking sheet. Place baking sheet under broiler. Broil until skin is charred, about 3 minutes.
Flip peppers, continuing to char on all sides, keeping careful watch. Remove from oven. Set aside in glass container, loosely covered.
Heat olive oil in medium saucepan on stove over medium-high heat. Add chopped onions Sauté 3-5 minutes, or until translucent, stirring frequently.
Add garlic, paprika, chili powder, cayenne, salt, and pepper. Cook 2 minutes.
Add crushed tomatoes, tomato sauce, and water. Bring to boil.
Add quinoa. Bring back to boil then simmer on low 30 minutes.
Remove cooled poblano peppers from container. Discard poblano stems, skins, and seeds. Chop.
Carefully taste quinoa. Season with more salt, pepper, and chili powder, as needed. If quinoa is sticking excessively to the pan, or to achieve your desired consistency, add 1/2 cup more water.
Stir in corn, black beans, and chopped poblano pepper. Simmer on low heat 6-8 minutes.
Carefully taste. Add tomato sauce or water until desired consistency achieved.
Serve warm, in large bowls, topped with diced avocado and fresh cilantro.
Swaps:
For the smoked paprika: regular paprika
For the black beans: pinto beans